Visit Amsterdam - Properly!
Amsterdam is already famous enough for you to just type quickly in Google before you fly 'Things to do in Amsterdam' and there will be thousands of articles and blogs telling you the top 5 things to see or 10 must-visits! Yep, you can just do that if you want, it's easy! 
But in my opinion, all the things you find on those lists are simply the things you will see anyway if you just follow the herd of tourists around the centre. As far as I know, after doing tourist for 2 years, they are all in Dam to see the same things. So you could just do that or hop on the back of a tour. You can usually spot a tour because there'll be someone walking around holding, what seems to be, a highly unnecessary closed umbrella in the air, however, in a crowd, that umbrella will be all you're able to see of the tour guide, so basically a talking umbrella tour. 
If you're reading a top 10 list and one of the suggestions is canals, I would say to read no further because If you can get from the train station to your hotel, or wherever you may be staying, without seeing a canal, I'll be pretty impressed! 
So, I have a few suggestions for your must-see experience in Amsterdam, just to be a little different. We all know Anne Franks house is there and that they emptied it all out and now you pay to see an empty room and exercise your imagination. We are aware Mr Vincent Van Gogh did some paintings and they put them in a museum to profit highly by you wanting to see them because he is famous. We also already know that you can get high and/or look at women in windows, even pay them I visit if you wish. So, what is the point in repeating what everyone else writes, right? 
Not forgetting that we all should know that taking a photo in front of the IAMSTERDAM sign is not what they make it look like in adverts and in those articles that I just spoke about. If you want it to be perfect, you will need to be there, standing in front of it already posing as the sun is rising! Either that or photoshop people out because getting up at the crack of dawn to have a photo in front of a giant piece of plastic (could be metal, who knows) doesn't sound like much fun to me. Here is an example photo of my lovely friend, Lef, trying to get the bloody shot at about 10:30 am in minus temperatures: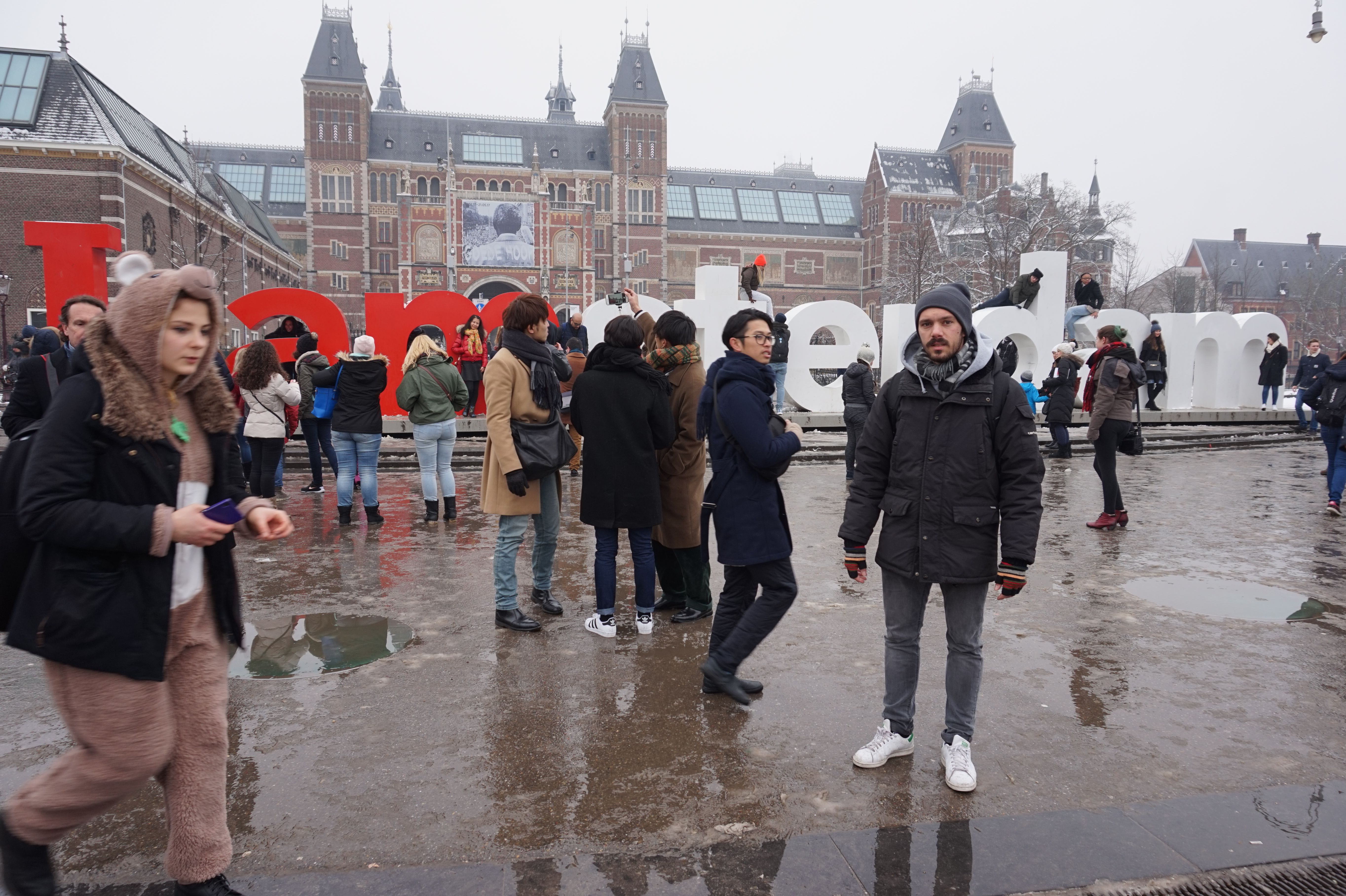 Right, enough about that, let's get on with it, shall we? 
---
Amsterdam's Smallest House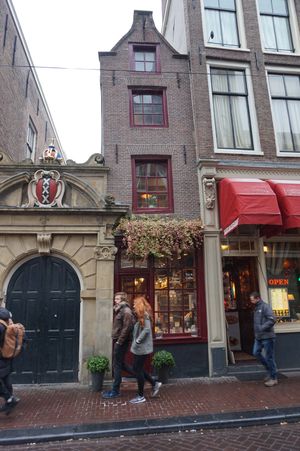 I have seen some tourists fall upon this little gem as it hides in plain sight because it is on the way over to the Redlight district, so people have their GPS set to see the ladies and forget to look up. 
If you fancy seeing something a little different, you should check out Amsterdam's smallest house! It's about 6 feet wide and goes back about 15 foot (not the exact measurements, I don't usually take my tape measure with me, sorry.) 
Good to note that it has a shop underneath and a tearoom! So you can head over and get yourself a cuppa too! Before you go over though, you should know that it is tiny so the house is by appointment only, Monday and Sunday and if you want a tea too, best get yourself booked in because there are only about 4 chairs, so you can pop on their site and get yourself booked in! 
If you wanna check it out, you can go on their website by clicking on the photo above (I know how technical am I?) 
---
Begijnhof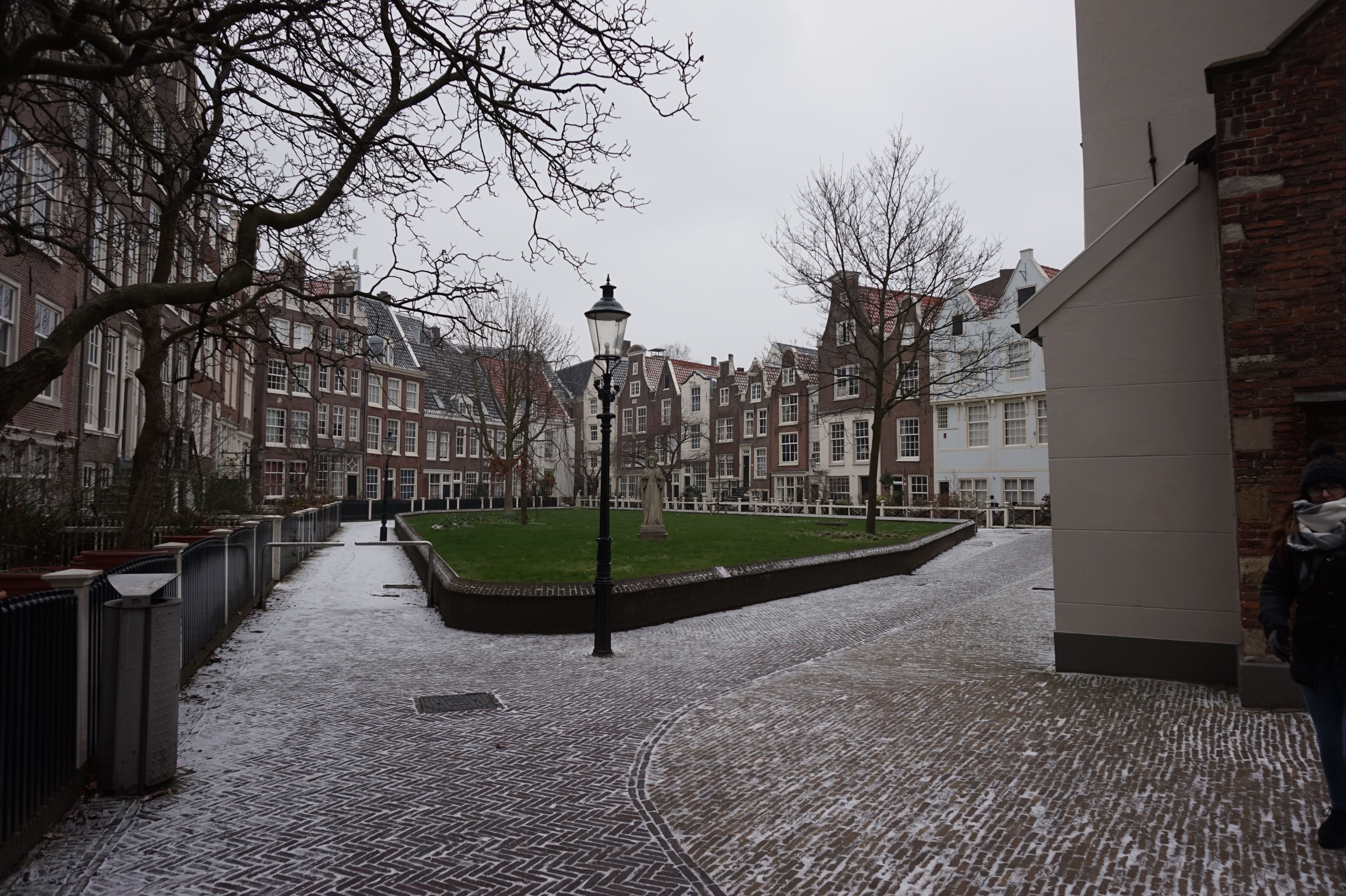 This is such a quiet, little corner right next to the busy tourist area! You can get there from the central station in 10 minutes. This beautiful place is found by a minimal amount of tourists and, really, you aren't supposed to take photos but we all do! Oops? 
This part of Amsterdam dates back to the early 14th century and once you are inside the Begijnhof you will see one of Amsterdam's oldest surviving houses! No, I won't show you a picture, I have to maintain some sort of limit to what I show you otherwise you won't even need to visit, will you? Get yourself over there and you will see it! Hurry up though because it's only open to the public from 8 am to 5 pm, after that, the gates are locked only to be opened by those who reside there. 
I don't know a great deal about those that live there and everyone I asked threw another bit of information in that contradicted the last person but what was constant throughout all the stories was that the residents are all women, (no boys allowed sorry!) These women are all single or widowed, they mustn't have family or children living with them. So these single women live there and dedicate their lives to doing great, charitable things in and around Amsterdam. Quite admirable, I'd say! 
---
Amsterdam Museum Café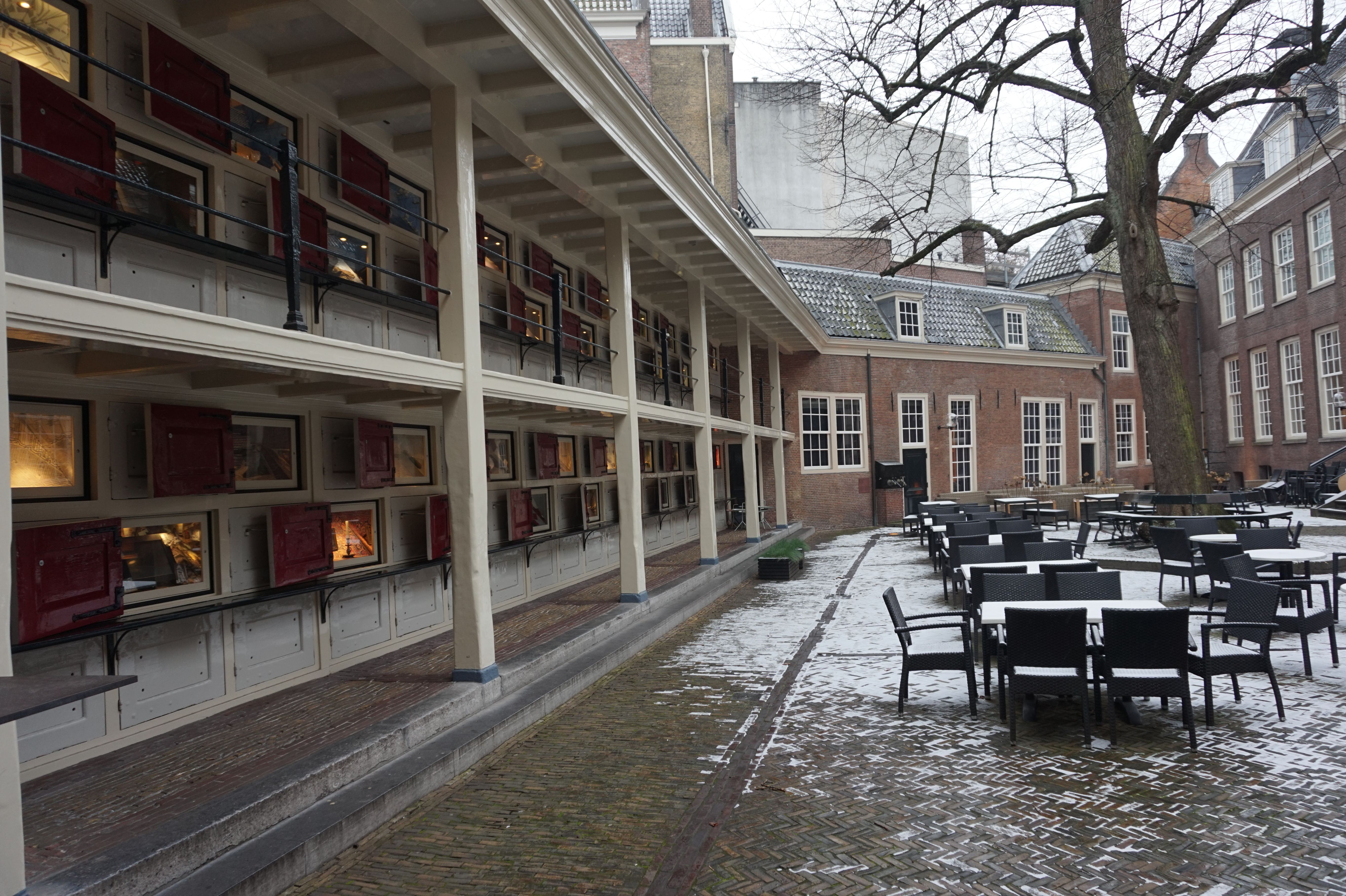 Ok, before you get all judgy and start saying this must be overrun with tourists. Well, strangely, it is usually quite a calm place Tourists pass it like it is invisible to them. Every time I have been there for a wonderfully made cappuccino there has been the odd one or two tourists, but the rest being locals. Lovely. 
Try not to judge my photography skills too much here. I was trying to show you the seats and then the windows full of artifacts. I hope you appreciate my efforts. Anyway, It has a calm atmosphere and there is even a little mini museum to visit FOR FREE (rare for Amsterdam, I know! You can see it on the left) 
You will find this cafe if you turn left when coming out of Begijnhof and follow the path around the walls of the Amsterdam museum. Now, don't blame me if you turn left and It's not there, but you came in Begijnhof the wrong way. Whose fault is that then? Yours, I'll have you know. 
---
The Lesser-Known Leaning Pub of Amsterdam: Café de Sluyswacht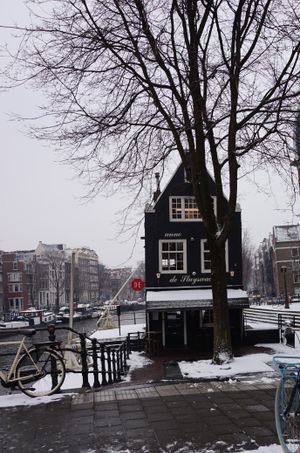 This is a must visit! If you treat yourself to a pint, a coffee or even a glass of water, get yourself upstairs and you will feel like you have entered a pub that came straight out of Harry Potter! Careful when putting anything down that has the potential to roll, because nothing is flat inside. You might even feel a bit dizzy, just take a seat, it'll wear off. Basically, spirit levels in Amsterdam are unnecessary! 
Built in 1695, this pub has become a little like it's distant cousin (many times removed) to the Leaning Tower of Pisa. When they built it they were probably very proud of it because it was straight up, probably wouldn't be on my list if it was still straight. 
Anyway, because it has no buildings on either side of it and they didn't expect their masterpiece to waver from its immaculate condition, nothing was created to support it. So naturally, it started to lean, and lean, then maybe just a tad more until it was leaning more than its cousin in Pisa. Somehow, it is still standing and makes for an awesome pub, with a terrace overlooking the canal, just beautiful. 
---
I still have a few other places that you have to get yourself over to but I am seeing that my list is revolving around places to drink but, before you judge, these places offer you drinks and maybe the odd snack here and there, but the reality behind it is that you're experiencing history and architecture up close and personal! But, ok, I'll talk about something else for a minute, jeez. 
'Grass beach' on Java Island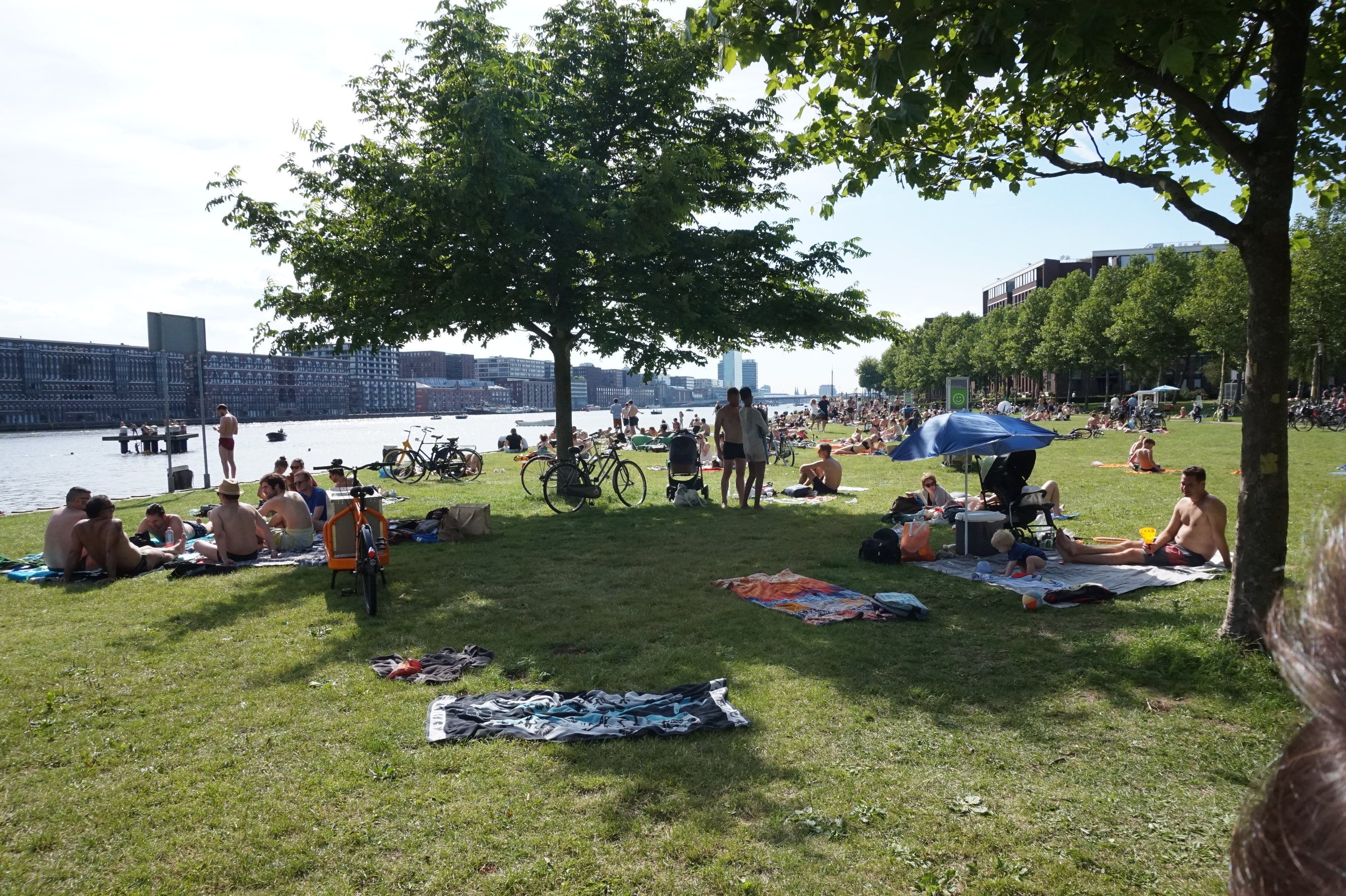 Nope, it isn't an official place that people will write about, that's because most of them don't know it is even here! It is (on a nice day) full of locals and the expats who live close by. Luckily, Giuseppe and I lived on KNSM Island, which is an extension of Java Island, so, when I fancied it, I could walk down the street, throw down my pic blanket, listen to some music and enjoy the fresh scent of BBQ in the air. 
It really has a beach-like atmosphere. I would forget your Vondel parks and museum squares and get yourself over to Java Island. There are giant steps down into the water, or follow the lead of the Dutch kids and dive bomb over the side!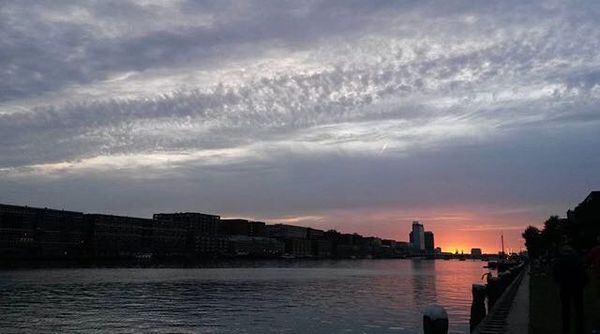 I strongly recommend getting yourself over there in the late afternoon, enjoy a picnic dinner or even set up a BBQ yourself, lay back and enjoy the most beautiful sunsets! If you wanna enjoy this, grab the tram 10 all the way to Azartplein. 
---
Now, let's get on to my ultimate favourite! 
Wynand Fockink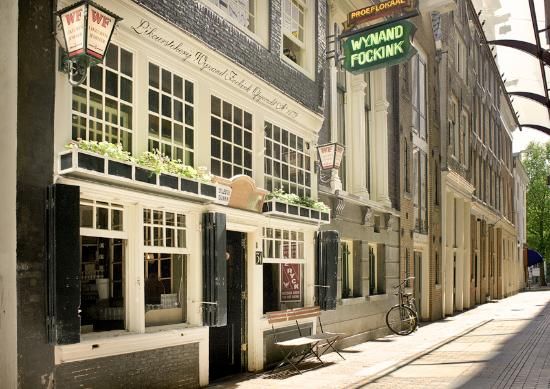 Not only is this a little, hidden gem, it is close to my heart because it has the most friendly atmosphere. Wynand Fockink was established in the late 1600s as a small liquor distillery and to boost the sale of their product, they opened a tasting tavern soon after. This tasting tavern is still there to this day, unchanged, and they are still using the same distilling technics which they originally used. 
The staff who work there are all well educated in their work, they give off a real essence of love for what they do and they provide such a comfortable atmosphere for anyone to feel at home. When you enter, there isn't a queue, more a general gathering of people stood together, waiting patiently for their turn. 
I say turn because, for those who have been before will understand, but I'm sure you are a newbie, so I'll explain. You may be in for a bit of wait if it is busy, but don't get all grumpy, huffing and puffing. Nope, none of that, please! You will see that when you get to the front, the people who serve you, provide you with personalised service, they want to know your name, where you are from and they might even teach you a little Dutch. 
When it comes to the liquor, they want to know your taste, they spend the time to find out what you prefer. When I first went I told them I like fruity drinks, now that isn't much to work from, so they pressed for more asking "sweet fruit like berry or sour fruit like an apple?" Not too sure which, I replied with "sweet like berries" 
Now we have to break it down to which berry, I went for cranberry and he suggested that I should try it first. Nope, I didn't like it, it was far too strong, he swooped in with "not a problem, let me add a touch of this lemon for you, see what you think about that" (yep I am sipping at this point) "that is exactly what I was looking for!" I said, content with my choice. Then he filled my liquor glass to the brim. There is a little tradition before you can pick up your glass, but I think I want to leave that for you to find out. Off you go! Just remember you're there to taste a few things in a friendly manner, no drunky drunky time! 
---
I thought I might highlight some of my favourites for you, I did talk about some other places last time in Living in Amsterdam - Part Two if you were paying attention! But, I have seen those top ten lists and must-see in Amsterdam and If I read Dam square, Leidseplein, Rembrandtplein and Red Light District one more time....... 
Anyways, I'll see you next time. Enjoy your time in The Dam. I sure did!