There are many places to visit in Campania and I must admit that I haven't got round to visiting all of it yet, I am only one person. But, as I only write from experience, I will give you 6 places to visit and a little 'something-something' about each place. 
*Disclaimer, this list is in no particular order. Just because you are at the top of Nade's list, does not mean that you are Nade's favourite (Kinda means that's the order the photos are in on my camera) 
Right, Let's get started. 
---
Napoli - Naples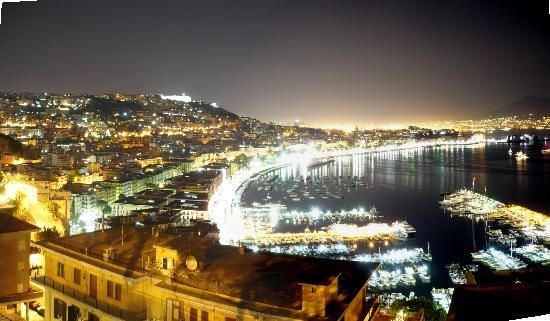 Napoli moves with or without you. Napolitani (the people from this city) will not wait around whilst you walk around looking up and pointing out cute grannies on their balconies. These people don't have the patience of saints, so trying to take a good photo of this city for you was a near death experience. 
I tried to get you a picture of the busy streets, quickly on my phone, and we are working with this one below. I think it gives you a hint of the streets being full of people (mainly those pesky tourists, myself included) I nearly got hit by a scooter beeping his horn and definitely got sworn at.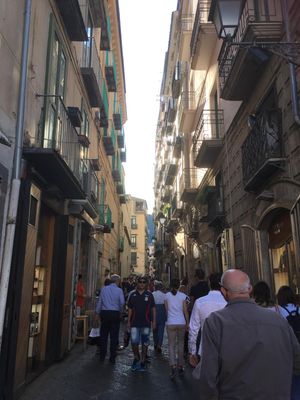 Now, I am all for the slow life, so Napoli isn't the city for me. But, it does hold a lot of history and the old town is huge! However, I am all for peace and quiet and, in Napoli, I just couldn't find my peace. 
When you get out at the station, you have a bit of a walk to get to the centre of the old town. I want to warn you now to have a little faith because you will see quite a few plain looking apartment blocks that don't quite show the Napoli you had in mind like;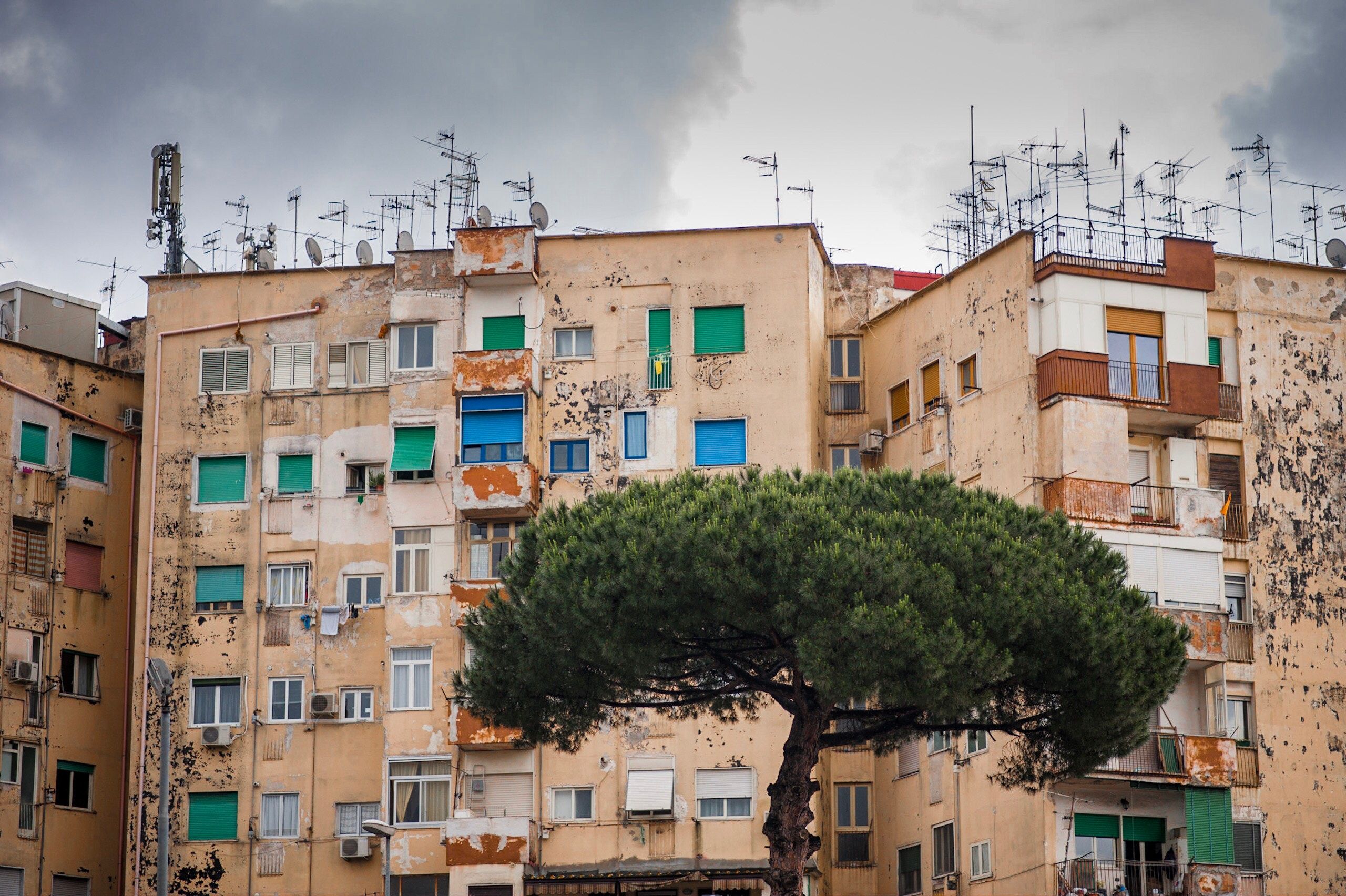 (Yep, those sticks on the top are satellites) 
Just keep walking with the knowledge that you will arrive in the old town and there you will find those picturesque streets, the balconies and the nonnas spying on you from above. If you want to beat the tourists, you will have to get up very early because, from about 9 to 10 am, the whole city comes alive.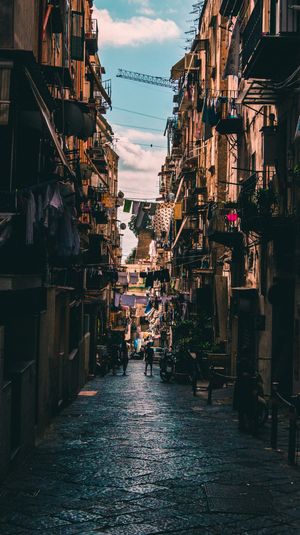 If you go to this crazy city, please remember that this is the birthplace of pizza and it would be rude to leave there without having one, Napoli style. If there is one place you HAVE to visit when you are there is Pizzeria Gino Sorbillo. Famous for being one of the best in the whole city.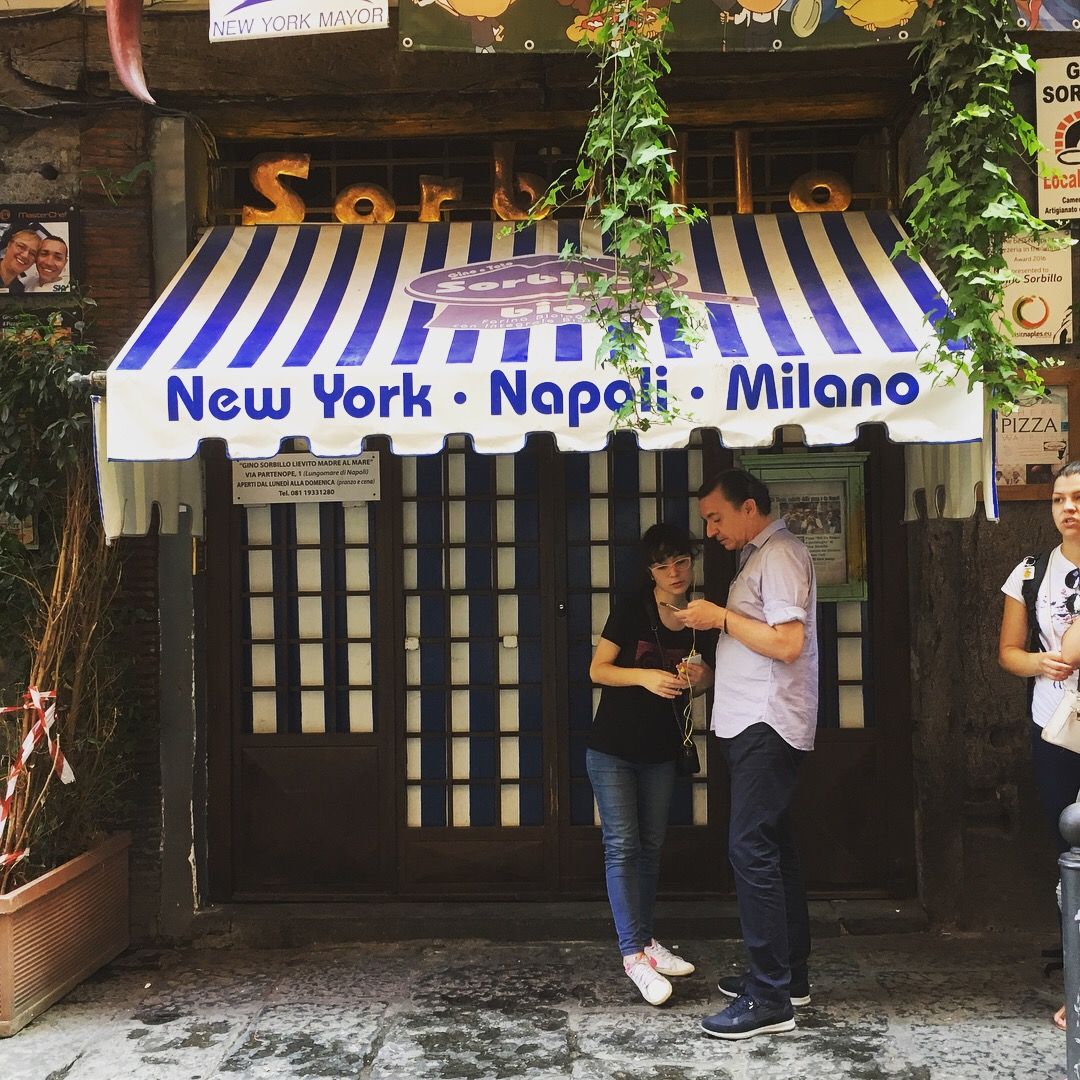 The pizzeria opens at 12 pm, but if you arrive at that time you will find yourself in a queue that could last up to one hour or more. We arrived at 11 am being 'little know it alls' and we were about 4th in line. Perfect! If you are about the first 30ish in the queue, you are getting in first no problem. After that, it works one out, one in. So no telling how long you will be starving in a queue for.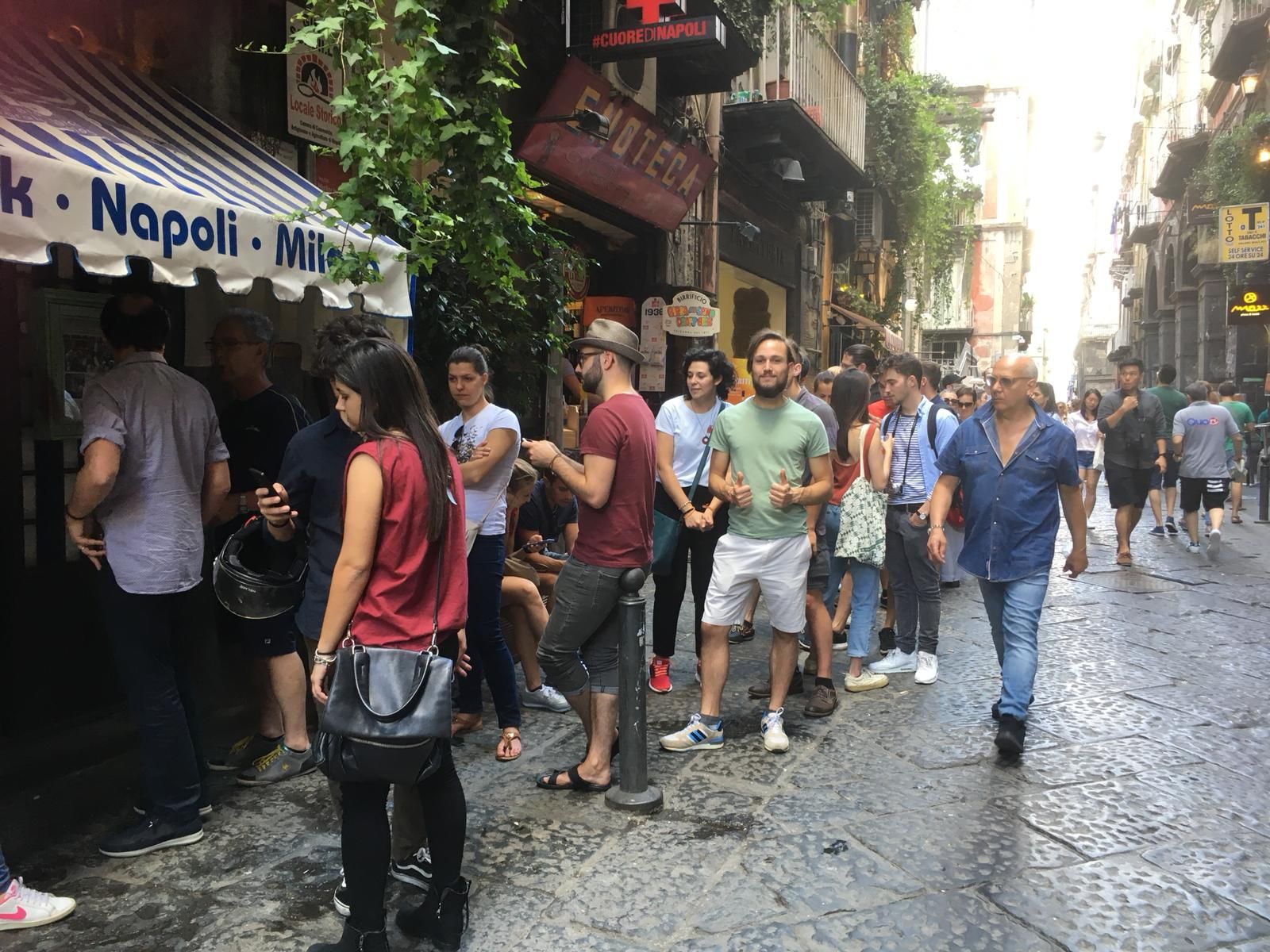 There are people who argue and complain about standing that long in a line, but it is famous that the long line backs up for over one hour. Turn up late, shut up and wait.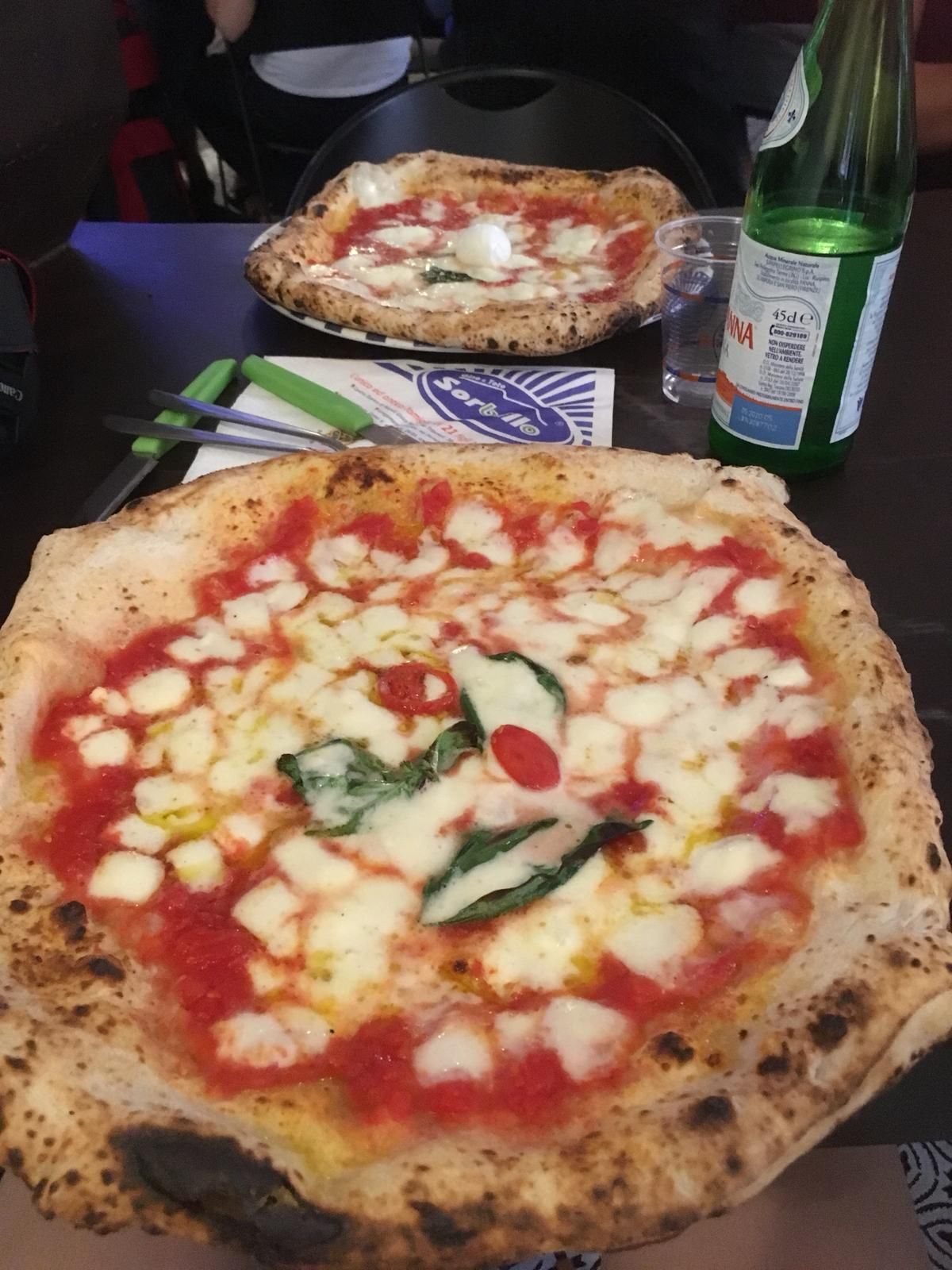 The most amazing pizza I have ever eaten! Pizza makers in the UK have no idea and those who haven't tried this, you have no idea either. Pure Yumminess! 
---
Vesuvio 

If you look on down the promenade in Napoli, you will see the great mount Vesuvio. 
This volcano is quite a famous one for ruining the cities of Pompei, Herculaneum and other smaller towns and villages that were nearby in the year 79 AD and it is still active today! 
Little fact for you, (yep I got it from Wikipedia before I climbed it)  it is regarded as one of the MOST DANGEROUS volcanoes in the world because of the population of 3,000,000 people living on its doorstep! If it goes off again, I would hate to think! 
We got local transport for €3.60 and it took us right up to the entrance of the park, absolute bargain! The bus offers you a windy trip to the top, so if you get seasick (motion sickness) as I do, make sure you prepare! But, the views that you will see as you are on the way to the top are just spectacular! Check this out, you are looking over on to Napoli. 
The tourism guides (liars) in the town will try to grab you and try to pull you into the shop (no not physically, but with their Italian, flirty charm) every 20 meters and they will tell you that the local bus is such a bad idea! 
They will go on and on about how it goes around all small towns before heading toward the volcano (it does not) and that it doesn't take you right to the entrance (it does). They will also tell you that it will be packed with locals and tourists (it was a coach and there were 8 people on there with us) all those lies to get you to pay €20 and have a 2 hour trip - Just pay €3,60 to ride straight up to the entrance and come back when you are ready!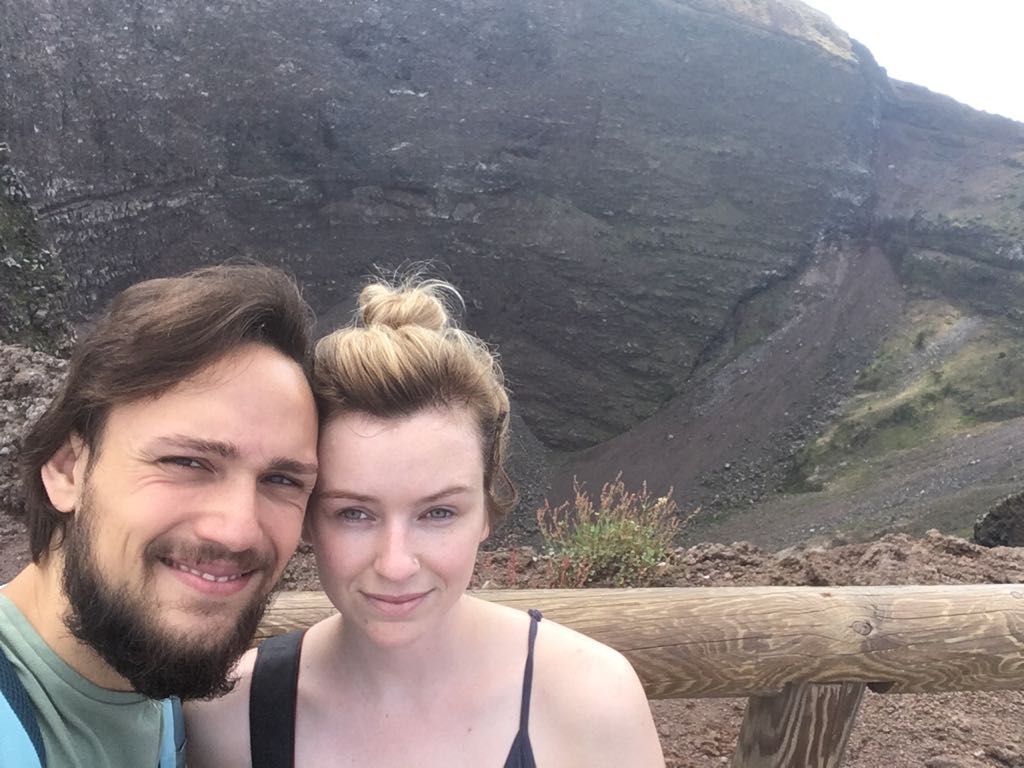 To get to the top, it isn't that steep, which is good news! It will probably take you about 20 minutes to get up there and you will endure some wonderful humidity. It isn't too high, so I don't believe you will struggle to breathe. (you might so don't go blaming me if you do!) 
I was a bit of a sweaty mess when we got to the top because visiting it in summer does pose a bit of a challenge, (I might suggest going in spring), that coupled with a bad choice of clothing and the wonderful humidity up in the clouds. 
I have never been up a volcano before, so it was definitely something new for me! It does give off this majestic ambience that I cannot explain. Being up in the clouds, feeling the clean air, everything is just that little bit quieter and seeing the steam coming from the centre of the volcano, knowing that it is alive, it is definitely something you need to go and experience for yourself. Right, off you go then!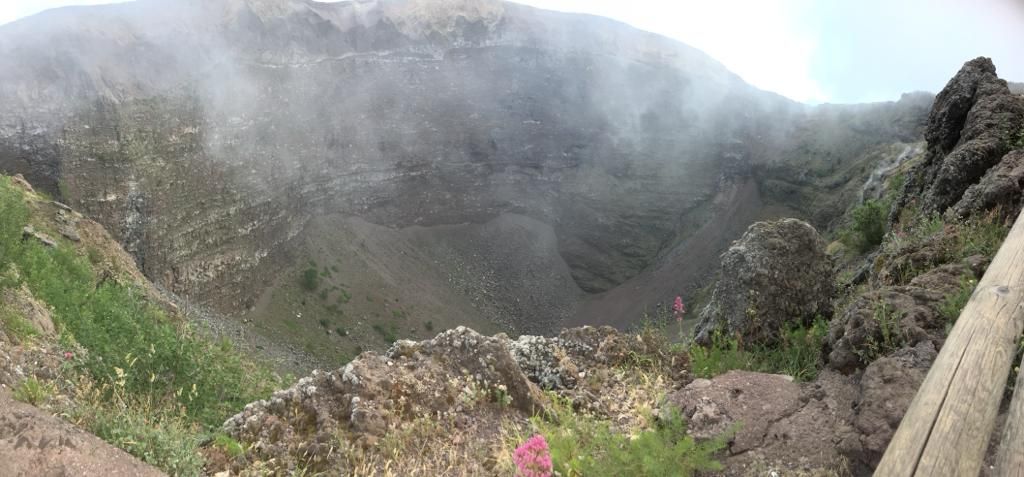 ---
Pompeii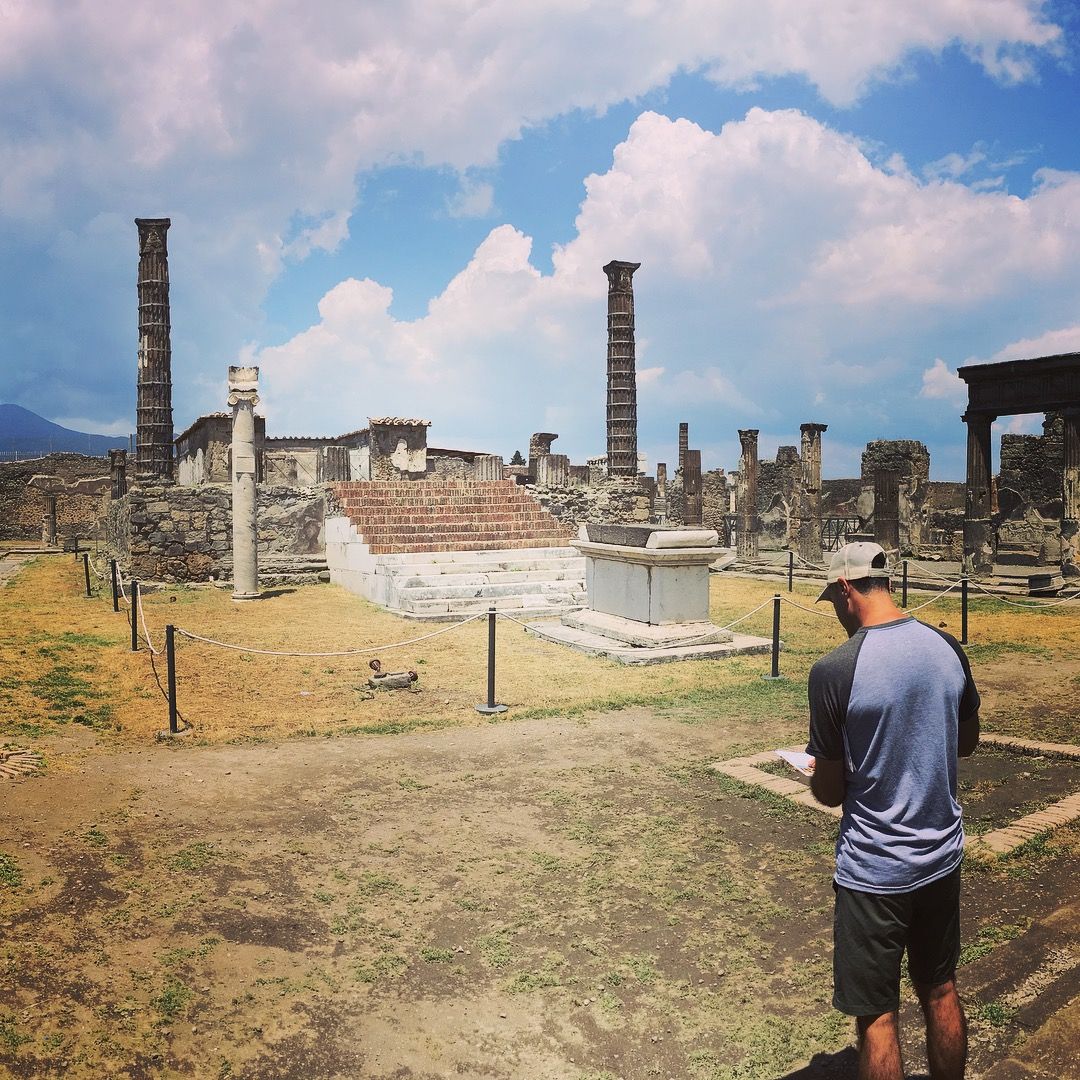 I can say right away that visiting Pompei isn't the best idea in summer. The heat blazes down on you and on the massive, historical site there isn't an inch of shade. You will get burnt, please be careful if you are mad enough to have a go in the summer.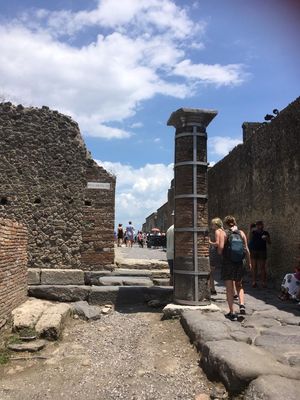 The history of this ruined city is tragic. One giant eruption from mount Vesuvio wiped out thousands of people instantly. The city was full of life, shops, bars, marketplaces, theatres and more. Even the fancy pants people of Rome would pass their holidays (vacations) there because it was just that splendiferous. 
79 A D would be the horrendous date that instantaneously ended thousands of lives. When I say instantaneously I mean it! These people were covered in a blanket of burning ash so quickly, that they are still in the same positions today, that they were in that very day. 
(Yes, that is the child's skull!)
Pompeii was left unfound and forgotten for around 2000 years! Only when archaeologists went digging in the mid-1700s did they happen across this hidden city and found the perfectly preserved treasures it was keeping. 
Not only did they find gold, pots and pans and houses that were so well preserved. They also found little willies! 
I kid you not. As you walk around the site, you will see some great sights of statues standing tall, pillars that look almost new and the intertwining, advanced stone city. However, in the little museums that are scattered about the site, you will learn of the past and you will find some very little willies! 
Take a look: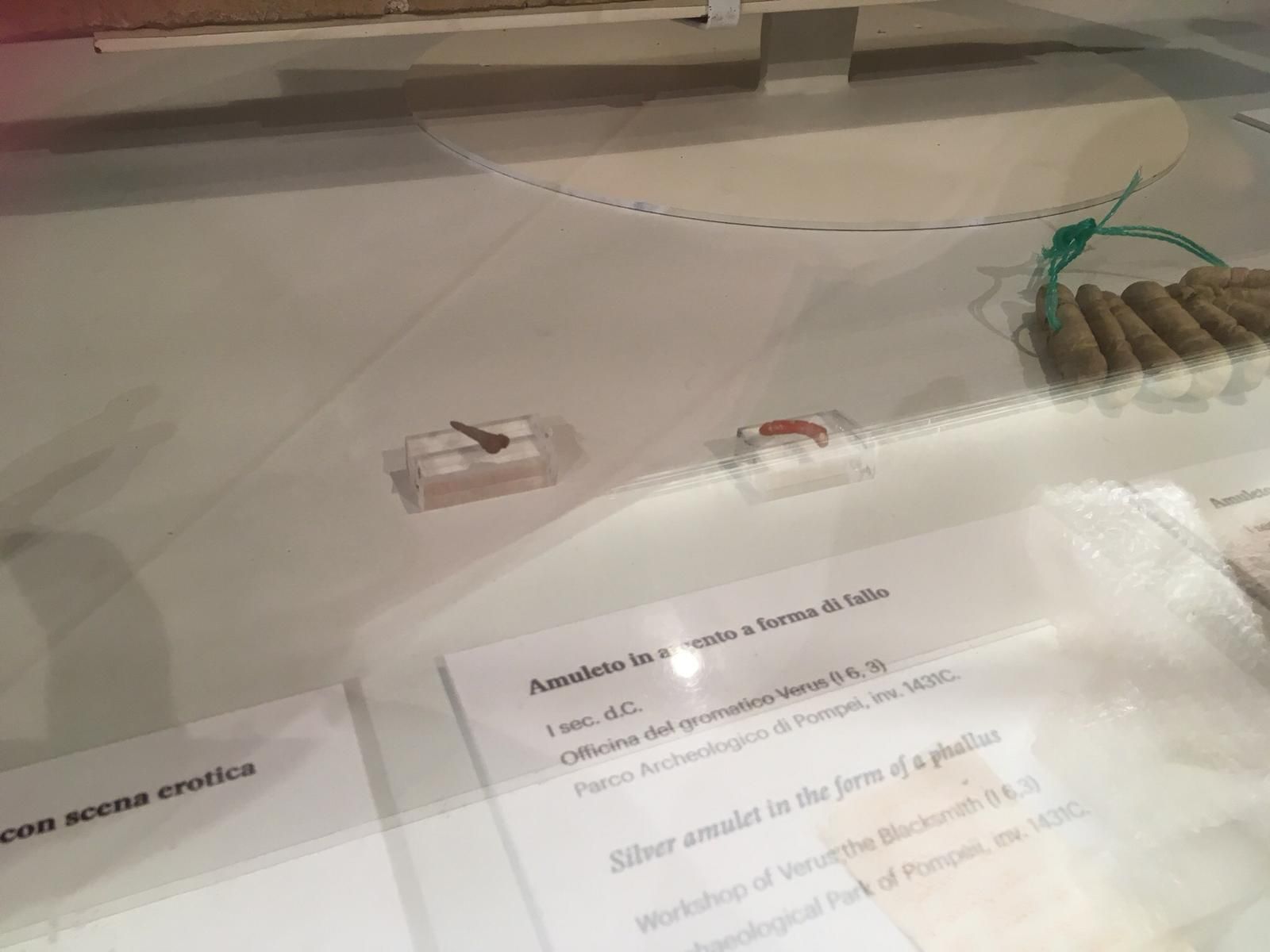 The city of Pompeii, I feel, can be quite confusing to follow and understand what you are looking at. Although I am not one for tour guides, I do enjoy getting lost and finding my way out, but I do believe with the ruins of Pompei need a tour guide because I don't think you will know what you are looking at. 
---
Maiori 
There are a lot of little towns along the coast of Campania which have their own little bit of character to add to the region. After speaking with the locals they told me don't even bother thinking about taking public transport, the buses are packed and head over terrible, windy roads, with their unreliable timetables. 
The trains don't go direct, you will be switching and getting really confused, plus the trains are full of mosquitoes that eat your feet while you enjoy the surrounding views. 
They told me the best option is to get the public ferry which takes you along the coast, dropping you off at each town and you can just jump on the next ferry that passes when you are ready. No fuss and the views are just spectacular as you pass by. 
We stopped off at a few little towns on the way to Amalfi, we saw places like Vietri sul Mare, Cetara and Minori, but I think my fave was Maiori. 
The coastline on arrival is just lovely! Look: 

I suggest going on the earliest ferry to capture the true beauty of this town because all the nonnos are out walking around together and sitting on their benches, whilst the nonnas are running around (well, walking slightly faster than their little, old legs would like to go) doing their morning shopping for the days cooking ahead. 
Walking up the main street is just so peaceful and you can see just how beautiful the architecture is.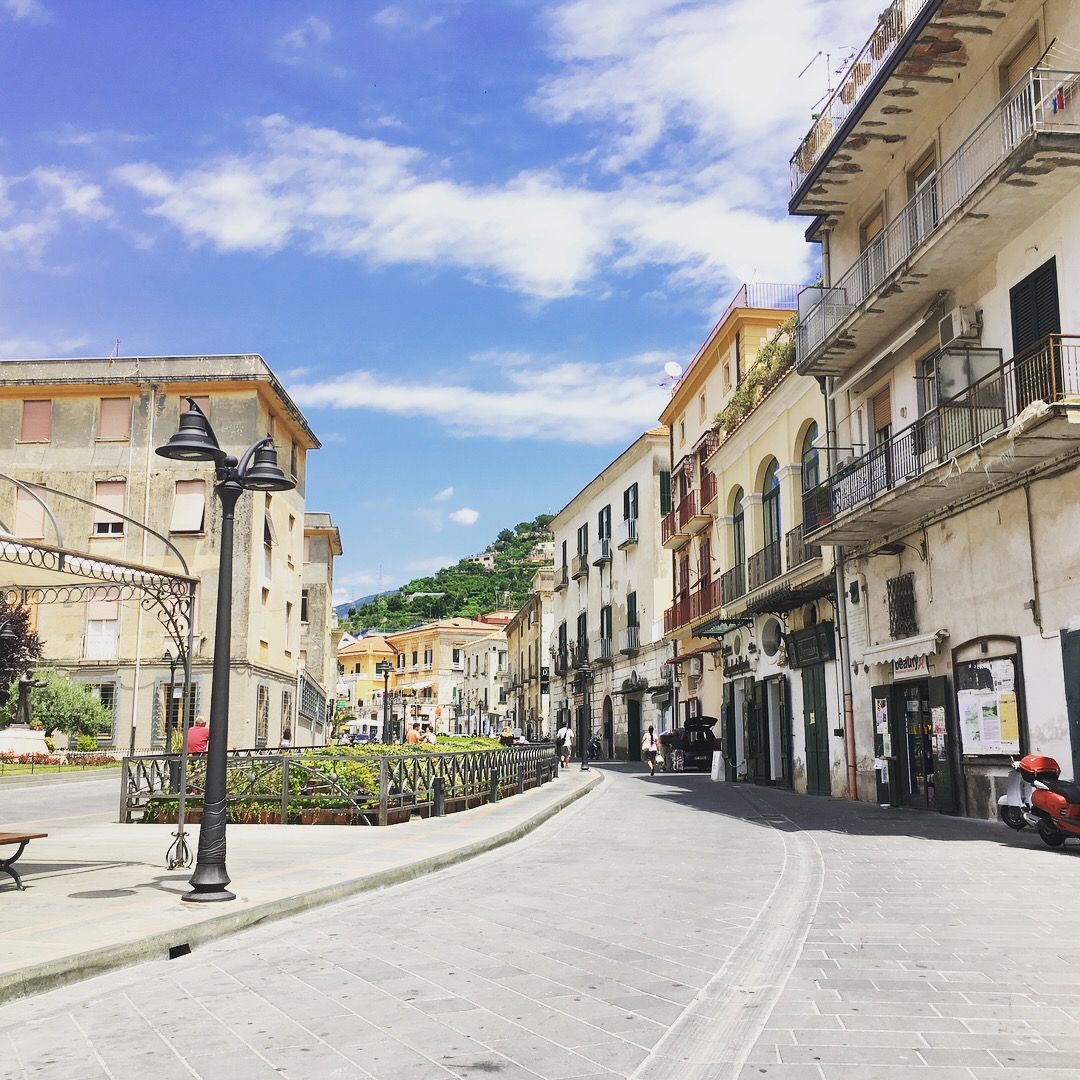 Around here you will see the locals out having their morning espresso and cornetto (which is a croissant to us, they aren't sat with a coffee and a cornetto ice-cream, silly!) 
They say that this city was created by the Etruscan, which at the time were a very "well to do fancy pants' civilisation, who created a little gem along the coast and, as most stories go in Italy, once the work was done and the sun was shining, the Romans came, conquered it and called it their own. 
With this little town, there are some great things to see such as the Church of Santa Maria a Mare - Which has a rather unusual roof for Italy and dates back to the 18th century. They say that the church got its name from a statue of Mary being found on the beach, thought you might like to know.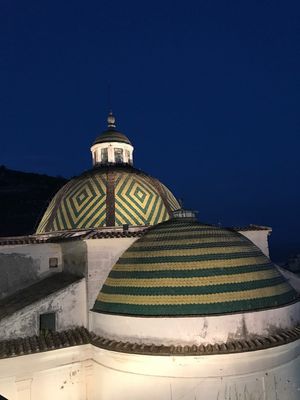 We also had a little find of our own, which is really worth it, but I didn't catch the name. You will have to go up that main street and take a lot of different lefts (that is all I remember) I am sure all the lefts will provide you with wonderful things to see, but there will be one you take that will take you to this lovely, I can only describe as a water garden. 
I have tried to find the name on the internet for you, with no success. Have a look, and if you know, have been there and know the name, let me and everyone else know!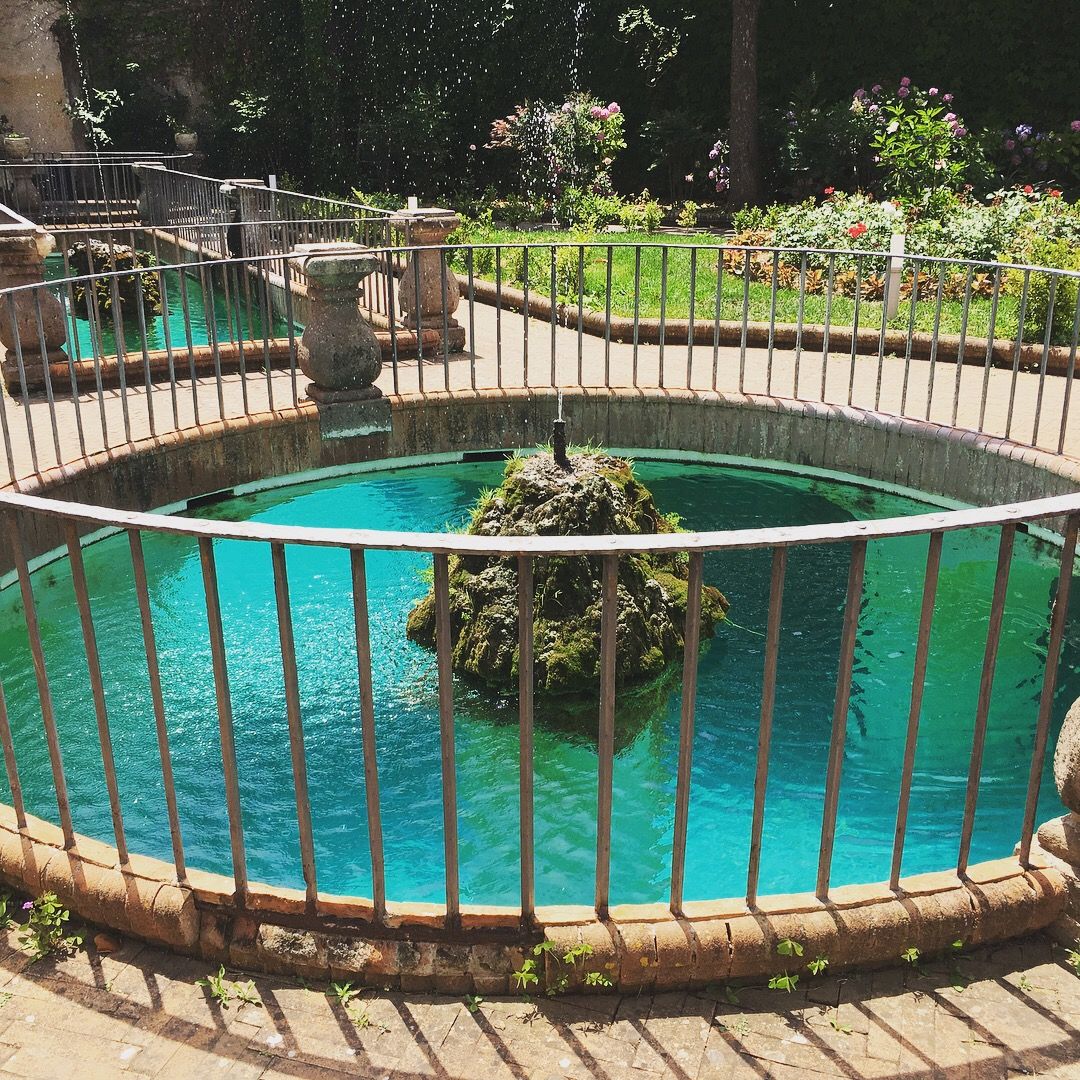 ---
Amalfi 
Amalfi has become the highlight of the region and it is completely packed with tourists. Unfortunately, this has many prices, even for the simplest things, re-donk-u-lously expensive. 
This city is wonderfully picturesque, however, if you want to enjoy those wonderful views and the typical streets it offers, you will need to get there early, before the annoying pack of tourists wake up. Trust me, it will be worth the pain of those early hours. 
It is a beautiful sight from the sea!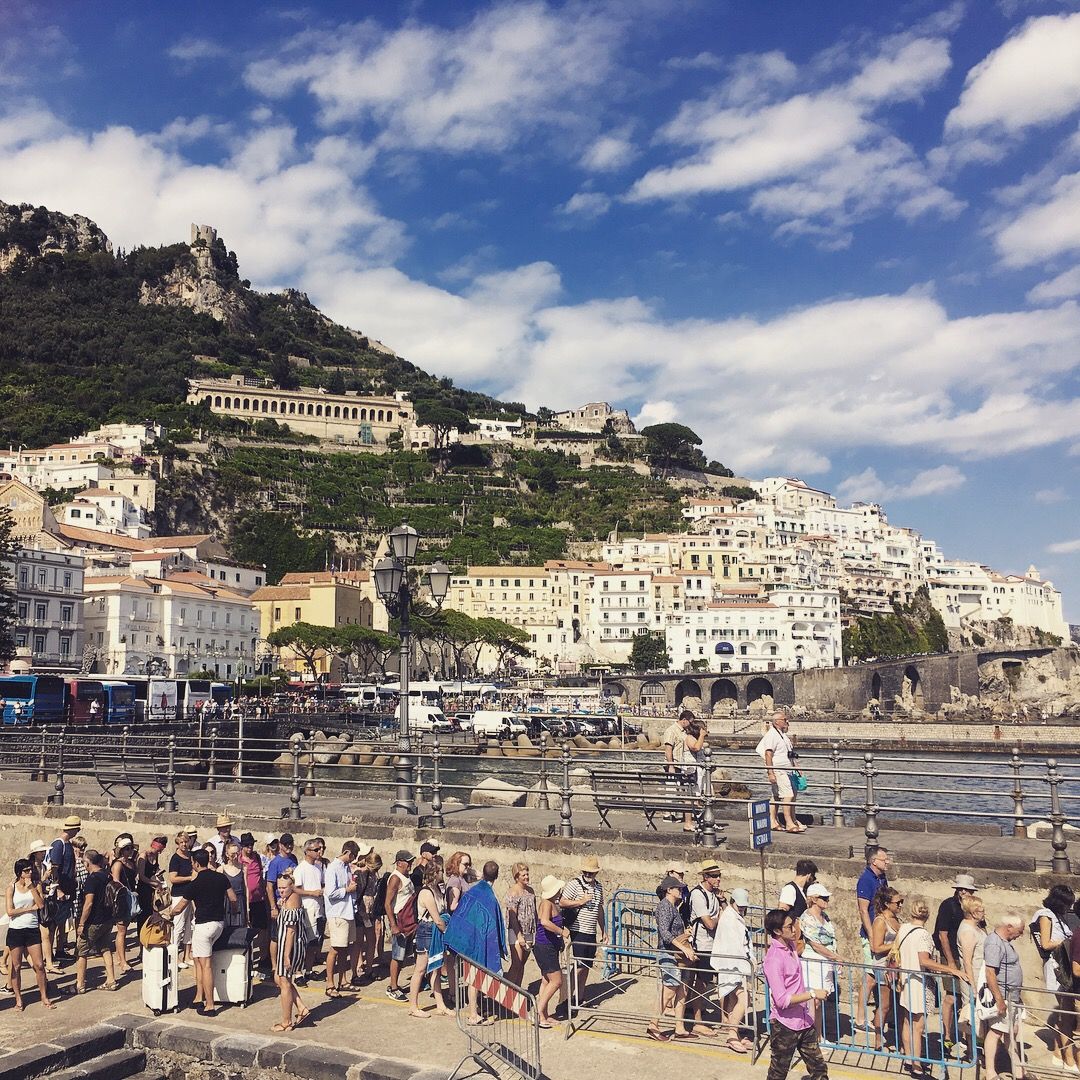 Walking around you will see that the city is famous for Presepe - Which is the nativity. Now, we usually pop a few sheep and the three wise men next to Jesus, Mary and Joseph when Christmas comes around. 
But not here, they go to town with giant ones, with moving parts built into the rock all year round! Have a walk around the city and you will see what I mean! They are quite the tradition in Italy and I have seen nativity competitions where people have some serious skills! But, in Amalfi, it dates back to around the 13th century and still going strong! Not bad.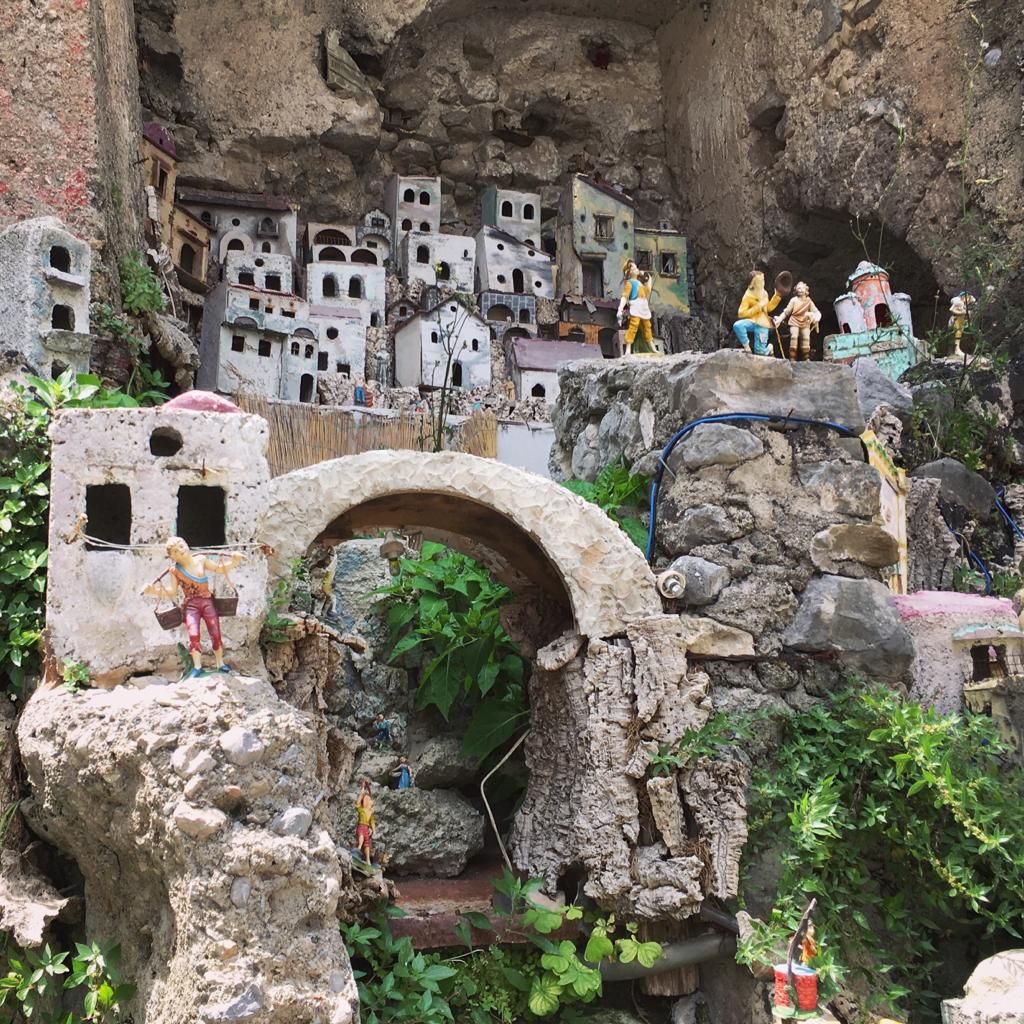 Don't forget to pop on over to the Amalfi Cathedral. It doesn't look like your average cathedral in this country, so well worth checking out! The architecture on the arches as you walk up those killer steps is awesome. The marble reminds me of similar work in Florence.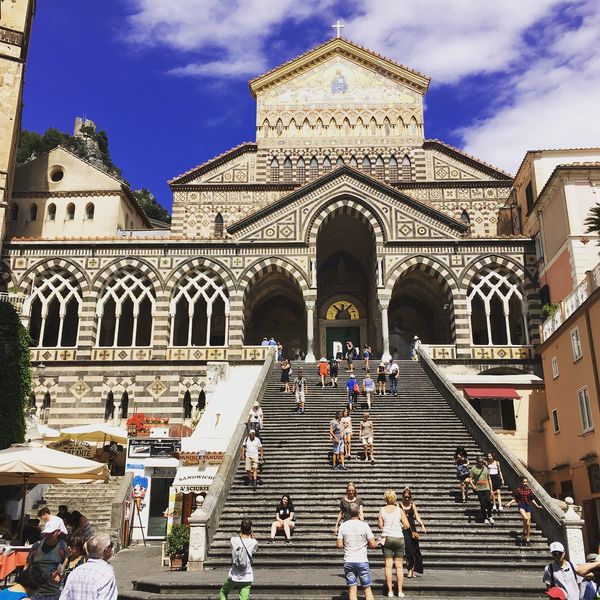 Whilst you are there, it would be rude not to try something lemony! They are all about lemons! The saying 'when life gives you lemons' would never mean to find a positive in a negative here, they love lemons, LEMONS!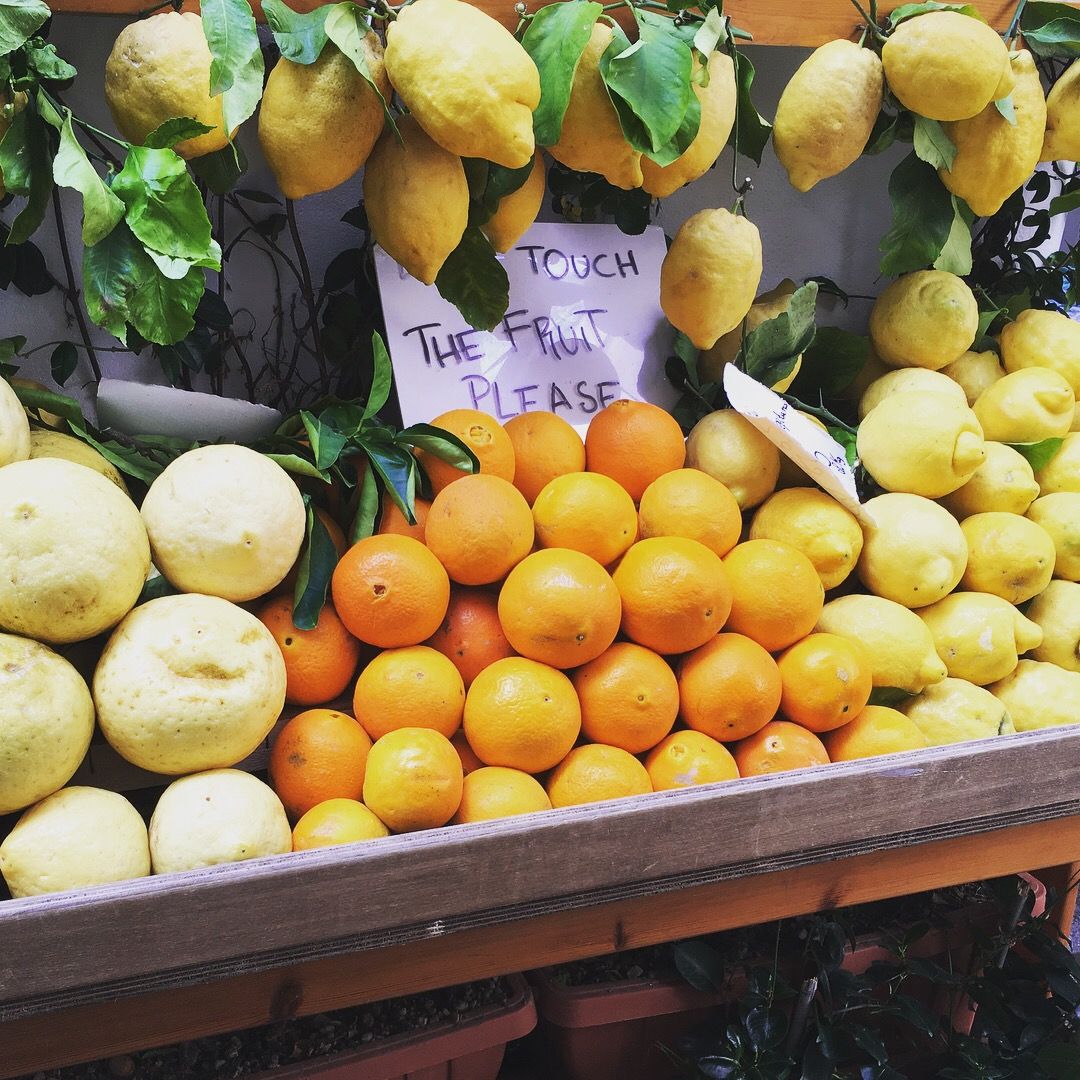 Now, you can get a granite with fresh lemon which is really smooth and so refreshing in the hot sun (overpriced but hey, when life gives you lemons, ehy?) 
But, I would recommend getting the famous limoncello. Yes, you can get it from anywhere, but, just like pizza made by people outside of Italy, people have no idea what they are doing. Trust me! Try it! 
---
Salerno 
Salerno, for me, is really underrated! It has everything that an Italian town on the sea should offer! With such a friendly, relaxed atmosphere and people always having a walk around, nattering in bars or doing their shopping. It has a local vibe and very reasonably priced. 
We didn't know much about the city at first because for some reason people aren't talking about it, but the position of the city is perfect to visit the whole of Campania! 
Everything you want from Italy, this town offers, 
The wonderful Trieste Lungo Mare (the promenade)  a quiet walk down the waterfront, away from the hustle and bustle of the people in the town, to enjoy such a wonderful view, or stop for a bite to eat at a restaurant on the water.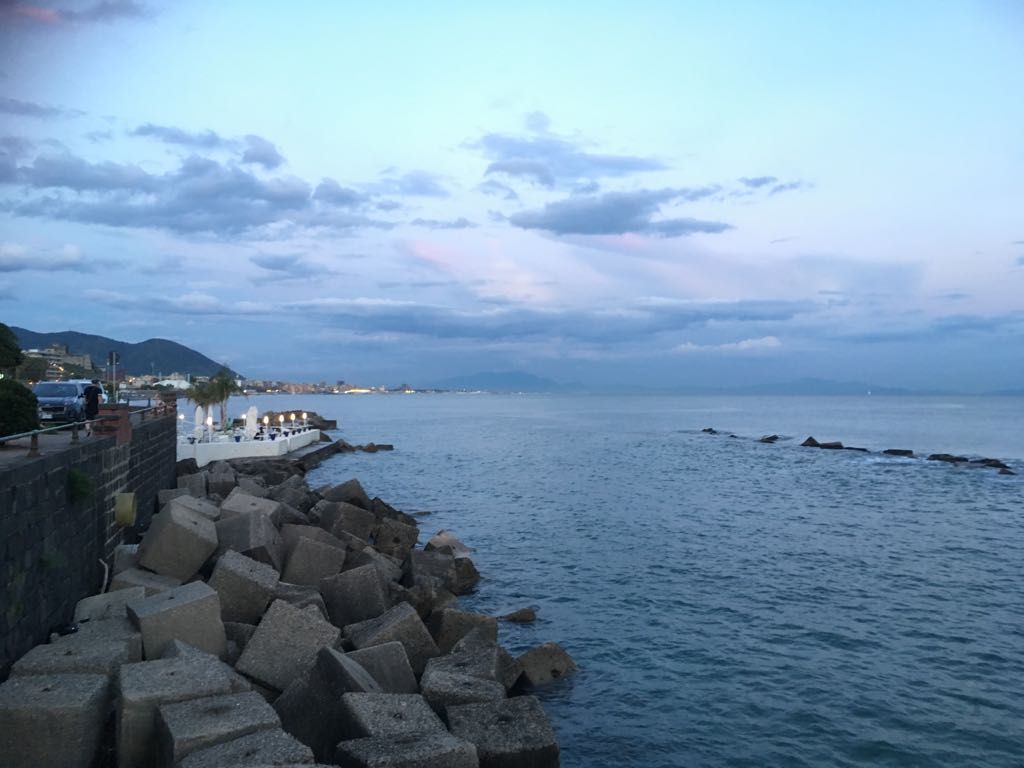 You can spend time on the seafront, but not many towns offer the opportunity to lay on the beach or walk along and watch the sunset over the giant mountains.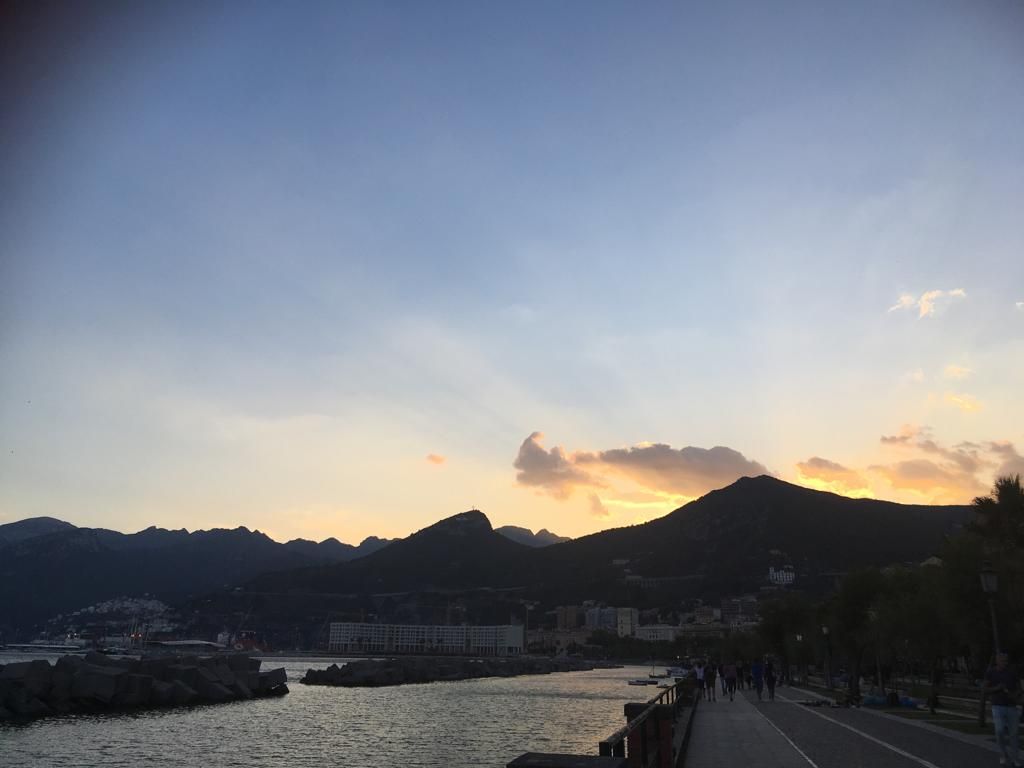 The old town of Salerno was quite a surprise to me, it was a lot bigger than I expected and with the city being on steep hills, it gives the old town much more character. I would recommend just getting lost in there and finding those little, hidden streets.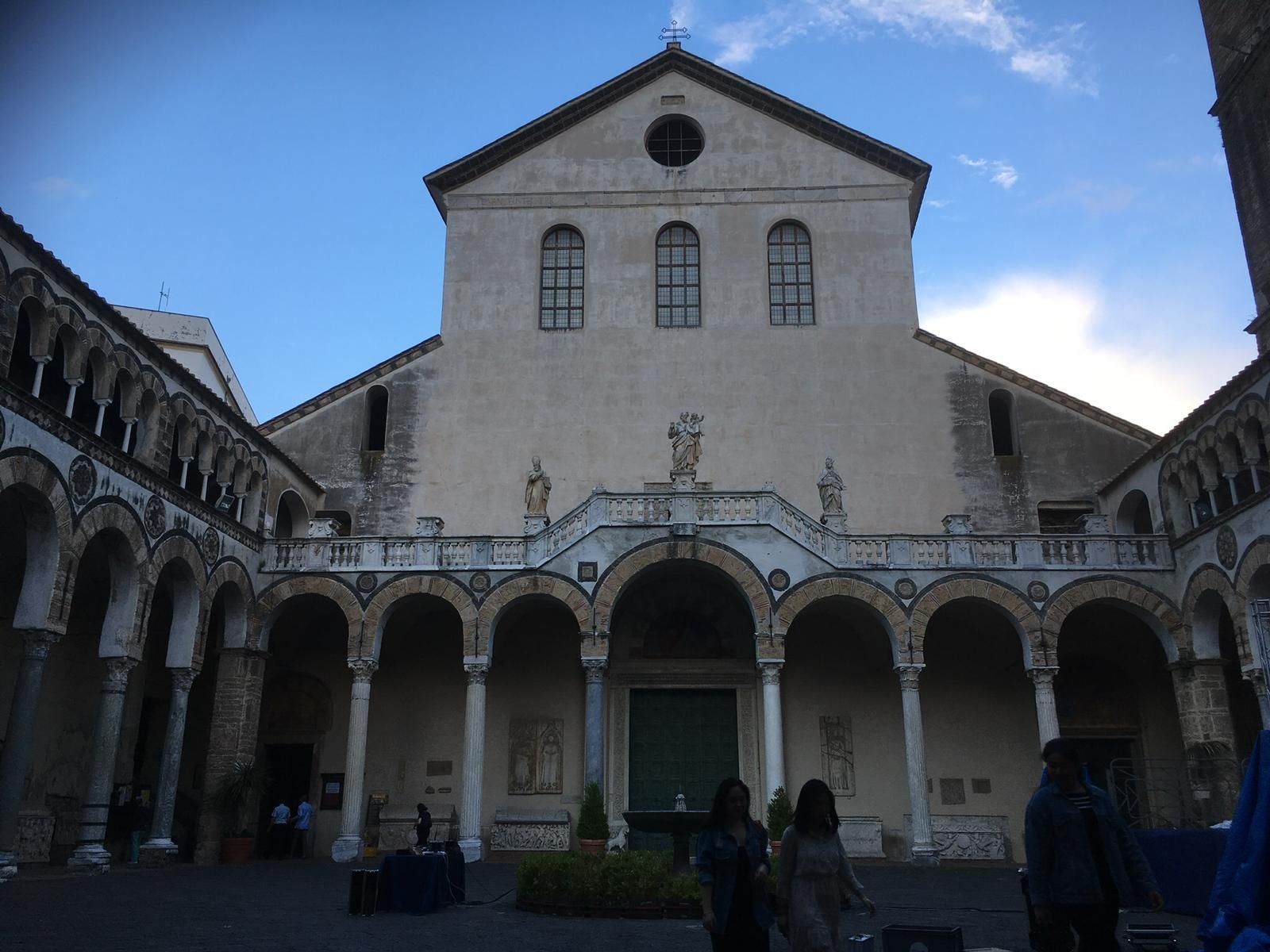 You should definitely head on up to Salerno Cathedral. The outside, like Amalfi, doesn't seem the normal style of a cathedral you would find in Italy and the inside is spectacular. When we were there, they told us that it had an Arabic and Norman Style to the decor, but they didn't explain why.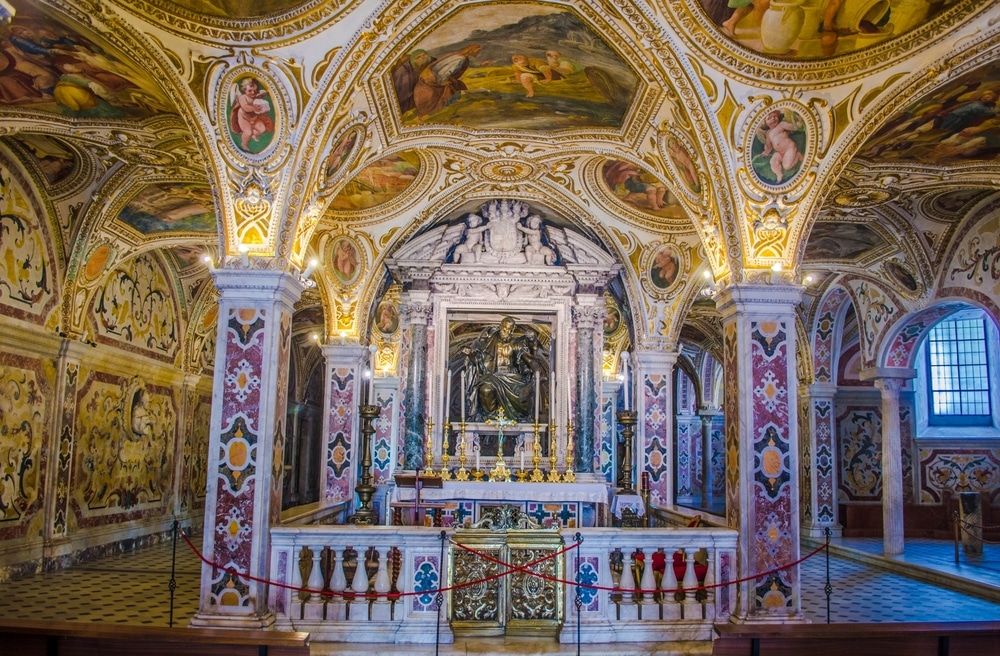 I had a little look. I already knew that Italy had a history with Arab invasion, that is evident everywhere. But, I didn't know that the Normans came knocking about. They conquered the city in 1077! They didn't teach this stuff in school, did they? 
Archi Castle - Not forgetting the Castle on the hill! This does take a little bit of uphill grind to see, but it is so worth it! The views from this point are outstanding and show you the real beauty of Salerno 
Now, this castle stands at 300m above sea level, so I can imagine attacking it, back in the day, was quite a difficult task. They say they built it around the 3rd century and there is some argument as to who did. Probably someone built it and the good, old Romans happened upon it saying "OOOh, nice! MINE!" 
It was one of the most important castles in the region for military advantage, but it was forgotten about when castles became obsolete and not until 1960 did they pull their fingers out and start the restoration. Now, it is open for you to visit and it holds events year round. 
Our Little Find - Barroom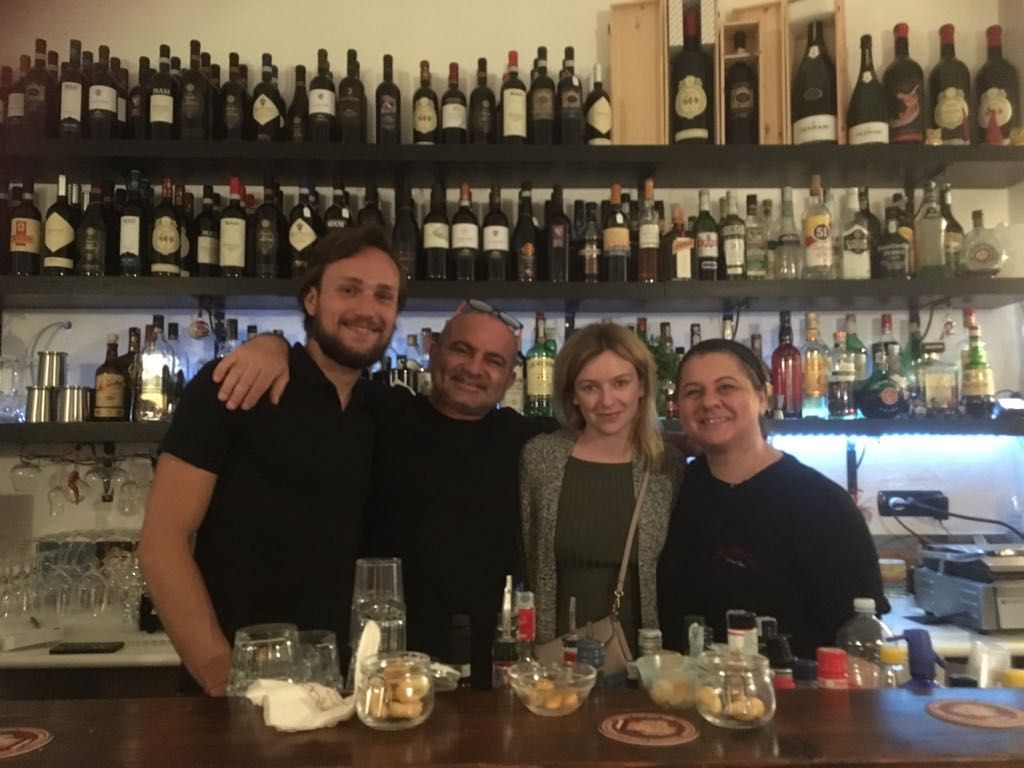 We did find a little spot which became like our local! I think it is definitely worth a mention because you will be among locals and experiencing a real touch of Italian life. 
We got to know the great Aldo and Loredana, who worked in Barroom, and made sure that our nights were well fed and watered with Lupini and outrageously tasty wines from all over Italy!
Every wine I tried was just amazing! If you are heading over to Salerno, you have to go over and enjoy a great evening with them and taste some of the best wines Italy has to offer for great prices! Not bloody tourist prices! (give the photo a little click if you want to check out where to find Barroom) 
---
These are some of the places I really think you should experience in Campania, but this region is full of beauty. Not forgetting Sorrento, Capri, Positano and more. Just get yourself out there and experience it for yourself! 
Go on, off you go!