Relationships
I have always been a love bug, caught up in long relationships, thinking they will turn into those Disney 'happy ever afters' that my best friend and I used to watch. I imagined them turning into a movie where I leave, with my emotions running high and they come running back all sorry and realise that I am the love of their life and marry me. But, it seems Disney and movies aren't real… who knew? 
I even had one wonderful ending that I will never forget. It came via a phone call after I text him saying "Hey can you say something nice, I am missing you" (he lived a 3-hour drive away). His reply, "I think we should break up".  Yes, I know that you're thinking "wow that escalated quickly". He gave me a call after that, (this is where Disney and Hollywood let me down) asking me to collect my things because he had packed them and left them outside. This resulted in me driving over 3 hours, to his mother's house, to find them nicely placed outside in a black bin bag. Ever seen the alternative ending of a movie like this?
---
Independent Woman!
Don't worry, I wasn't broken and this isn't going to be about all my relationships. Let get on with it, shall we? 
It took one of those 'I can be an independent woman' breakups to push me to buy a one-way ticket. For years I was in love with the Italian language and failed to learn more than three words. There was always some commitment or someone which provided me with a solid excuse for putting off going to Italy. I have heard so many people say the famous beginning phrase "Oh I can't because…" Come on! We've all done it.
But, this one fine day, was to be the turning point and gave me the kick up the ass that I needed. I got myself online looking for a qualification to teach English. Now, don't be fooled by all the options of certificates that you can get. Some are only around £200 and they aren't worth the paper they are printed on. But, I can go into that much more another time. 
I got myself my first teaching job in the south of Italy, in a quaint little town called Casamassima. The first 6 months were so stressful. No one there spoke English. I found it so hard to express myself. You realise just how much you take your native language for granted, especially native English speakers. But, I soon became famous as "The English" or "Rossa". Rossa meaning Red, in Italian. I had red hair and clearly, Italians were showing their creative side.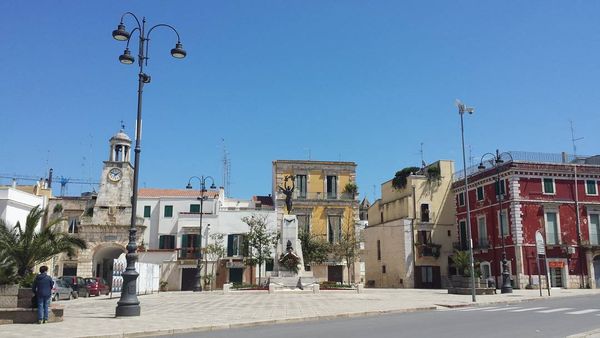 ---
Arrival In Italia
When I first arrived, in October, the weather was still quite mild. so I was yet to experience the Italian summer, where you just simply melt away. I had never experienced heats above  25 Degrees Celsius before, so I was in for a shock. To give you an example, I had a shower, blowed dried my hair (pressing the cold air button of course) and I needed to get back in the shower again because just drying my hair made me sweaty enough for a second shower. I'm painting you a pretty picture, I know. 
Now, I will go into this in much more detail for you, so stay tuned, but Italy was life-changing for me because I lived there for around 4 years, on and off, which taught me a new language, opened my eyes to a completely different culture and not forgetting that In that small part of Italy, I met the love of my life. 
My boyfriend, best friend and partner in crime, Giuseppe. He is important to introduce because he will be coming on this journey of a lifetime too. But, more on that later (gotta keep you in suspense because that is the trick to keep you reading, of course)