Pre Arrival
We experienced quite the opposite in our time there. The city is so big you certainly can't visit it all in a day and a few days wouldn't be enough either if you would like to visit Prague properly. 
First Impressions
Oh, the river! Giuseppe and I love a good river running through the centre of a city and so our first impressions of the city were top notch!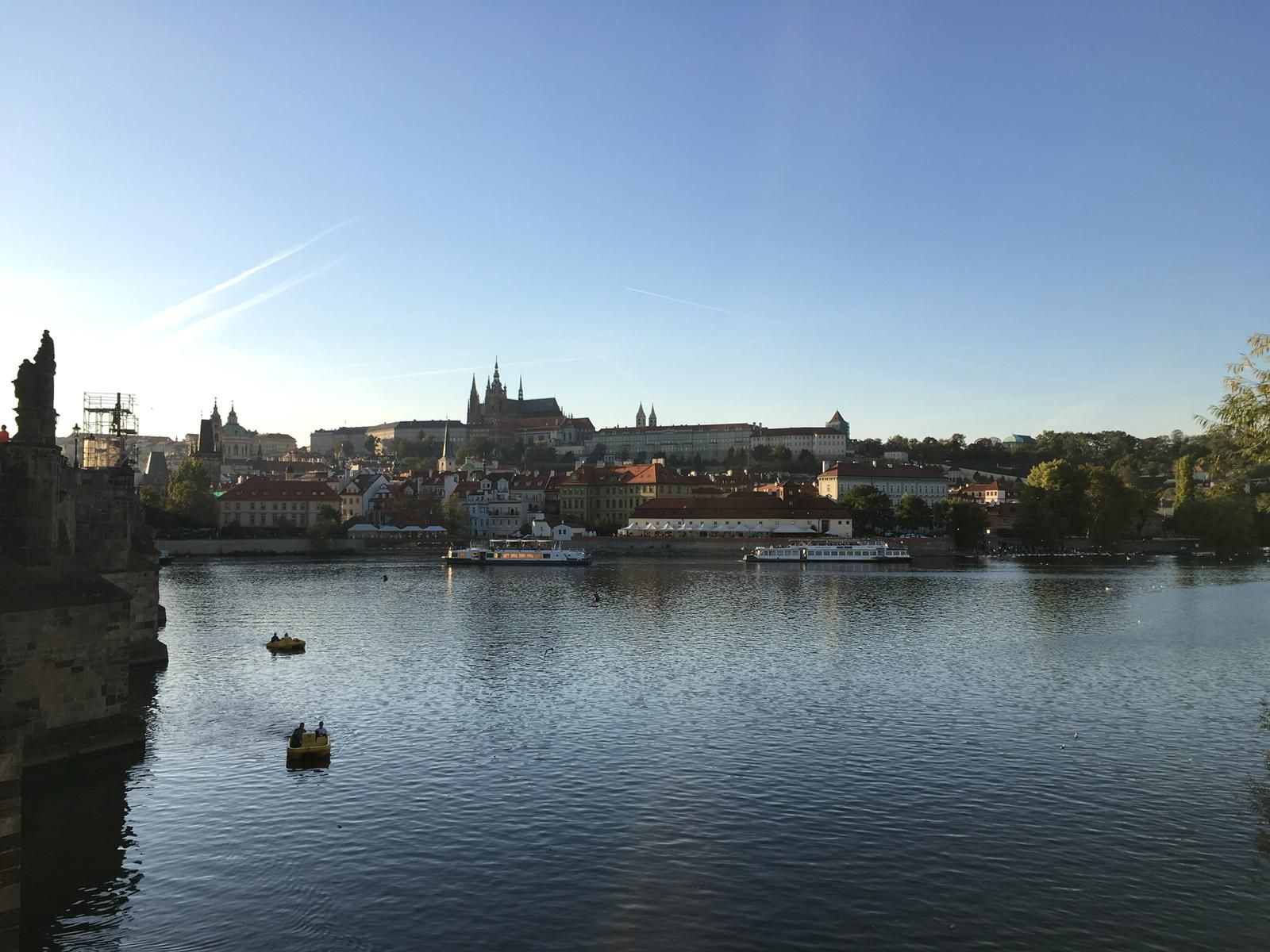 On our first walk here, we headed across the Charles Bridge. This is the most famous of the 17 bridges in Prague. Yep! that's what I said. 17 bloody bridges, they don't mess about when it comes to river-crossing in this city.  This particular bridge (Charles)  was packed to the brim with bloody tourists, we were dodging cameras and blocking the photos of the influencers trying to get "the perfect pic for The Gram", but with all this mess it was strangely very quiet!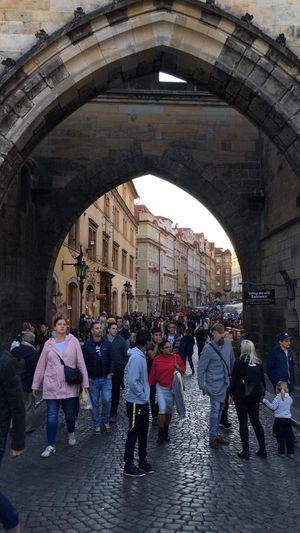 This strangely quiet, busy bridge took us right over into the old town and you can see the number of people you have to battle, which is something you have to get used to quickly in this city, so don't look at them! Look up and the amazing architecture around you. The colours are so beautiful. 
You will see A LOT of Trdelník, it a traditional Slovak pastry and you can stuff it with salty stuff or chocolatey goodness. We got ours packed with icecream and it was soooo yummy!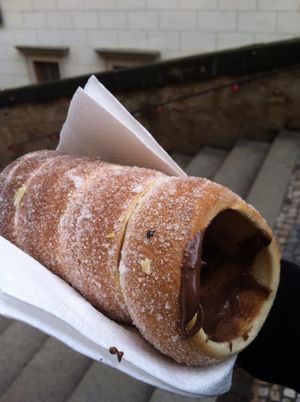 Once you are in the old town, have a wonder in any direction. The further you walk up the hill, the thinner the crowds are. It's like tourists are too lazy to walk up the hill. Which we used to our benefit!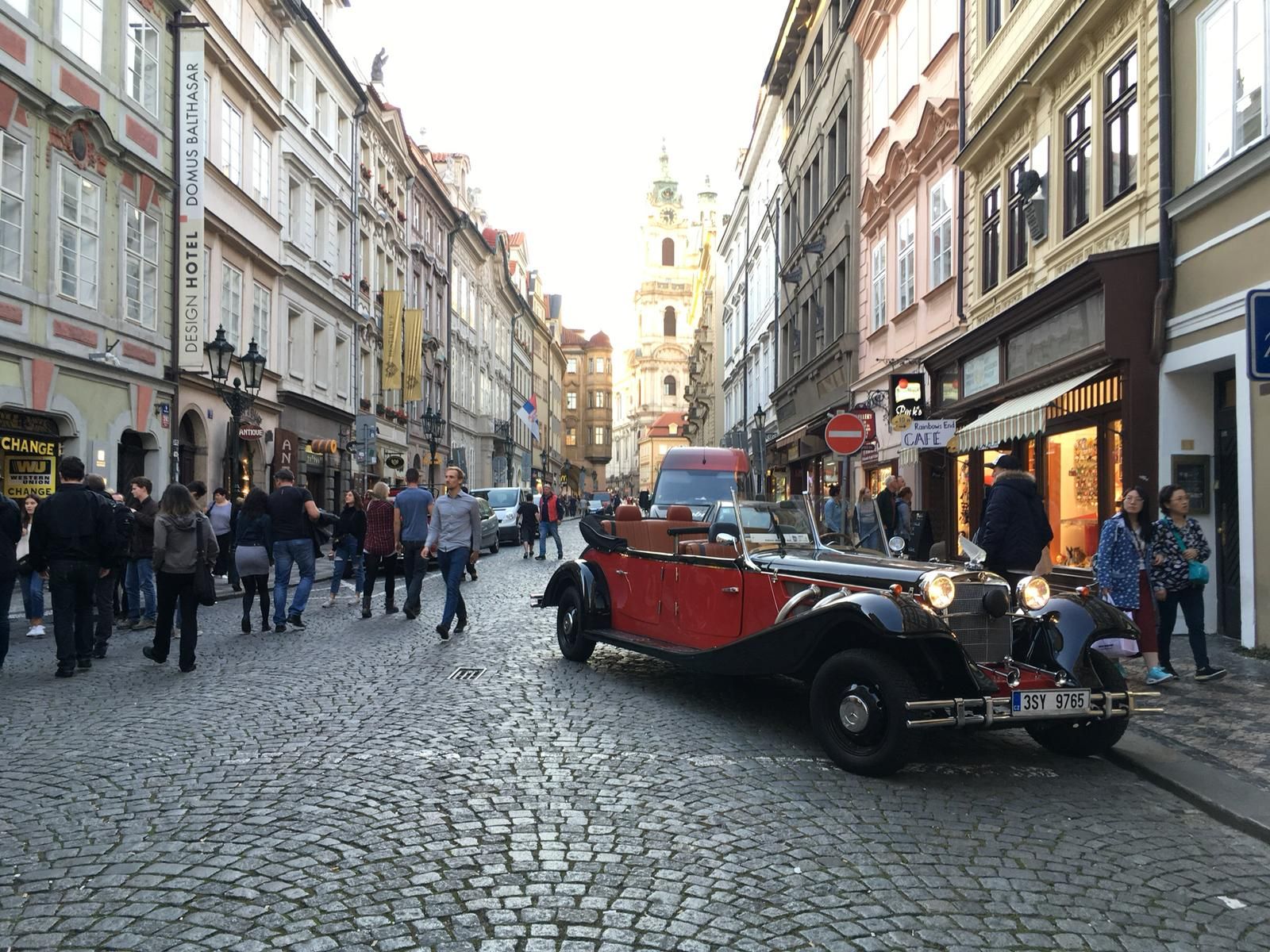 To start off, this cute classic car is one of many you can ride around in. I really don't know how much they are, but the people riding around in them did look rather fancy. Personally, I chose to walk or take the tram because this way you have a more hands-on experience.
---
Prague Keeps On Giving.

If you take a walk in and around this area you will see the beautiful architecture that this city has to offer! What I love about cities in the part of Europe, is nearly every building has a different character and colour. Much more interesting the bloody uniform red bricks we have back home.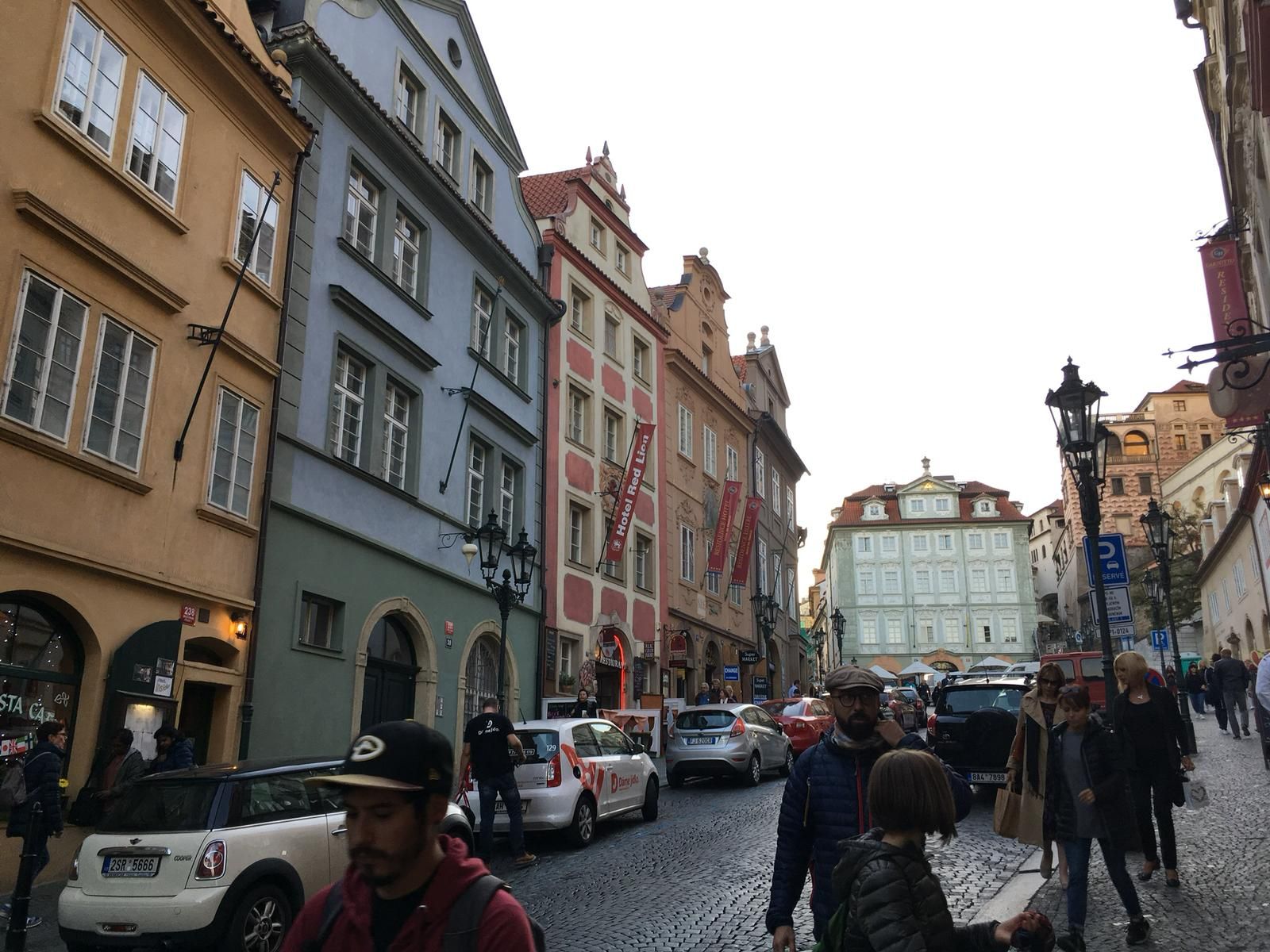 If you walk on up to Prague castle, you will be hit by a very beautiful view over the whole city and you can see it stretches for miles!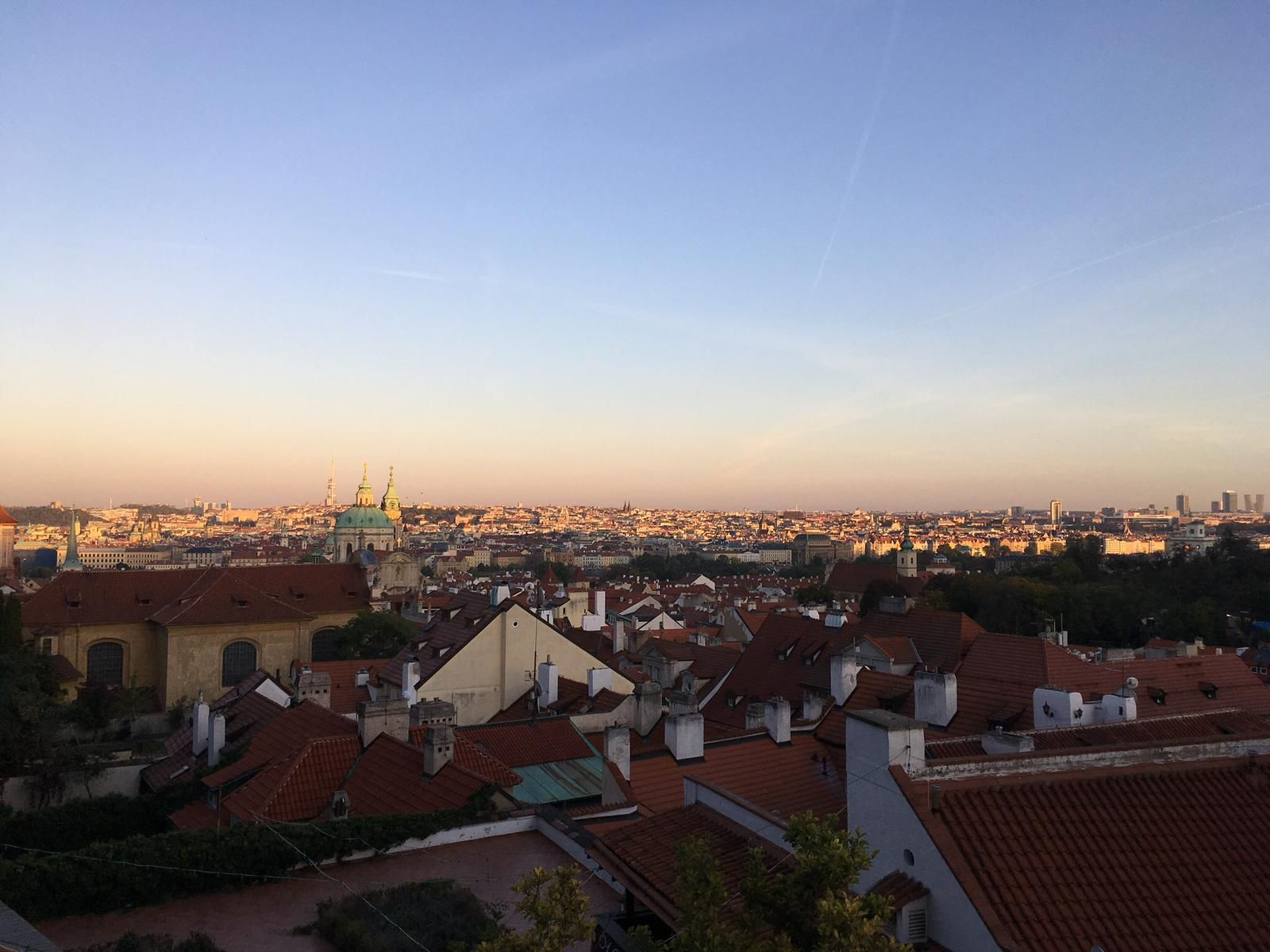 One thing that annoyed me (it probably won't annoy you) is that when you get to the top of the hill, surrounded by a castle, timeless buildings and outrageously graceful architecture, they stuck a bloody Starbucks right in the middle of it. (Eye roll) 
We saw all the tourist walking one say, so we went against the grain of people and ended up in a cute residential area. So calm, hiding from all the chaos of the city. It was like entering a different town, the houses were small and cute, with a little park for children to play and a quaint local cafe that didn't have a "tourist menu"  
We carried on walking and happened upon some lovely buildings and I really recommend doing the same, go and get lost in the residential areas and experience the local feel. 
---
By Night
Seeing this city by night or early evening is to see another city completely. Everything lights up and all the architecture throughout looks so grand and "lardy dar". It will take your breath away. 
Unfortunately, photos will never do it justice. You can't feel the breeze or sense the vast space the river creates as it reflects the old castle back up at you.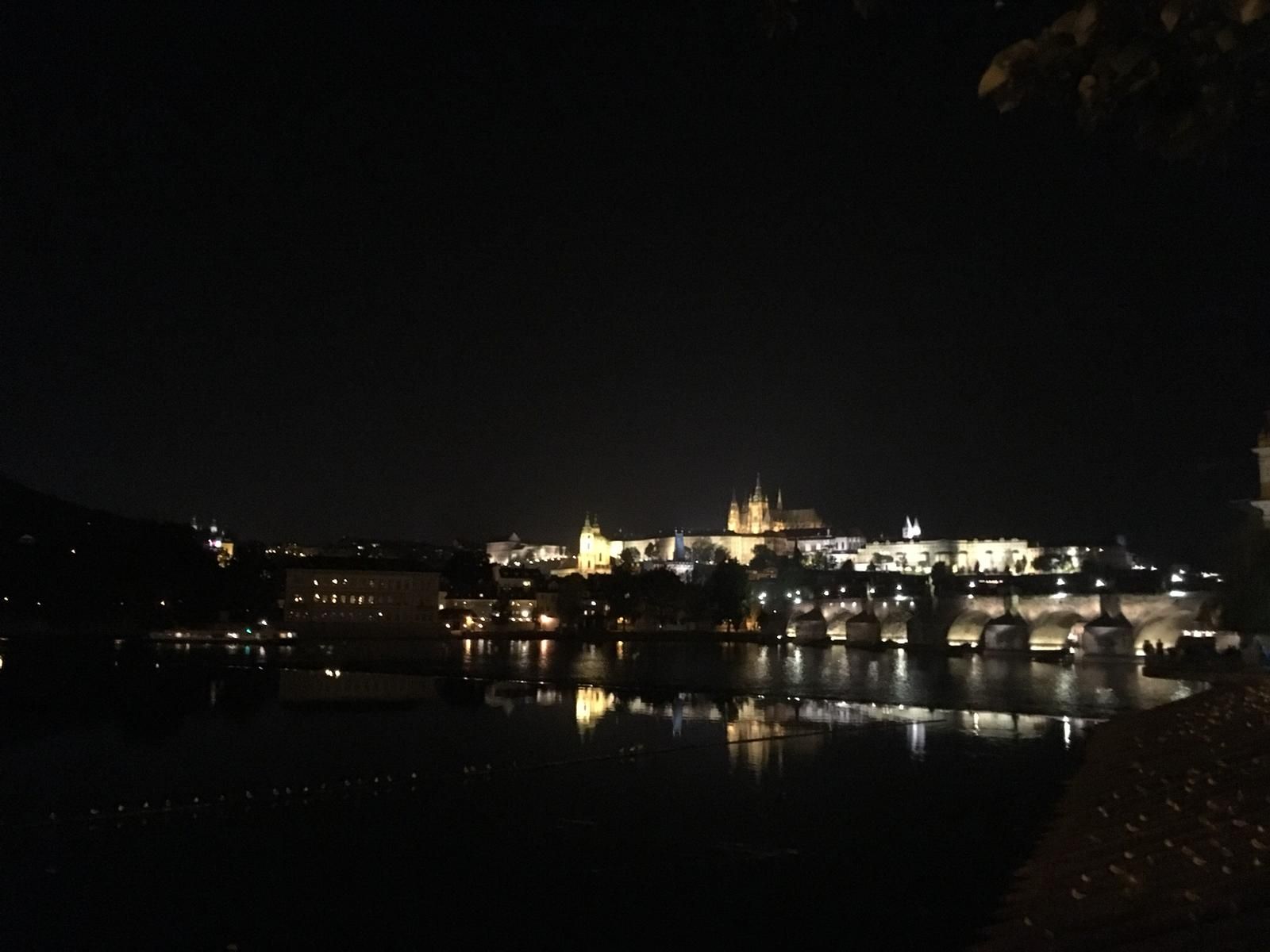 ---
Ok, I Didn't Forget!
As the story goes, beer is cheaper than water in this city, so we put that to the test! Now, I paid around €1 for my water, thinking that for a major tourist city I had done well! Giuseppe came back to the table with his pint of beer he had just picked up for 50cents! Test passed!
See you next time!