Living In Italy - Part Two
I couldn't fit living in Italy into only one part now, could I?
Language Language Language
Well, I studied Spanish at school for 5 years and I think that I could manage to tell you that I have 3 sisters, one brother and a blue dog called Ella. Then my vocabulary exhausted. I think it is pretty much the same for all of us in the UK. I remember in class it wasn't cool to use the Spanish accent and there was only one boy who could actually string a couple of sentences together and he got top marks! 
You can see the difference when you fully immerse yourself in a language. It took about 3 months to get the basics of the language and about 2 weeks to get to the equivalent of my 5 years of Spanish. Most of the time I resorted to nodding and saying "si" but, eventually, you start picking up the most repetitive phrases like "good morning" or "how are you?". Start with the simple stuff and then that opens a door to start a small conversation. 
There are some words that we Brits use and think we actually know some Italian. I have seen how proud we get when we say "ciao bella" to people with that smug face. We are just showing them how much we don't know. Aww...Little Britties. 
I tried my luck with Spaghetti Bolognese. The waiter asked, what I believe was, "what would you like?" and, seeing as I had no idea about anything on the menu, I thought I would play it safe with a good old Spag Bol! We think this is an Italian dish that we can so easily make at home but it doesn't exist in Italy! They just look at you and then use the word spaghetti as a question. "Spaghetti?" Then, that is where you nod and say "si". 
Another little example for you was when my colleague ordered a cafe latte. Again, we Brits know what we are doing. We got this! The bartender, confused at the order, created what she asked for and brought it over. Needless to say, there on the bar was a cute little cup of espresso and a large glass of milk. Just nod and say "si". 
---
Learning About Italians
A great thing I learnt about Italians is, given the chance, they all love to tell you a good story or pass on some friendly, local gossip as if they are doing you a favour. I remember saying to my director's husband that I thought it was really funny that all the old men just sit around on benches until it's time for lunch. 
You will know it's time to eat in the old towns because the nonnas will stick their heads out of the doors or shout from their balconies and the little old men will push themselves up from the bench, (which is sure to have eroded into the shape of each man's ass because they have all sat in the same place for 30/40 years) and waddle slow enough to make sure they don't have to help set the table either. (Little disclaimer here for all the nonnos, just a funny observation, I am sure there are many of you that run on home to help out) 
I found it odd that no little, old ladies were on the benches with them. I see myself at their age out cracking jokes with them. Now, I was told that this is the traditional way because the men used to go out to work and the women, for the most part, would be at home. Like a 'stay at home mum' or a housewife, many of the older people don't even know how to read and write because it just wasn't necessary. 
(I have to say here before I attempt to tell you a story that I'm bringing up from memory here so I have to admit this is a general outline of a story I was told around 5 years ago. So, I'll paint a little picture for you rather than labelling it as fact.) 
The man went on to tell me that many years ago there were very few jobs in small towns and there were too many men who needed work. You couldn't send off a job application like today or even walk into a company and ask if they had work. The bosses who were hiring didn't want to cause trouble and say no to some and then all hell break loose. So they created a new hiring process. The men, hoping to find work, would walk around the square and the bosses hiring would walk in and around them, and if they stood on a man's toes, then that man would be hired that week.  There you go, a fun (almost sure it's true) fact.
---
Making Friends
I soon got pretty confident with my Italian and I would happily try to speak in most shops and bars. I ended up making friends with the local pizza man! Now, if you for some reason happen to pass by Casamassima then you have to go to this pizzeria because it is just beyond tasty! It is called "Me Gusta" and it is right in the centre of Casamassima. 
They are more than a pizza place too! I spent a long time practising my Italian there so you could say it's part language school! Practice whilst your pizza cooks. One particular day he mentioned (again I am never sure that Italians are telling the truth because have that funny smirk that says maybe not) Anyway, he mentioned that he gave palm readings. So, as we waited for my pizza I thought I'd find out my future. Turns out, I am having two kids and my husband will leave and then in the suspense of knowing what will happen next, the pizza was done. I said,  for that let down he better make the best pizza in the world next time! 
He kept his word!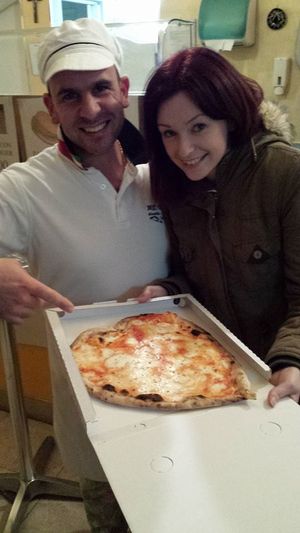 ---
Teaching English
I had a great opportunity for teaching in different state and private schools. One of the schools I worked in was run by Nuns and they would meet me at the door in the morning and accompany me to a class where I would sing different nursery rhymes and dance around with 2-year-olds for 2 hours each week. 
They would eat their own shoes, throw things at each other and throw themselves on the floor and the nun would run around picking each one up, taking the shoes of their mouths and sitting back down on the chair, all this happening whilst I am giving a world-class performance of Twinkle Twinkle Little Star! To top it all off the nun made a call on her little mobile that came straight out of the early 90s and said quite a few things in Italian but I heard "Cazzo"... THE NUN SAID DICK! 
Working with children was really different. The way Italian teachers set out their lessons is the opposite of how we create ours in the UK. We try to promote independence in learning and encourage our children to be creative. There are times in class where you create your own projects and the teacher is more of a facilitator to your learning. 
Before starting to teach in Italy I had no idea how Italian classes were lead. However, I gave them tasks to create a small phrase or, those more advanced, to create a story using some keywords or grammatical structures. When setting them off to create something,  each group would sit there, not knowing how to do it or like they simply couldn't create something from scratch. That would happen even when their language skills were high. I was highly confused and had to change my tactics. 
I sat in a class watching how the teachers taught their students and it was a great difference. The teachers wrote everything on the board, made the students copy it out into their books and if they weren't copying from the board they had to copy out of books and this was for different age groups too. This explained to me the lack of creativity and ability to think for themselves. (I can't say it happens all over Italy but, certainly, in all the schools I attended) 
Having overcome the struggles of creativity, my classes started to pick up and my classes all grew into awesome young people learning super fast over the year. I was ridiculously proud of them all! I got lots of letters and presents before I left but these two made me smile!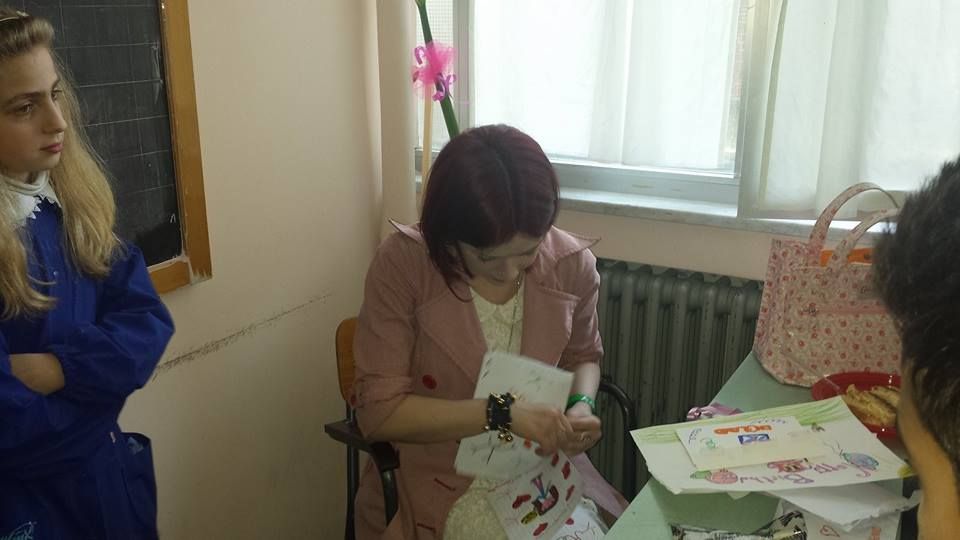 ---
Meeting The Love Of My Life!
Teaching English in a small town in the middle of nowhere put me on the right path to meeting the love of my life! Now, me being me, I couldn't just meet someone, go on a date and think "yep, let's go on another". I had to make things awkward and difficult because normal is boring! 
I met Giuseppe in a rather unconventional way and you may say a tad controversial. Well, I started teaching English to adults and I got a little flirty with one of the students. Sounds weird I know! Don't judge me! I feel you judging me already, but he wasn't MY student and he was an adult, one year younger than me, ok? Ok, fine! Two years younger but, he was an adult!  Ahh, that's better. Glad I got that off my chest. 
So anyway, we went on a few dates, just casual coffee and we went for a walk too. We did have a few kisses here and there but a few weeks later he invited the teachers out to a party. And this is where I saw him. Oh dear, I saw Giuseppe and immediately knew something was different. I couldn't talk to him because he was far too beautiful and I have the same trait as Chandler and Ross when it comes to someone I like. 
As the evening progressed it turned out that Giuseppe was my date's best friend. I didn't quite know how to handle it so I didn't arrange any more dates and I may have bought a guitar that Giuseppe was selling, then, of course, I needed lessons from him. Then, suddenly found the need for one to one Italian lessons with him.  Hmm, awkward situation. 
After a few weeks of high emotional tension I finally plucked up the courage to tell him that I liked him so much and I didn't know what to do about his best friend, who probably thought he would be going on another date with me one day. Giuseppe laughed at me and said he would talk to him (I know what you are thinking, I am a coward for not doing it myself but you weren't there and … yeah, I am a coward) 
Giuseppe spoke with his best friend and I was dreading seeing him, to talk to him too. His friend arrived and came through the door and gave me the biggest hug, spinning me around, saying that he was so happy for us and he thought that Giuseppe and I made perfect sense. Now, I know it wouldn't have gone that way back home! I didn't know what to say.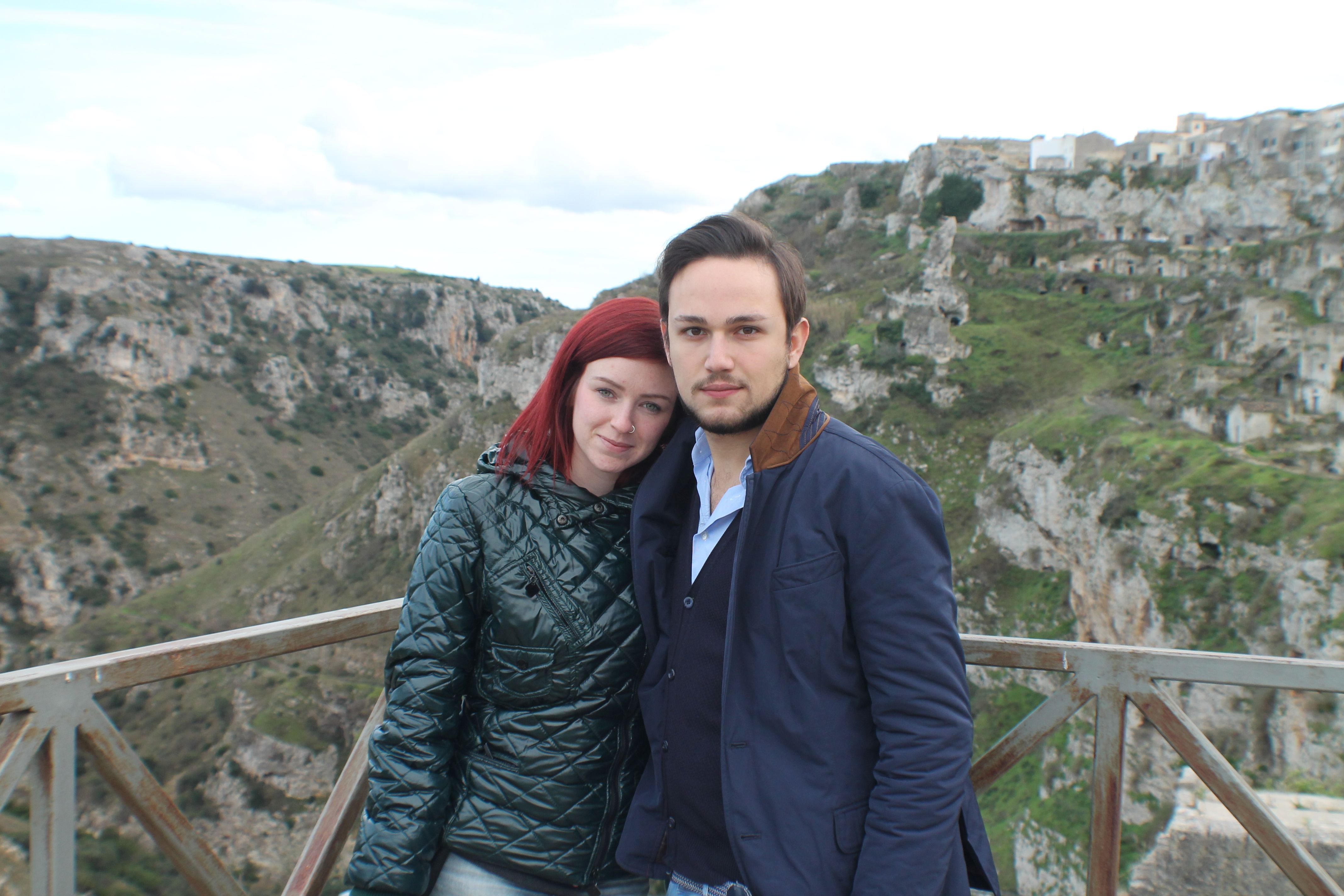 An early picture of us. (Yeah, I agree he could have smiled) 
Through our early months, we had our ups and downs, trying to sculpt each other into what we wished we were, instead of loving and accepting who we were. That happened. And you know me by now, I am good, old Mrs 'Find an argument in anything'. My Italian wasn't the best and neither was his English so arguments were carried out in 'Itanglish'. 
After a few months of calming the hell down, I invited him to stay over for the first time. Thinking "oooo tonight is the night" Well, he arrived looking all dashing and we had a drink and I laughed at his jokes. The time came to move to the bedroom and I gave it the old 'I'll just go freshen up' routine and went off into the bathroom to do the 'behind the scenes work'. This, I may add, is never as sexy as it is in the films, it usually consists of me hopping around on one leg whilst trying to get my fancy pants on. 
So there I was, ready and looking just like those women in the films! I walked over to my bedroom and opened the door slowly and there he was, sat on the edge of the bed with his striped pyjamas buttoned up to the top and tucked into his trousers. My eyes just scanned down to see his socks pulled over his trouser legs and he was just putting on his slippers.
HE LOOKED LIKE MR BEAN!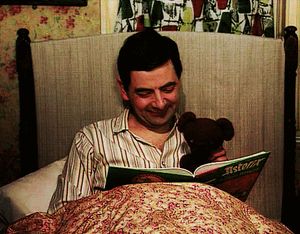 Needless to say, we both went to bed and had a wonderful night's sleep! 
The adventures with Giuseppe are just starting and, with him, I have seen such wonderful places in Italy and I would love to share these places with you next time. A few photos, where to visit and some local things you definitely need to try! 
See you then!