Top 5 Places To Visit - Puglia, Italy.
Let's jump right into 5 great places to visit in Puglia!  
I intend to show a few places I have been travelling around in this wonderful part of Italy. It is really up and coming for the tourists so before you get all squished as you do in Venice, I would get yourself over there and enjoy a real, untouched part of this amazing country while you still can! I'll take you through some of my faves!   
It is also good to let you know at this point that this is just a few things I have found out, experienced and seen in each place. I am not just gonna be 'Mrs Facts'. Right, let's get started! 
---
Bari 
Let's kick off with Puglia's Capital City. This city has its own charm. Just walking around it you will know exactly what I mean. It offers a real 'local' experience of a small town yet in a busy city. 
You will find the Nonnas out in the old town speaking in their local dialect, Barese, which if you have studied Italian, you might not understand one word they say! Always go for the 'nod and "si"' manoeuvre, which I spoke about in my last post. 
If you are lucky there will also be the usual lady who is outselling her deep-fried Polenta! Believe me, you have to try it! Yummy stuff! She is usually around the old town shouting, you can't miss her. Although, good to note, she will be shouting Polenta but in Barese, which is: "Sgagliozze". 
Walking further through the old town you will be greeted by the beautiful Basilica Di San Nicola. The resting place of Saint Nicolas is an awesome place to take a look inside but I am a sucker for an underdog and I personally prefer the Chiese Di San Sabino! Here is a pic I took, the tower is just splendiferous at night!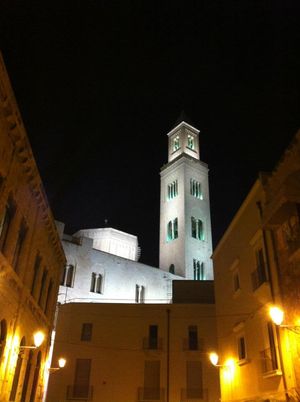 An awesome thing about the old towns in Italy at night is that they are always lit up which makes taking photos just stupendous! I mean, take a look at that tower! Wow! 
---
On a separate note, you can always find a well written inspirational quote on the walls in Bari. It is a special place!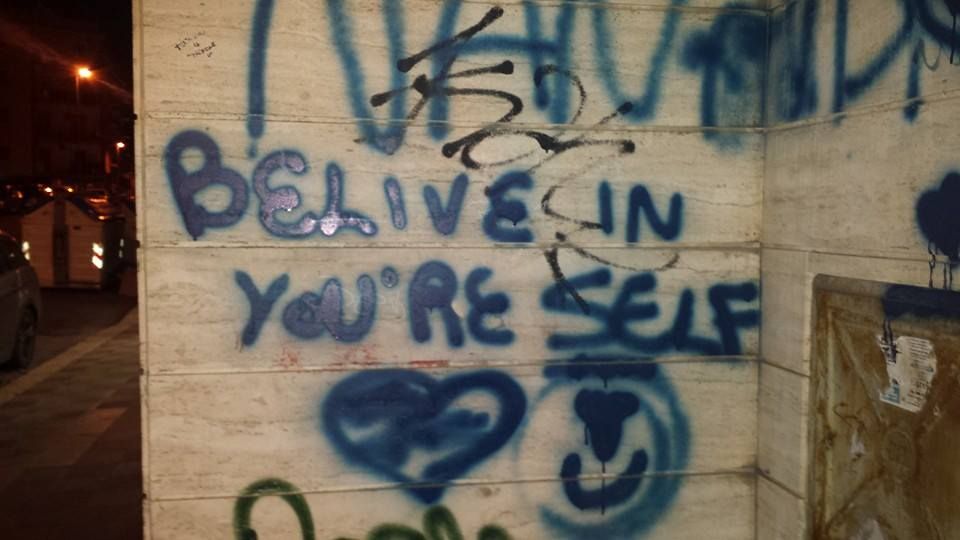 ---
One thing you may not know about me is that I have a love for castles and those that know me well enough will know that I am cursed when it comes to visiting them. I believe for every 10 castles I visit, 9 are closed and reopen the day I leave. But I was super happy to say that when I got to the entrance of Bari's castle, the doors were open and inviting me in! 
A few things I learned about the castle were: It is called Norman Castle, It was built in the 1100s by a King Roger the 2nd, then destroyed a fair few times, causing another very tired king to rebuild it again. Now, they are pretty sure it was built by him but no one is really sure of that. The tour guide said "Maybe" a lot.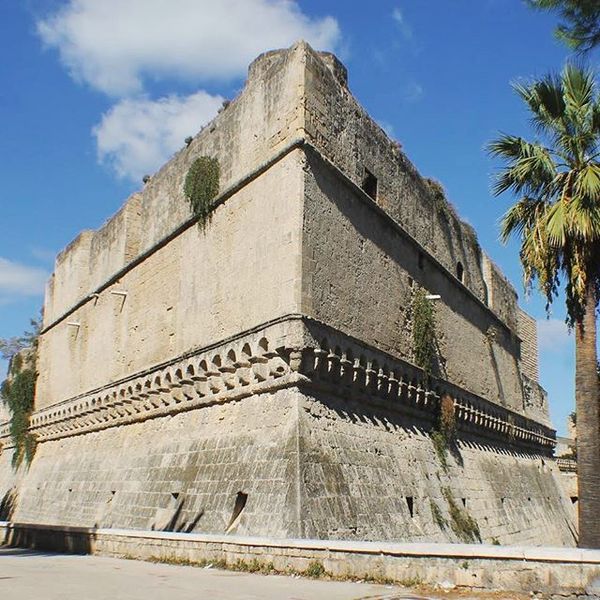 The Castle itself is so well kept and well preserved, probably something to do with the number of times that they've had to bloody rebuild it. Anyway, I can't go on here telling you everything about it because you should be getting yourself out there and checking it out so you can learn all the knowledge I am now so very blessed with! Go on, off you go!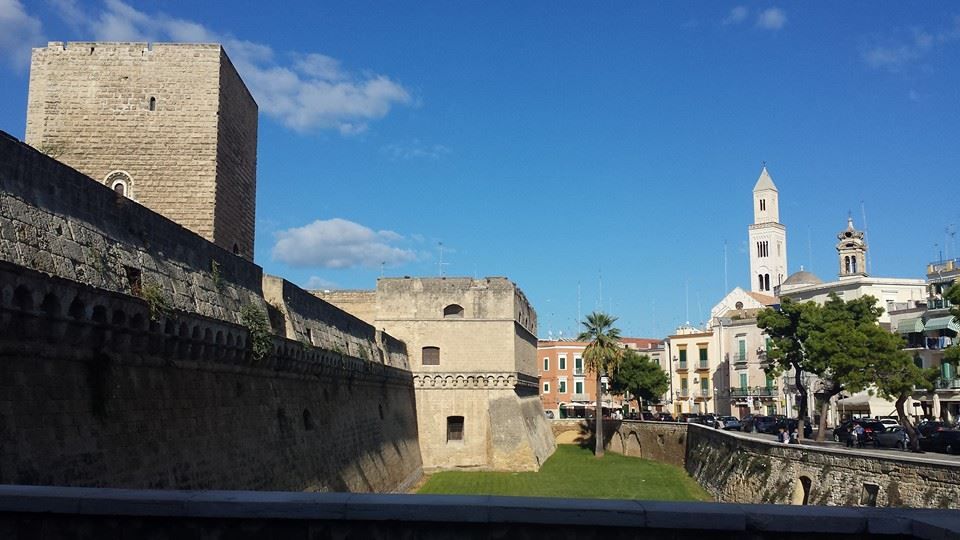 In the background there, you can see the start of the old town of Bari. Now, it is really cute! All those typically narrow alleyways with balconies and wonky buildings. It really is picturesque! But please keep your bag in front of you and don't go flashing your cash. These old towns, just like in Oliver Twist, they 'love to pick a pocket or two'. 
Now, before I move on because we have a lot to get through here! I have to mention some local food! Being the girlfriend of a man from Puglia has many perks and one being, he knows the local cuisine. Now, my absolute favourite has to be Panzerotti. They are just wonderful fried poofs of heaven! To experience the real deal you have to visit Pizzorante Arlecchino, in Triggiano, for the best you will ever taste! 
Also not forgetting La Focaccia and how it is made to perfection in Bari! You have to top it off with a real Peroni. The very home of Peroni, Bari! 
Now, I have lots of other places to talk about so I will leave you with the Lungomare Di Bari, an endless beauty from whichever end you stand at. I lived in Bari for quite a while so I have babbled on, I know! So let's get on with the rest, shall we?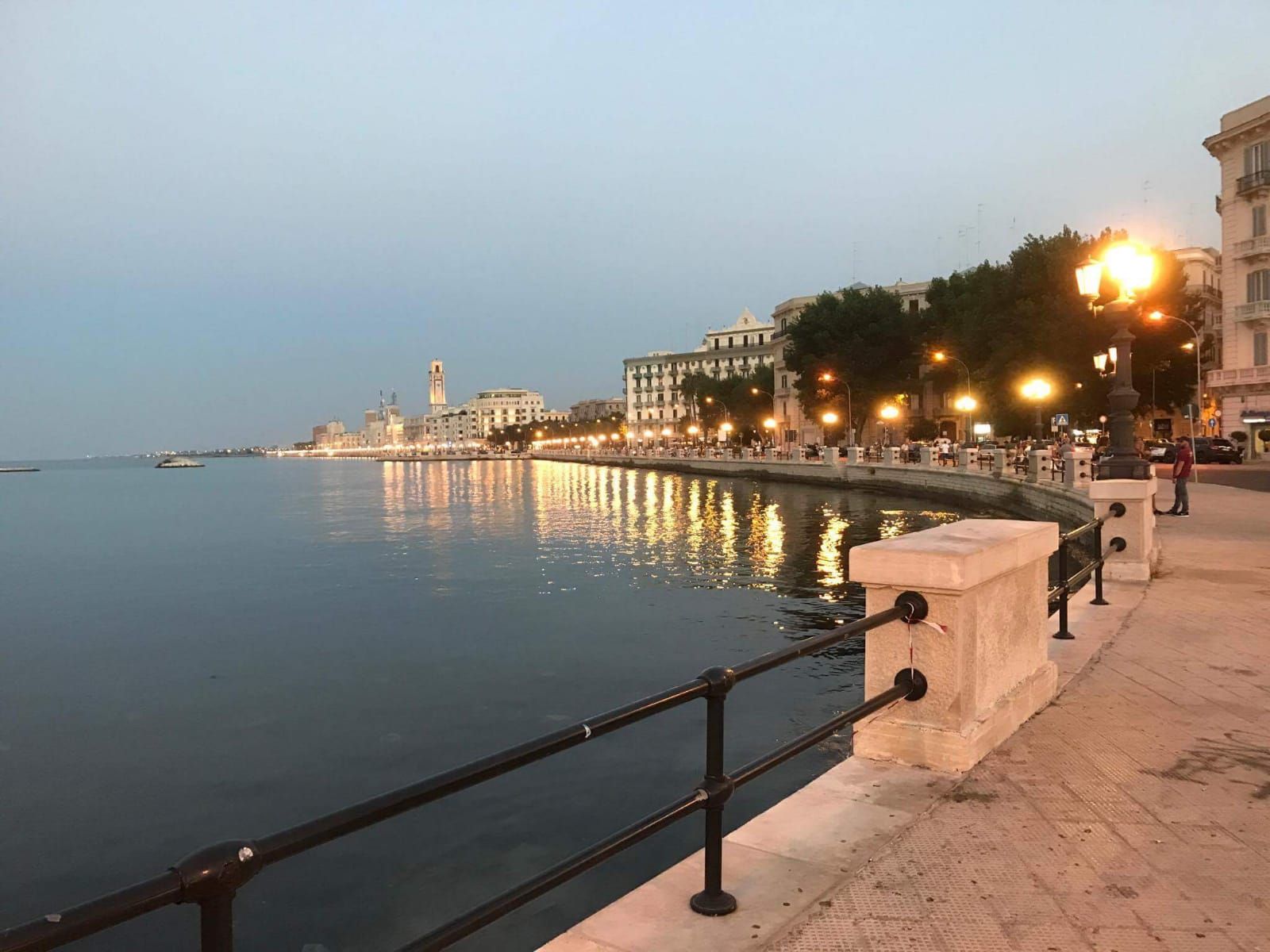 ---
Polignano a Mare 
I have spent many sunny days walking around Polignano, eating ice cream, sunbathing, taking in the sea view it offers, with such a unique coastline. Italians love to go out and 'fare un giro", which means that they drive somewhere to walk around. They usually ask "Andiamo a fare un giro?" which is "shall we go and have a walk around?" This is super common and Polignano plays the setting to many Italians 'Giroing'.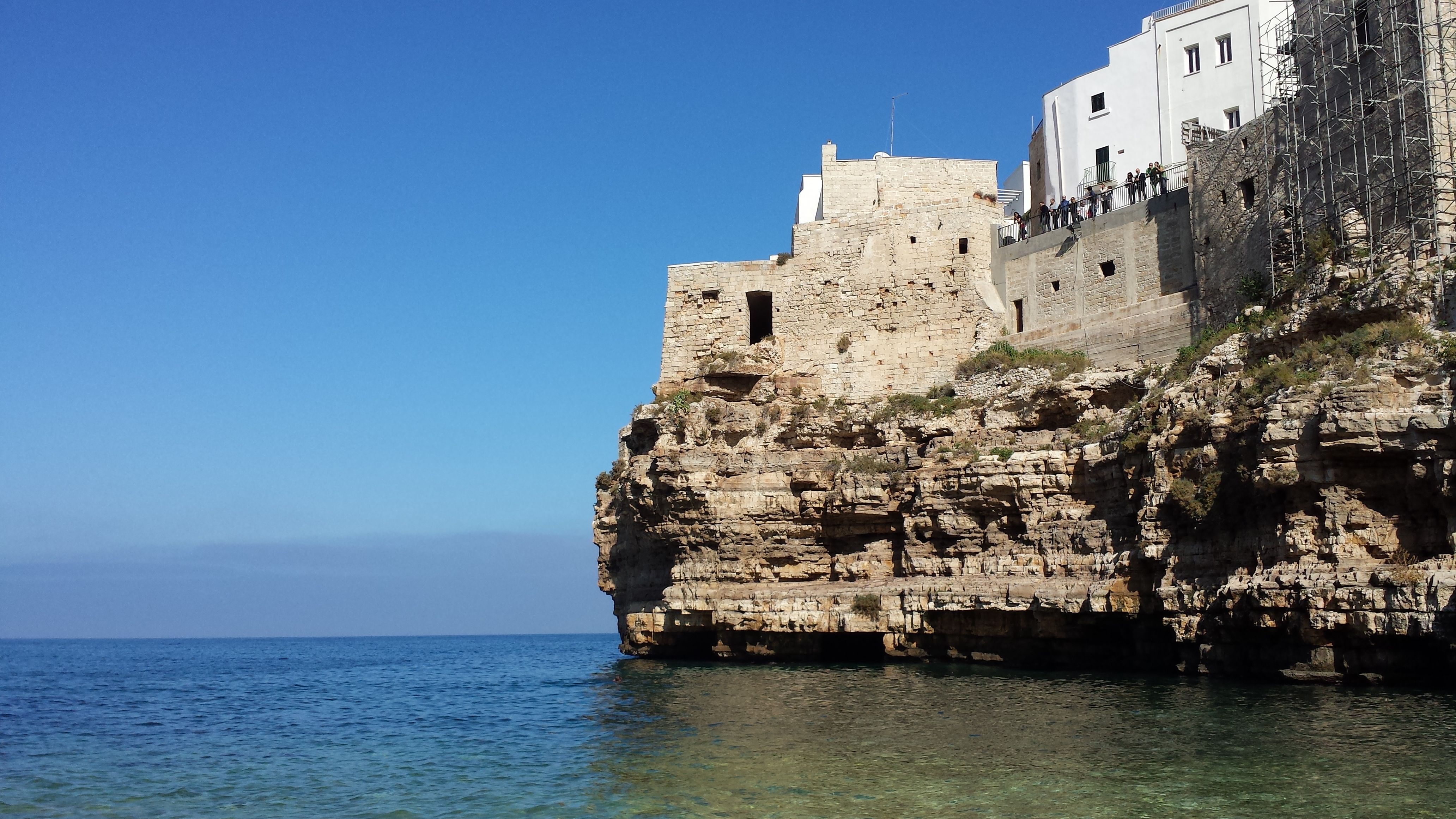 The edge of the old town is built into the rock and right on the tip where they have the RedBull Cliff Diving every year around September time! You have to get there early though if you want a good view of the diving because we got there just as it was starting last year and I was wedged between two sweaty, old ladies taking in the view of the back of a rather tall gentleman whilst listening to the commentary in about 30 degrees. Not quite how I had imagined it to pan out. However, if you get yourself a good spot or you are rich enough to get yourself a yacht and head on down the coast, you will see some awesome/crazy men and women flipping, spinning and all sorts of fancy, twisty moves! 
I recommend just throwing yourself into the old town and getting lost. Every time I go there, first stop, ice cream, then I am off into the old town, I always end up finding a new, little nook that I haven't seen before and you will find yourself popping out at some nice, little sea viewpoints!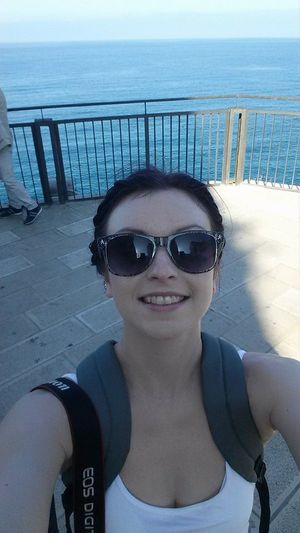 The beach in the town, I must warn you, from afar it looks all comfortable and squishy but it is, in fact, full of rather uncomfortable stones, so you will have a wonderful view and you can enjoy the crystal-clear waters when you take a dip. But you may wake up with a bad back the next day! I recommend moving the rocks around and making yourself some little grooves that support you rather than wiggling around and hoping to find a good spot under your towel. That is just not gonna happen.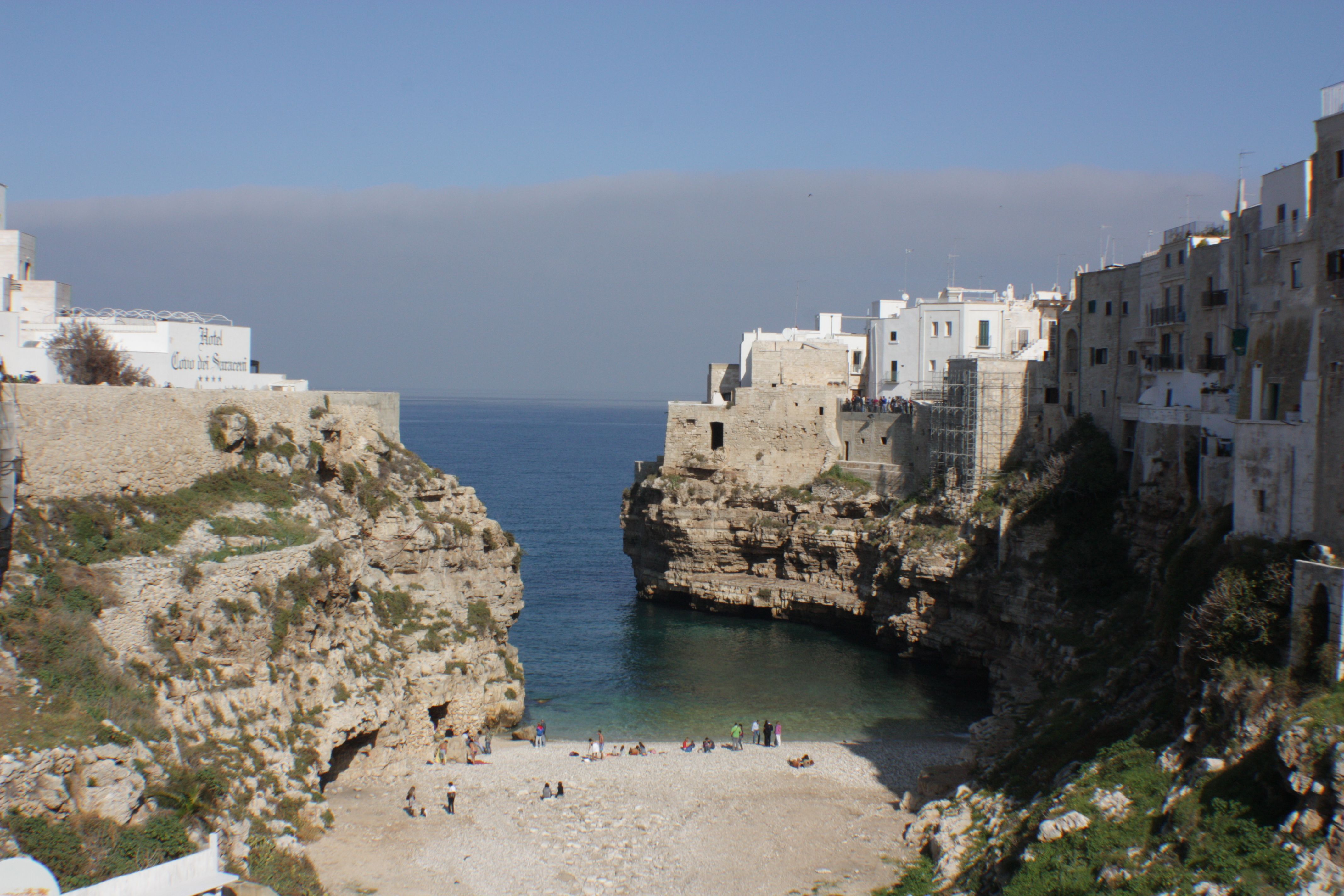 Let's head on further south now! 
---
Ostuni 
This is an exciting one! It is an entirely white-stone city which sits on the top of a hill, providing you and an amazing view over Puglia and the Adriatic sea. Driving past and seeing it on the hill is quite a picture! 
Famous for being white, it was rightfully nicknamed "The White City".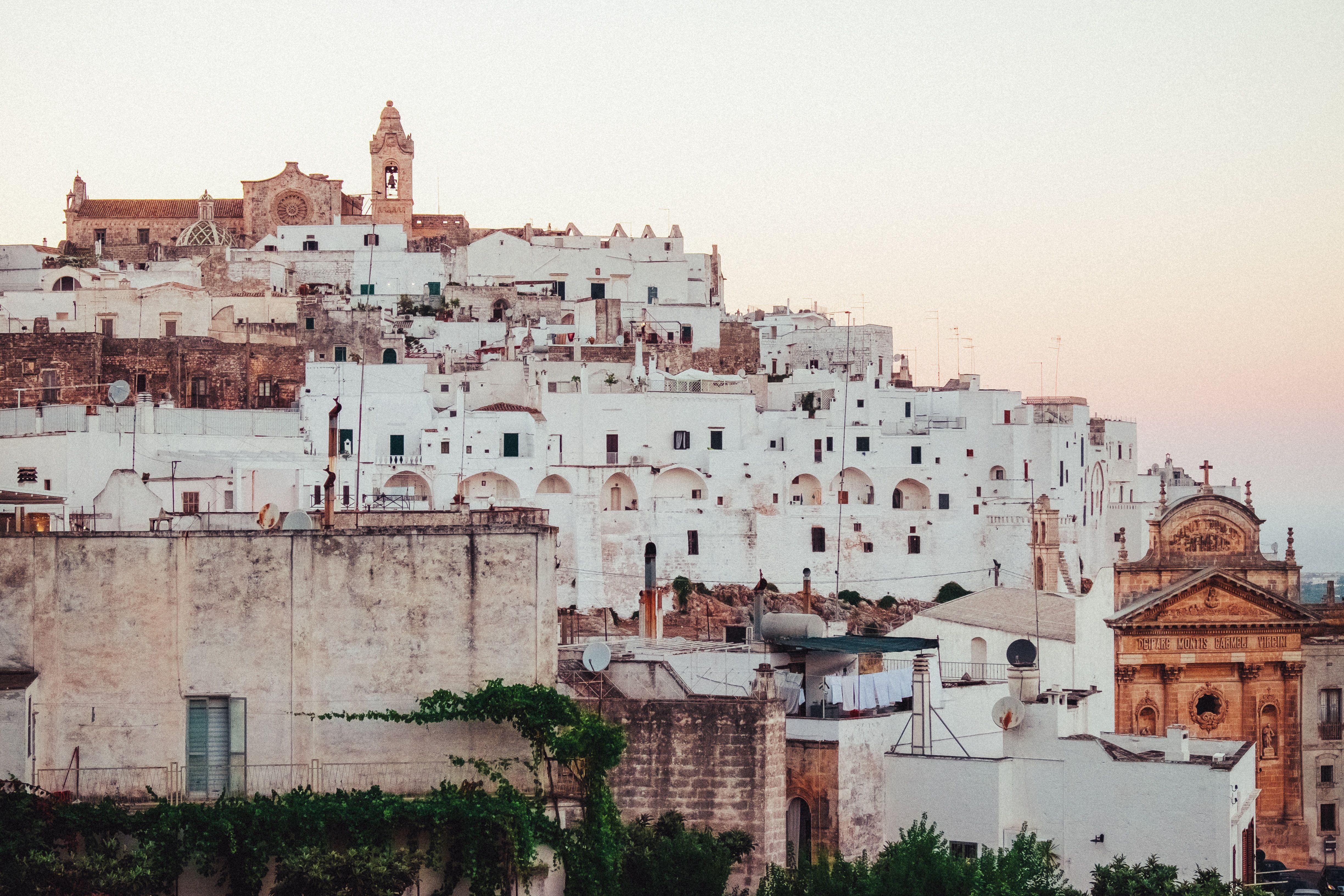 The thing I love about this city is that in the most beautiful parts of the old town, cars cannot get in so you can feel free to wander about the city and get some gorgeous photos without those modern monstrosities ruining your photos (sorry to those who love cars but surely no one wants a Ford Focus parked in front of something that goes back to around the 900s) 
The city is layered and you can pass through lots of little alleyways, head under archways and up and down lots of steps. The streets are filled with quaint, little shops selling local produce or handmade goods. 
If you love photography, as I do, then it is absolutely the place for a snapshot of a real Italian feel.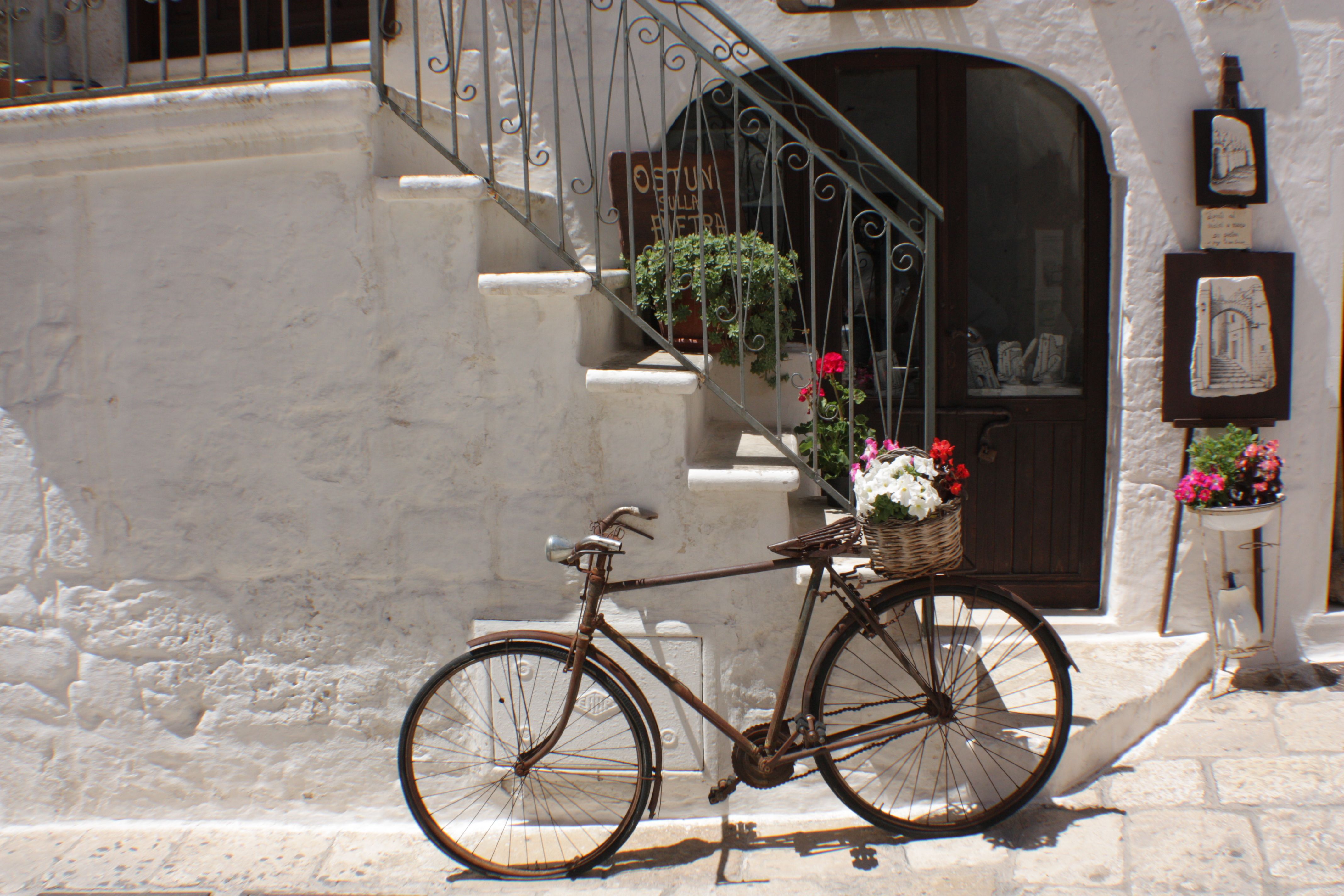 Food-wise, the best thing I ate here was freshly made orecchiette. This is handmade pasta, it was made in the town. The great thing about this country is that they are so passionate about fresh, local produce. Us back home have to rely on imported goods and even the best Italian chef couldn't get imported products to taste like the heavenly glory of what I tasted there! 
After you have had your fill of fresh pasta and seafood I suggest walking to the edge of the city and sitting back, taking in the view. Puglia has a lot of flat coastlines so views from the hills can be amazing! However, personally, I really think that photos of it cannot do it justice, but take a look anyway.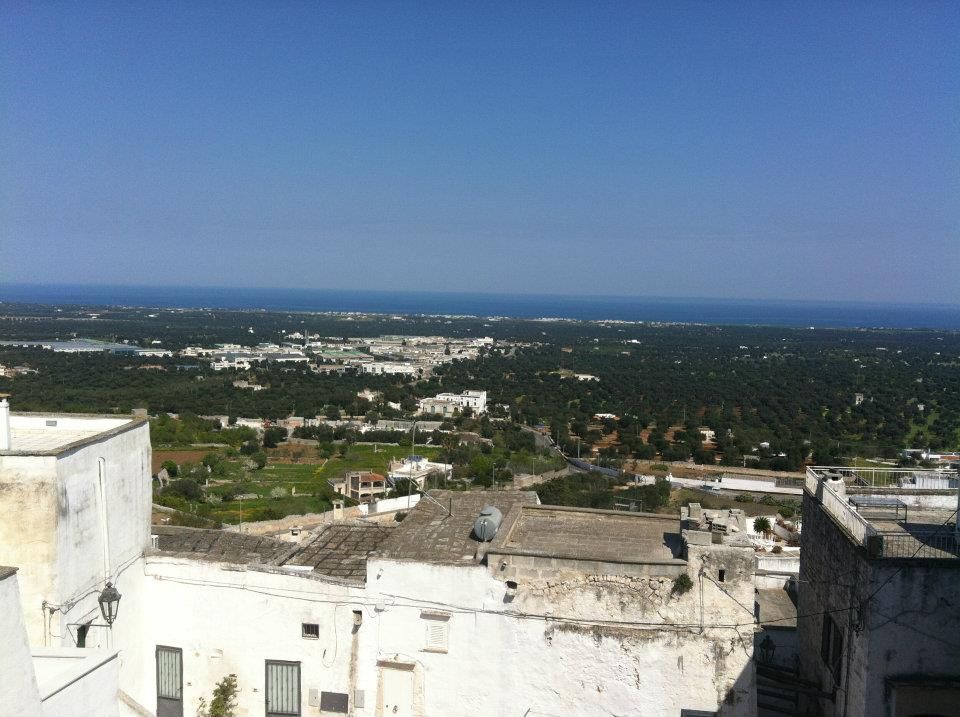 Heading a little further south, just under Ostini, we get to such a cute town that it really speaks for itself. 
---
Alberobello 
I fell in love with Alberobello the second I arrived. I have never seen anything like it. Pointy, little houses that look like houses for garden gnomes. It really looked like I had just stepped into a fairytale. I have been so many times! It is small but not many tourists know of it so it doesn't get too packed. 
The town really is something else.. Look...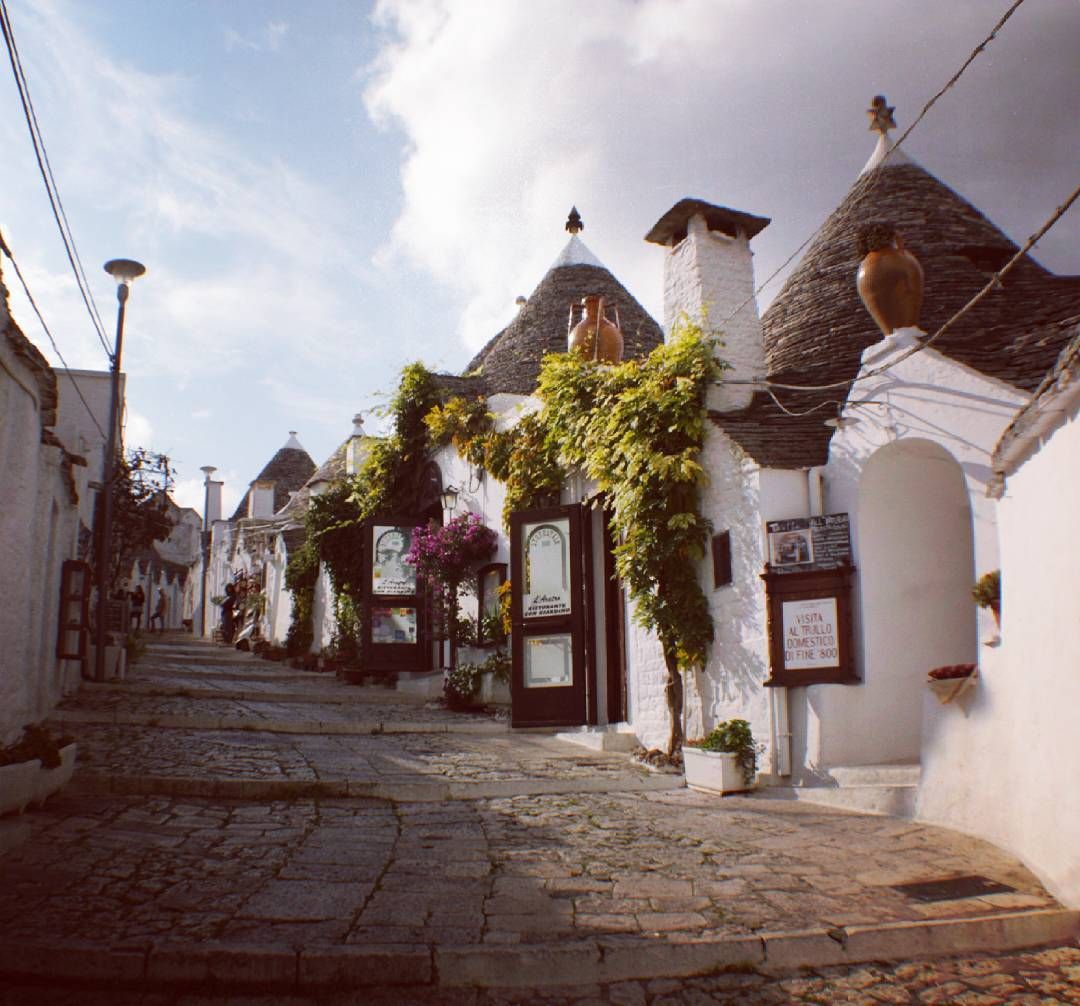 This is the main strip and I learnt very well that, as you walk up, there are many shops that would like you to try their wines in the hope that you will buy. At this point, I recommend you do buy because the wine is amazing! But, if you are feeling a little bit cheeky, then you can try one or two in each shop and by the time you are at the top you are drunk for free! Then on your way down you can pop in and buy food from them! 
The people here are just so nice and they will even let you have a look inside their houses. They are surprisingly big inside and I have no idea about the science behind it but they are nice and cool when it is nearly 40 degrees outside! I was told by one man in his shop that they were built with drywall and they weren't allowed to use mortar to avoid paying taxes at the time they were built. This leads the houses to become known as Trulli collectively. One, singularly, is called a Trullo.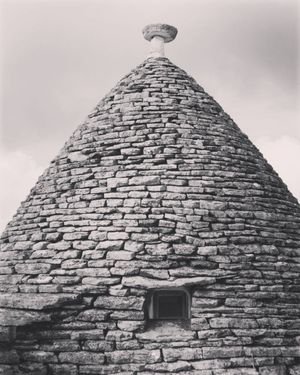 You can see how the stones are not secured and they are built round in a circle, getting smaller towards the top. You can usually see on each roof a symbol and this was added in the belief that they would protect those living there. I told you! Like a fairytale, it really is like a magical town. 
Just look how happy I am when I am there!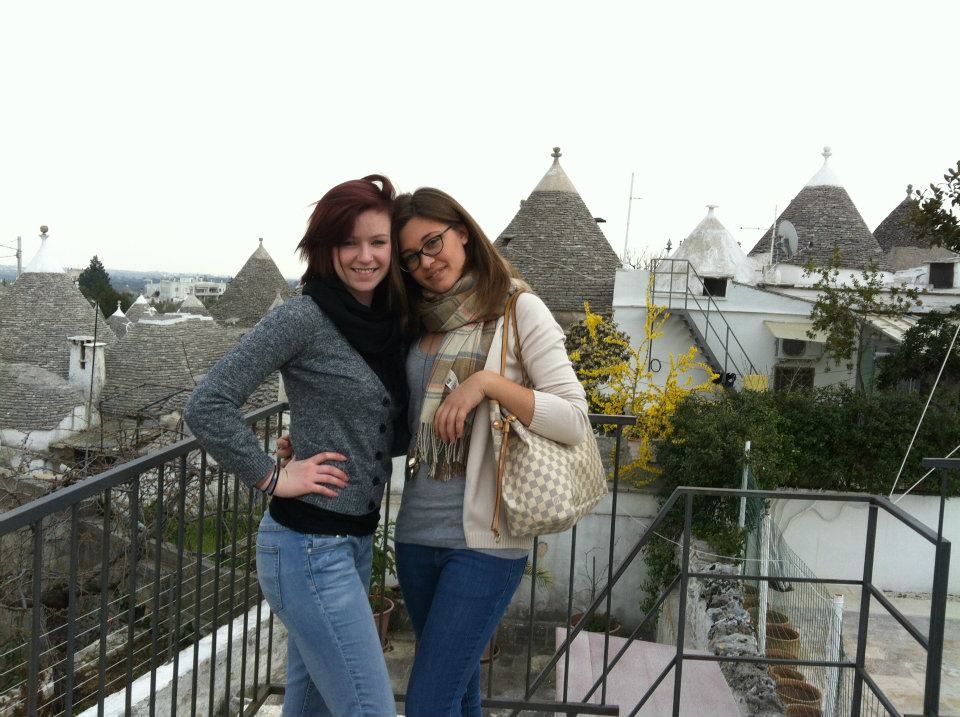 Lastly, travel on down to one of my favourite cities! 
---
Lecce 
I have spent quite a lot of time in Lecce and, before Giuseppe and I decided on moving to Amsterdam, I was quite fancying living there. It has a lot of bars, shops, nightlife and great access to some of Puglia's most beautiful beaches. We'd usually drive down here at the weekend to have a nice meal together. (so romantic, I know) 
The great thing about everywhere you go in Puglia is the ice cream is just beyond amazing! We all know the famous Italian Gelato. It is just so "Icecreamy". I want to tell you how much I enjoyed the ice cream and that you should definitely go and treat yourself but you should also take a look around Lecce too! Here, Erika and I enjoying our ice creams in Piazza Del Duomo. The square is huge and the architecture is just amazing! (I said ice cream too much didn't I?)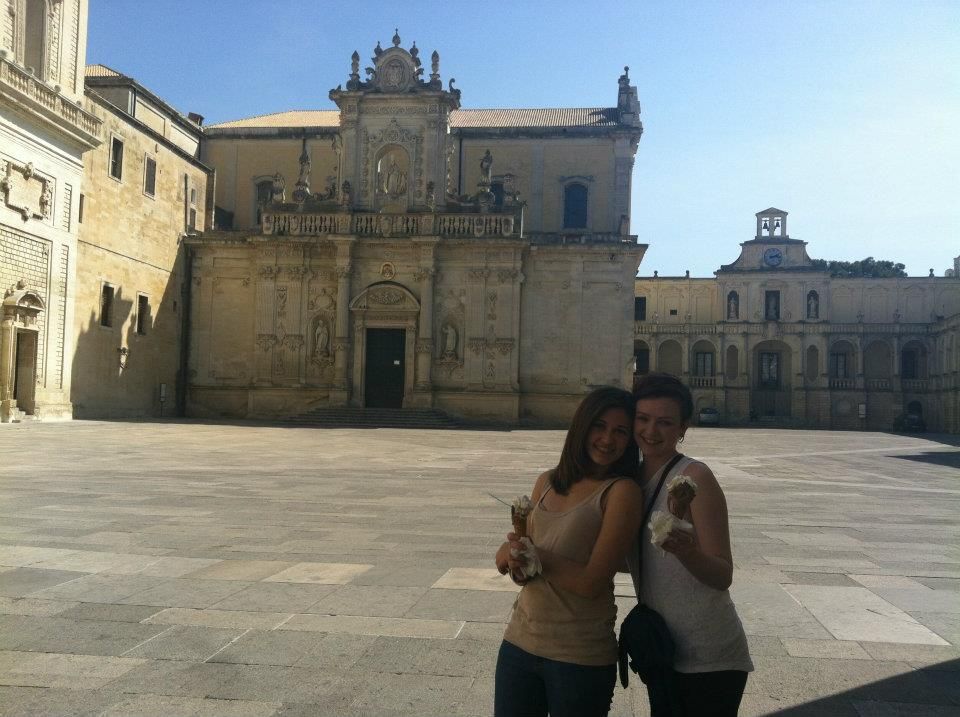 Now, most of the architecture I should know about because this day trip to Lecce, in particular, was to help Erika with her degree in Architecture. This required me to do a lot of measuring-tape holding, shouting out numbers for her to write down and not much else. But I do remember that the style of most of the architecture you will see in Lecce, and in the photo above, is Baroque. I am not going to pretend I know what that means but if you are really that keen to know, you can always have a look HERE!
Moving on, I must stay that the best part for me is the Roman Amphitheatre. This part of the city just opens out into a massive square. It is quite a contrast from the small, winding old towns. 
The amphitheatre wasn't found until the very early 1900s but it dates back to, well, to whenever the Romans decided to build it. I'd say that's a pretty accurate guess. Anyhow, it is still looking pretty good! The photo doesn't quite show you how big it is. You can have a tour around it and get some fantastic pictures!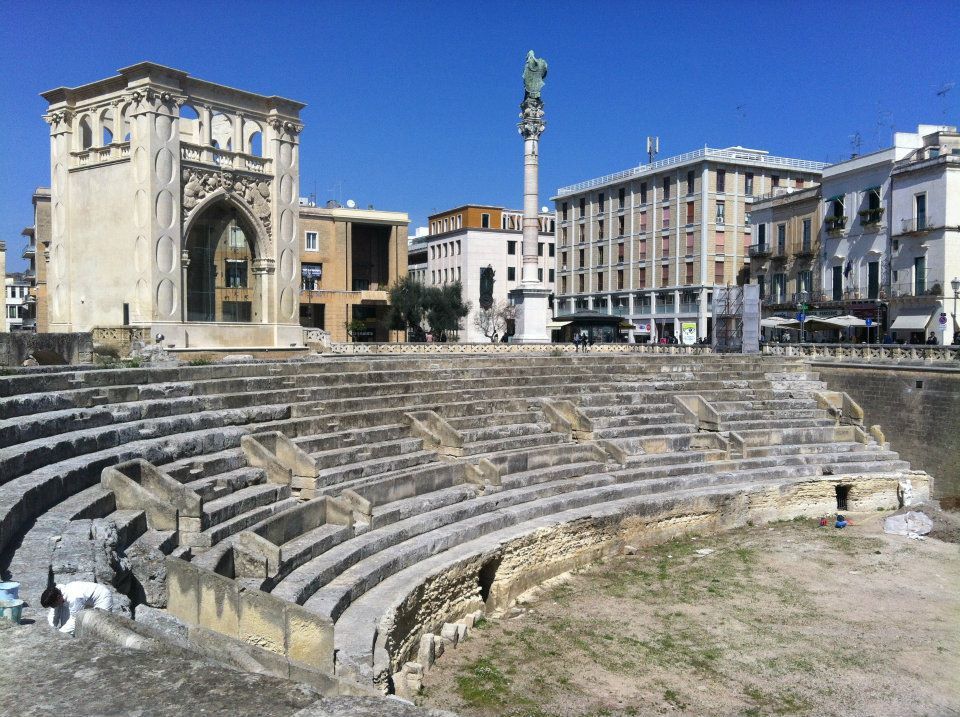 I have never had a bad day in this city! Everything just looks better here! Look at that fancy building there on the Left! When I first saw it I was like "ooh, let's go an see what it is!" Turns out it was just your bog standard tourist information centre. Plus, it gets even better! Look at it at night.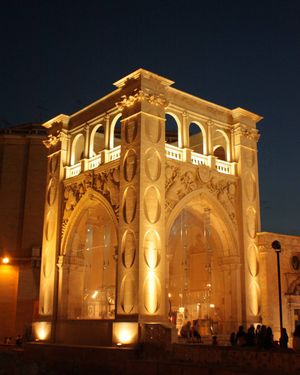 ---
Living In The South 
Throughout my time living in the south, I was fortunate to meet Giuseppe and also have a great friend nearby, Erika. With these two lovely people, I managed to see quite a bit of Puglia. Not many of you will know this area of Italy unless I say "the heel of the boot". When I say that, I get the usual reaction, "Ahhh, I know where you mean" and the conversation stops there.  
Let's get you more involved in this underrated part of Italy. Firstly, we can start with pronunciation. Now most people when they read Puglia,  will go for "Pug-" (yes, just like the dog) then stick a 'Lee - a" on the end. Well, I am going to try and get you as close as possible to the pronunciation because the Italian language has this funny sound that we don't use in English and they make it every time they see the letters G L and I together. (When they are reading, of course, they don't just shout "GLI!" every time they see that letter formation, that would just be silliness!) It is like a strange, numbed G sound.  
Now, that is never gonna make sense to you if you haven't studied the language so forget that! We will go for the closest sound and, if you say it fast enough, they will never know the difference (don't worry I've got your back!)  So, go for POO - LEE - A (The A sound is like A for apple, not Ape) Stick them together nice and fast and you will have something that sounds like PUGLIA! Well done everyone! - I feel like a proud mother!  
---

Well, that's my little guide to Puglia for you. It is an awesome place and I hope you can make the trip out there!
I'd recommend hiring a car because trains either don't show up or, if they do, the air conditioner is broken and you are sat in a sauna for a few hours. But, if you are really 'lucky' like me, the air con will break and then so will the train. So you will be sat there in the middle of nowhere while Italians try to think of a solution. So, my point is, you are best off hiring a car! 
Oh but then, I have to add a side note to that. I have spent more than one-hour driving around the whole city of Bari just to find a parking space. So allow around 1 hour for parking every time you go to Bari. But hey, don't let this put you off! 
Right. I'll stop jabbering on. I am excited to get on with my stories.
See you next time.