Giuseppe Graduated!
At the end of my time in Italy, Giuseppe had just graduated from university and became a fancy, new Software Engineers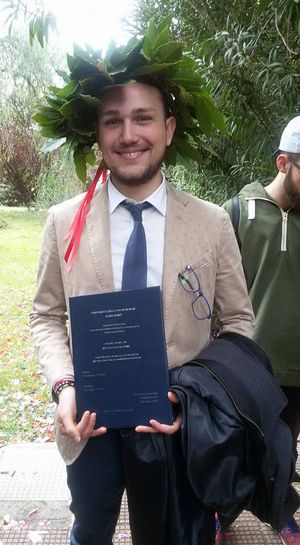 (inserting an advert for him and his website here it is www.peppeuprooted.com, if he gets a gig from this link, tell him I sent you so he can give me some affiliate money!) 
---
Anyhow, where was I? Ah, yes. He had just graduated and I was back in the UK working a temp job while we decided on our next adventure. Giuseppe had never lived outside his country before so this was about to be an awesome, but a crazy, change from the life he had in South Italy. 
He was looking at a few places to live because he wanted to find opportunities that, unfortunately, his home country couldn't offer. It isn't in the best situation when it comes to employment. I was looking at getting a quick side job whilst he was graduating and I was offered 3 euros per hour as a waitress. Hmm, I know the UK's minimum wage isn't anything to shout about but I thought I might just turn that little offer down and head on over to the UK for a few months whilst I waited to see what the plan would be. 
We had a little problem. Giuseppe didn't want to live in the UK for a while and I didn't want to continue with Italy. So we had a few options on the table but the main contenders were Munich, Germany and Amsterdam, The Netherlands, or Holland, either is correct so it is confusing.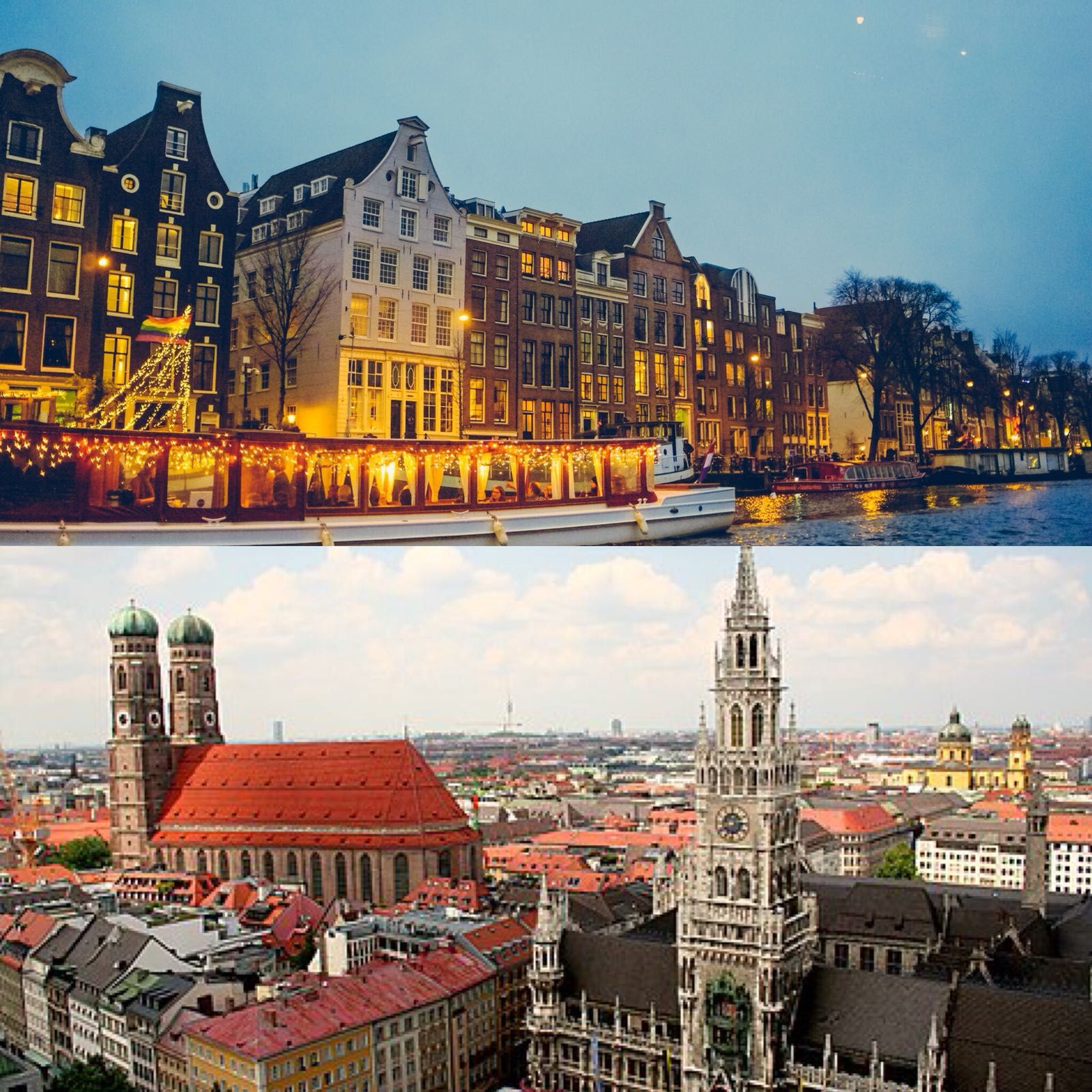 ---
Now, I must admit here, originally the plan was that Giuseppe was going to either Munich or Amsterdam to get some experience in his field and I would pop over and visit him. Thus entering into a dreaded long distance relationship for a while. I was swayed more to him choosing Amsterdam for selfish reasons, he would be closer and cheaper to visit, meaning I could get over there much quicker and more frequently. He was swaying to Munich for selfish (admittedly a better kind of selfish) reasons, he wanted to get his experience in his favourite city. 
He did apply for a few jobs over in good, old Germany but after a low response rate and wanting to get out of Italy, he turned eyes to Amsterdam. (A little "yay" from me when he told me) 
Looking back now, when he told me he got a job in Amsterdam and before I had ever experienced the city, I believed all the stories! It was a town riddled with the sex industry and drugs being sold on all corners. I imagined Giuseppe off to work passing by the 'Ladies of the night'. Although, in Amsterdam, it would be "ladies of the 24-hour clock" all trying to get his good-looking self to nip in for 'breakfast' before a hard day at work. 
I even Imagined him on a downward spiral of drugs, ruining his life and career. Yes, before you say anything, my imagination is a little over the top sometimes but when someone has said to me that they are going for a weekend in Amsterdam, it isn't the same feeling I got as when they would say that they are off for a weekend in Rome. If that helps you understand how I felt? Yes, dramatic. I know. 
Anyhow, Giuseppe was over there for two months and he seemed to be relatively drug-free with a route to work along with a cute (sex-free) canal. So, I remained relatively stress-free. All good! 
---
The distance was difficult and being 'Mrs Argument' as you read in my previous post, I usually found something to kick off about. But we did make it work!  We all learn from experience and I feel I should share my wisdom with you. For those in a modern age, long distance relationship here are a few things you BOTH could try! (Why not stick a bit of relationship advice in here for free, you lucky devils!) 
Take advantage of technology!
Record voice messages - You can say anything, even just a quick "Hi!" 
Take pictures of the little things - not necessarily a nice view but even of your morning coffee or a fat dog! Something that says 'thinking of you'.
Funny videos (or romantic) - depends on how you roll.
Skype call with video preferably or without if you don't have a webcam, no excuses! Just connect.
Be honest - even if they won't like what you say and an argument erupts! It's not the problem, it is the solution. If one of you doesn't like something, say it.
Watch films together. This one might need a little how to. If you both get the same link to stream or download the same film onto your computers. Give your partner a quick call and count to three to press play. Now, from experience, there is always one of you that will say 3 and then press and the other will press on 3. So, discuss your terms and conditions prior to starting.
Be clear and accept! - This is referring to when one or both of you are going out. A lot of long-distance couples struggle with this and so did I! Originally I needed a text every hour or so and this caused A LOT of tension and I admit, it is needy! However, to avoid this be clear with each other. Feel free to say "I am going out tonight, I won't have my phone in my hand so I'll send you a quick text later/when I'm home" - this is clear about how the texting of the night will go, it only needs a significant other to accept…
Surprises! Send each other little letters or maybe a gift. It is always nice to receive a little thought unexpectedly through the post, even just to bring a little smile after a hard day.
Book flights to see each other in advance, this way you have something to look forward to and it eliminates the pain of 'when will I see you next?' 
There you go! Try those out and let me know how you get on! These also work for couples that live together like Giuseppe and I do now, however you may have to twist them up a bit. I wouldn't advise sitting in separate rooms, shouting "ONE, TWO, THREE". 
---
So, we are two months in and I got a phone call from Giuseppe asking if I would like to move to Amsterdam and move in together! I think I played it cool, saying that I would love to, with a few happy tears! But, inside I was like " WOOOO HOOO BABY!! HELL YEAAAH" whilst doing a little Chandler Bing celebratory dance! 
We had spent a week or so, every so often, in each other's houses when we were in Italy and it seemed that we didn't have too many habits that would drive us crazy. This could work! It is always an exciting time to move into the same house and live together! I was filled with excitement and nerves as I wouldn't just be off to rent a house down the road. I was about to go and live in the iconic city of Amsterdam! A new life together, new start, new job, new friends. Lot's of new! 
I didn't know too much about the Dutch. I just had a good old stereotype image to work with, people wearing clogs and riding bikes with bread in their baskets. Now, I did see quite a few people, over the years I was there, with bread in their baskets! But not so many clog wearers, I am afraid. 
What I didn't realise before I went was that you would get neck ache when talking to a Dutch person! They are the tallest people I have ever seen, so, with a good, old google search I confirmed that they are, in fact, the tallest people in the world! 
Fun fact: The average height for a Dutchman is 182.5cm, which is around 6 feet. However, I am sure that most of them are over 6ft! The women are pretty close to that height too! What a difference, after living in Italy when being around 5ft 9inch you can be considered tall. Even I was tall in Italy! (I am 5ft 5inch) 
---
Anyhow, when I arrived in Amsterdam Giuseppe took me for a walk around the picturesque city explaining some of what I saw, like my personal tour guide! He does do his research so I had a pretty well-informed tour! Then, he took me home. When I arrived, there waiting was a set table with candles in the middle and my favourite meal. (Seitan, carrots, onions and courgettes - You probably won't like this meal, but I love it!) Just like the Hollywood movies, I know! With Ben Howard playing, we had our first meal, living together. What a perfect welcome and an awesome start to our story in Amsterdam! 
Just to add here - You may be thinking, you love eating Seitan? Well, I know, it sounds strange but, it is yummy goodness! Check it out HERE!
So, our story is getting started now! I can't go babbling on in this post about living in Amsterdam! I have been talking for a long time. Let's meet again next time and I will get started on telling all about it, deal? Okay great! 
See you then!