The Amsterdam City Swim really was an experience of a lifetime and seeing Amsterdam from the water, at that angle, was to see Amsterdam in a different light. Walking or biking around the city you will see the beautiful architecture close up and maybe get an eye full of some naked Dutch people occasionally because for some reason they don't use curtains, rarely close their blinds and, to be honest, they really don't care if anyone is looking in. 
When we found our first semi-permanent apartment to tide us over whilst we found something just right because the housing market in Amsterdam is insane (I'll get into that at a later date.) We moved on to a street called Ferdinand Bolstraat in the very sought after location of De Pijp. For reasons beyond me, everyone wants to live there. Those three months were enough for me! 
It was my first experience of the Dutch not using curtains and seeing it all. A lot of the buildings in the city, if not looking on to a canal, look on to the opposite building, with windows which look like Polaroid picture frames, that frame the lives of those which live there. It can be quite interesting to watch and I do love a good people watching session. There was a lady who opened her window fully every morning, on the 3rd floor, swung her legs out over the edge, crossed them and smoked a cigarette as she watched people pass by. 
Usually, I would see a couple cooking whilst their child was throwing a ball or something small and green at them. See, what did I tell you, pure entertainment this! The girl who we were living with said she had seen a woman on the top floor bring a fair few men home and showed them a good time. I cannot report to you on that, I wasn't a witness, thankfully. 
However, after a few weeks of living on this street and looking out and only seeing walls, I began to start to feel a little claustrophobic.  Where I come from, if you look out the window, you see rolling hills and it just feels easier to breath when you look out the window and you can see for miles.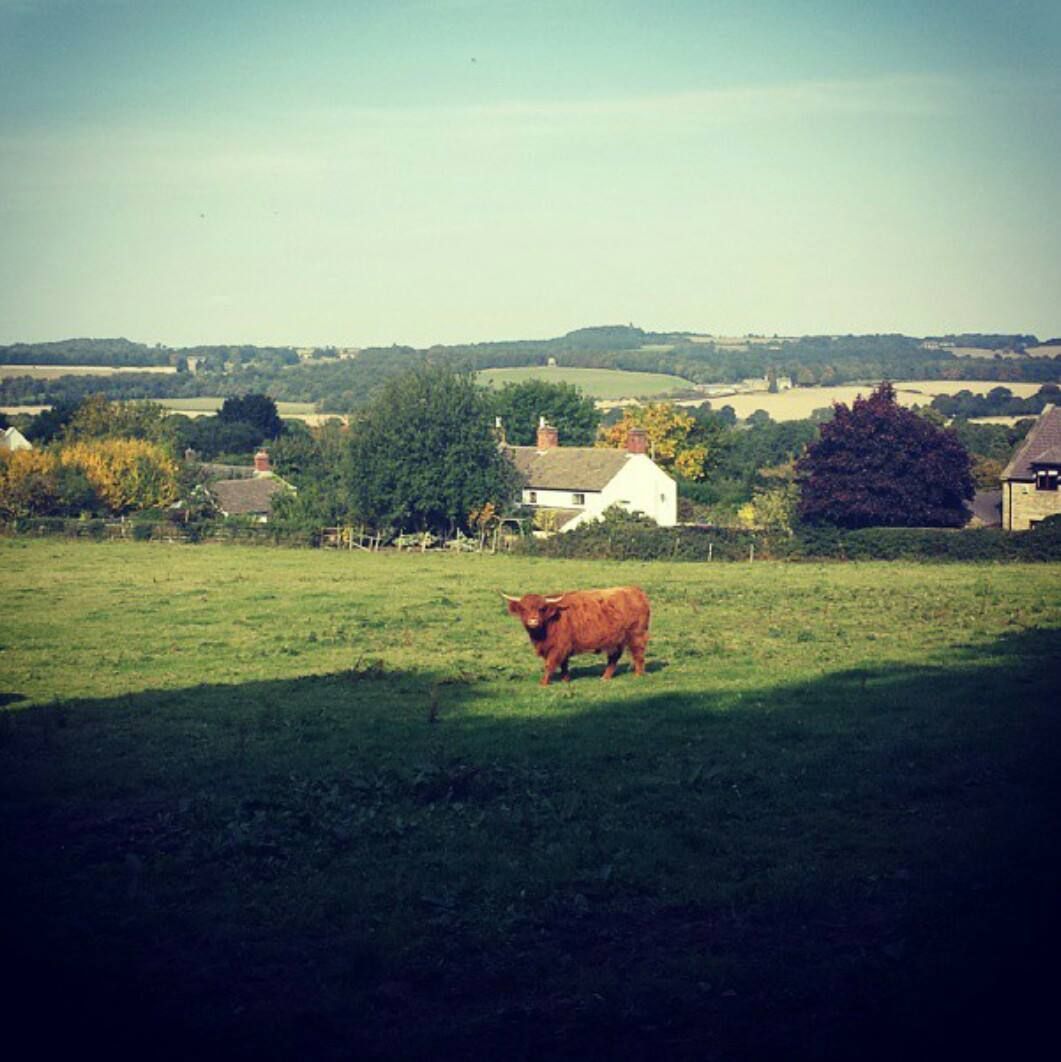 I knew from this feeling that we had to overlook the canals or something, I couldn't live there feeling trapped. Living in De Pijp isn't for everyone, it is only that everyone thinks that they want to live there. It is in an awesome location. I would say it would take you about 15 minutes to walk up into the centre but if you want to go to the station I recommend jumping on a tram or, by this point, if you have a bike, go everywhere on that. 
What made things worse for me was that it was always full of tourists! (I know, why am I complaining when I should know tourists would be in the centre of Amsterdam) but, when you are aiming to become a local and settling down into the life of a local, hearing people shouting and singing at 5 am even on weekdays just isn't for me. Thank god our bedroom was on the back! Phew! I have even gotten up to go to work and those partying from the night before are wandering aimlessly on "Drunken GSP mode that always gets you home" 
During our time on this street, we spent a lot of time looking for the right apartment. It was a tricky business because, in Amsterdam, you must earn at least three times the rent. Our budget was about €1100 (which for the centre these days is laughable but I'll write a whole bit on this another time) so, with that being our budget, we would have to earn at least €3300 combined, with the knowledge that if someone else is going for the apartment that earns a bit more or works for a 'better company' you can probably kiss that apartment bye-bye. 
When you have a combined wage for an apartment in Amsterdam, you should be ok. On your own, unless you are a big deal, with a fancy wage then you will be looking at sharing. It was just our budget was low, so finding a cheapie was like gold dust! 
After what seemed like an endless amount of searching and when I was even dreaming housing searches, I found the PERFECT apartment! I called, sent texts and emails, along with my friend Rebecca, who left voicemails for me with her nice accent that she has! My hopes were dying when the weeks passed by, then a phone call came! I can view the apartment next week at 12:30 pm! 
Along came the next week, Giuseppe was in Italy so it was all down to me! I managed to get the boss to allow me time in my lunch hour to bike there to visit the apartment. I didn't take into consideration that it was 32 degrees celsius outside so I arrived at the viewing all sweaty, eww! It was NOT a pretty picture. Whilst ringing the bell I was fanning myself, trying to smarten up, give the hair a bit of pizazz and I had to keep my arms down to hide the sweat patches! (I know, beautiful!) 
Well, I walked into the entrance of the apartment, complete and you couldn't get much fancier, to be honest. Giant, Iron gates created into artwork. It is officially a tourist attraction actually! We saw a group of people every so often, dressed head to toe in 'tourist fashion' with their cameras, playing 'Who can get the best shot' Take a look for yourself: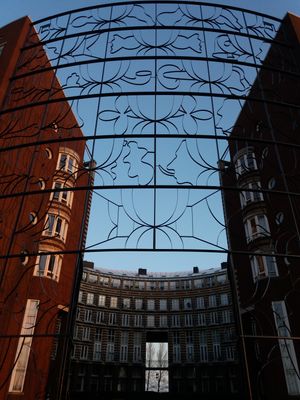 I rang the bell and it was like entering Fort Knox! Just to get into the building it was two doors, with a doorbell to buzz you through! Into an elevator, which I might add had a chair built into it, so if you fancied a sit down on your way up, you most certainly could! Ok, so then you hop out on the 4th floor and off down a short corridor to be greeted by another door with another bell! They let me in, and there was the final stretch to the house! About a 50m walk but, bear in mind, I was melting away at this point! 
Arriving at the door redder than a tomato, panting for breath and trying to put the volume back into my hair, I was greeted by a wonderful agent named Andries, from People On The Move, I am sure you can guess by their name, they help us expats find a home. 
Andries walked me through the cute little kitchen and the spacious bedroom, he showed me the bathroom and then we walked into the living room. I saw nothing but the balcony and the View! It was just splendiferous! The view over the open water was exactly what I wanted and needed! This apartment HAD to be mine! 
I just have to show you the view at sunrise!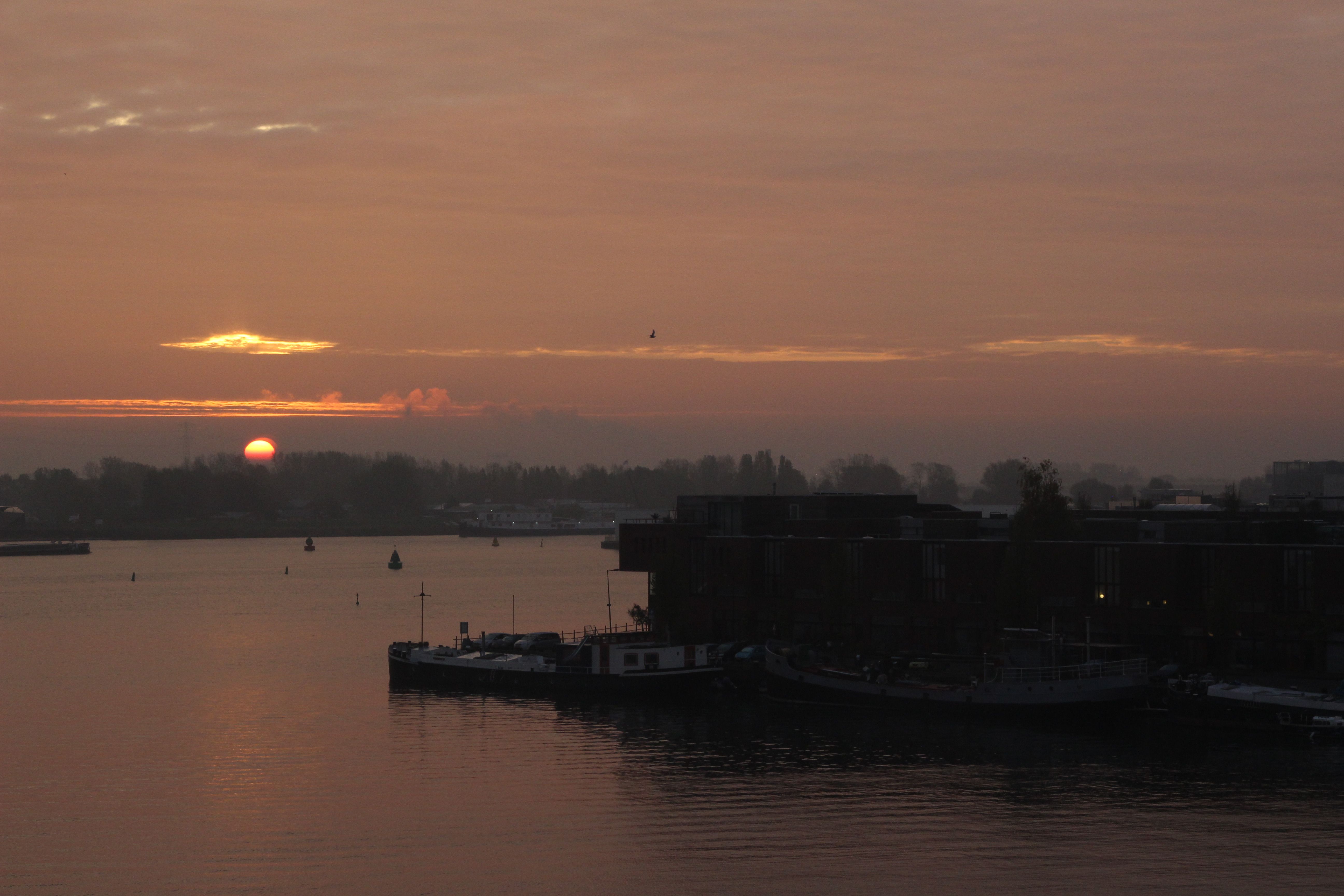 You can guess by the photo that we got the apartment! Giuseppe didn't get much say in the matter as he was off gallivanting with his friends in Italy. But even he agreed, when he got back, that I had excellent taste! (obviously) 
---
Now, It seems like we had an easy ride applying for this apartment but, I was there early, so I went in first but on my way out, there was a queue! I counted about 15 people upstairs, 2 came out of the lift and when I got to the bottom to leave, I counted another 8 people! The agent told me that over 30 people sent in a proposal! We were so lucky (with a dash of my hard work, organising our proposal outstandingly) to get the apartment! 
I wrote the proposal in panic mode (when I should have been working) sunburnt from riding to and from the viewing and an extra shade of crimson from the workout of trying to fit it all in my lunch break! But we got it and a big cheers to us!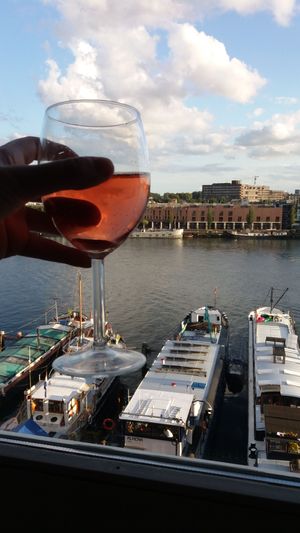 ---
Throughout my first 6 months of living in Amsterdam, it was all fun and games preparing for the city swim and I had made a lovely friend, Rebecca. We got on like a house on fire! Is there a female way of saying we had a 'bromance'? We had food in the park, shared our favourite songs, it was true love I tell you! But, soon after the swim, as our love was growing, she dropped the bomb that she was leaving. 
Rebecca left me! Off she went to live in London! Where life is expensive and everything moves far too quickly! She chose an exciting career opportunity over me! How selfish of her! But, she fell in love with a handsome chappy over there, so I have settled for the odd message and phone call to catch up on the gossip every now and then. 
Anyway, I am sidetracking again! From the moment Rebecca left I took a turn for the worst. A new Rebecca arrived in the office, but we call her Bekah, not Rebecca, ok? Right, so I am glad she came along because if it wasn't for her, I would have continued to suffer! Ok, let's make some more sense for you, shall we?
I started to hate waking up and hating my job, the office was so serious! If you looked at your phone for more than 30seconds, you would hear a voice asking "Are you busy?", this would be roughly translated as "Put your phone down please and work every second of the day!" I also noticed that If I had some funny story that happened and it was one of those 'must shares', if I was caught stood up at my friend's desk for too long, I heard the dreaded footsteps and "Everything ok ladies?" - Translation: "Stop talking please and work every second of the day!" 
I was always told that the Dutch were very direct, however, In my experience I found them to be more passive aggress. I would have preferred a more direct approach. Passive aggression makes me uneasy and I don't know what to do with myself, it's awkward! 
Anyway, it got to a point where I let myself feel guilty for wanting to check a personal email or check my phone and may, God forbid, I go over my break or leave on time! I also felt obligated to be social at lunchtime, when I wanted to read my book! (Terry Pratchett's Discworld Series - highly recommended) I remember that one of my colleagues was told that she shouldn't leave on time, she should make sure she stays around 10 to 15 minutes after work. Wait, WHAT? 
Now Bekah, being braver than me, got herself out of there sharpish! Soon after she was told that she couldn't wear pink shoes to an office that has zero visitors! Admittedly, they did have some pink fluff on them too, but come on! I was there a year and a half and we had about 2 visitors. 
Rebecca left, Bekah left, two others left and all were replaced in the space of one year. But I was still there. I worked hard but felt like I had to show I was working because my work was 'behind the scenes'. What I did went constantly unnoticed or unappreciated. For finishing all my work, I was rewarded with extra or other people's work and I couldn't bring myself to say I was unhappy. I dreaded being in those four walls and seeing the clock say 5:59, I had my hand on the top of my laptop ready to close it! Things needed to change! 
To get myself through the last few months of plucking the courage up to leave, I think my selfies to Giuseppe and other friends paint quite the picture of what I was going through: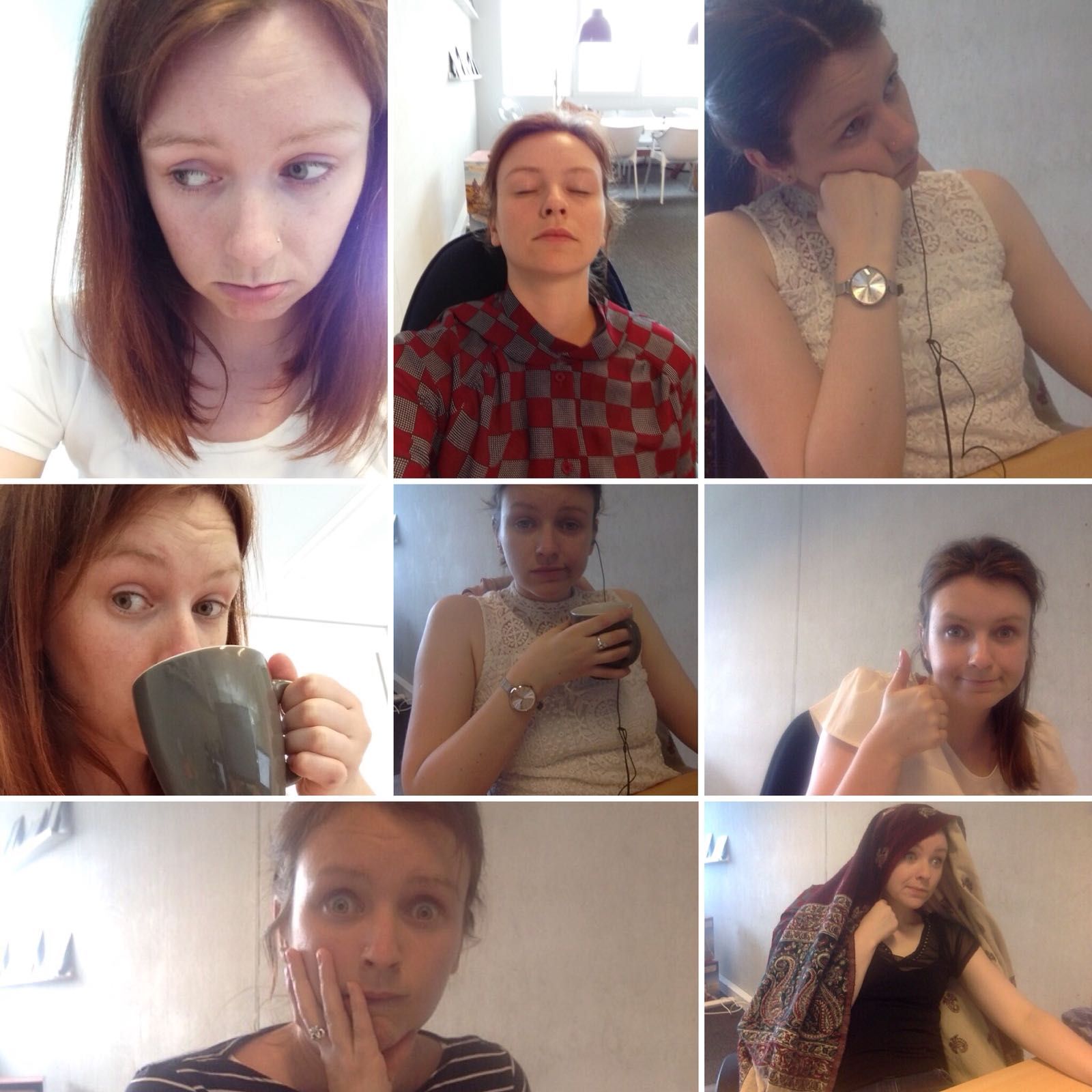 To cut that story short because I could definitely turn this into a massive rant and let's face it, I'm bringing us all down, Jeez! He replaced me with an Intern anyway... Oops. 
---
Right, well not to worry because I was about to start listening to Bekah saying she has the perfect job for me and her wedding turned things around! I'll get more into that at a later date, don't worry! 
I want to tell you about my sewing class! Living in Amsterdam sounds exciting and full of fun and people, but really there is a lot of potential to become lonely! You go to work, come home, walk around and attend a few Meetups, A.K.A organised fun which leads to nothing. So, I decided to take a little action of my own, which I highly recommend to you! Find a club or a class or something where like-minded people come together, trust me! 
I found a sewing class online called Seungha's Sewing School It was a 35-minute bike ride from my work and then just under one hour home after, but it was completely worth it! I remember the first day I went, it was raining horrendously, but I'd paid for these lessons so I was gonna make it! I checked my bag and, obviously, I had forgotten my waterproofs, brilliant! 
What should have been an enjoyable 30 minutes riding through new parts of town became an hour-long battle against the elements! I had to try and hopelessly follow the GPS on my phone whilst hoping it wouldn't suffer water damage. I had wind blasting in my face, the rain was ice cold and I don't need to tell you, I was soaked to the bone! I could feel water sloshing around in my trainers as I peddled. 
I am glad I didn't give up (even though I arrived like a drowned rat) because I met my lovely teacher, Seugha, who always brought me some yummy snacks! "Seugha Specials" she made new, yummy goodness each week, alongside the most amazing tea! It was the best way to end the day! Tasty treats, perfectly brewed tea and sewing some new clothes! I made a few things I am quite proud of and wanted to show them off to you!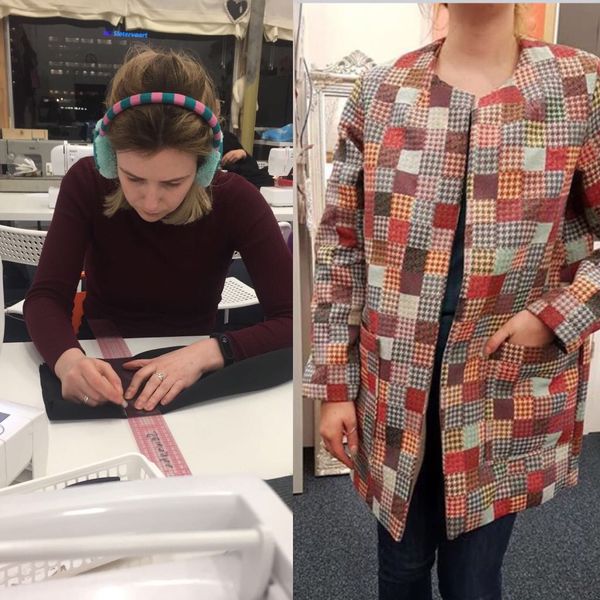 There I am, working hard, not too sure why I still had my earmuffs on, but let's look past that. I was always crap at the drawing straight lines and designing bit but, when it came to the practical part, making things look pretty, things went a little better. The photo on the right there is my favourite piece. I was so sceptical when I bought material because It is a little loud for me, but Seugha helped me see the light! 
Amsterdam is full of material shops and markets so you can get some absolute bargains! I recommend heading up to the market in Utrecht on a Saturday morning! It is massive, with awesome quality for super cheap - The Market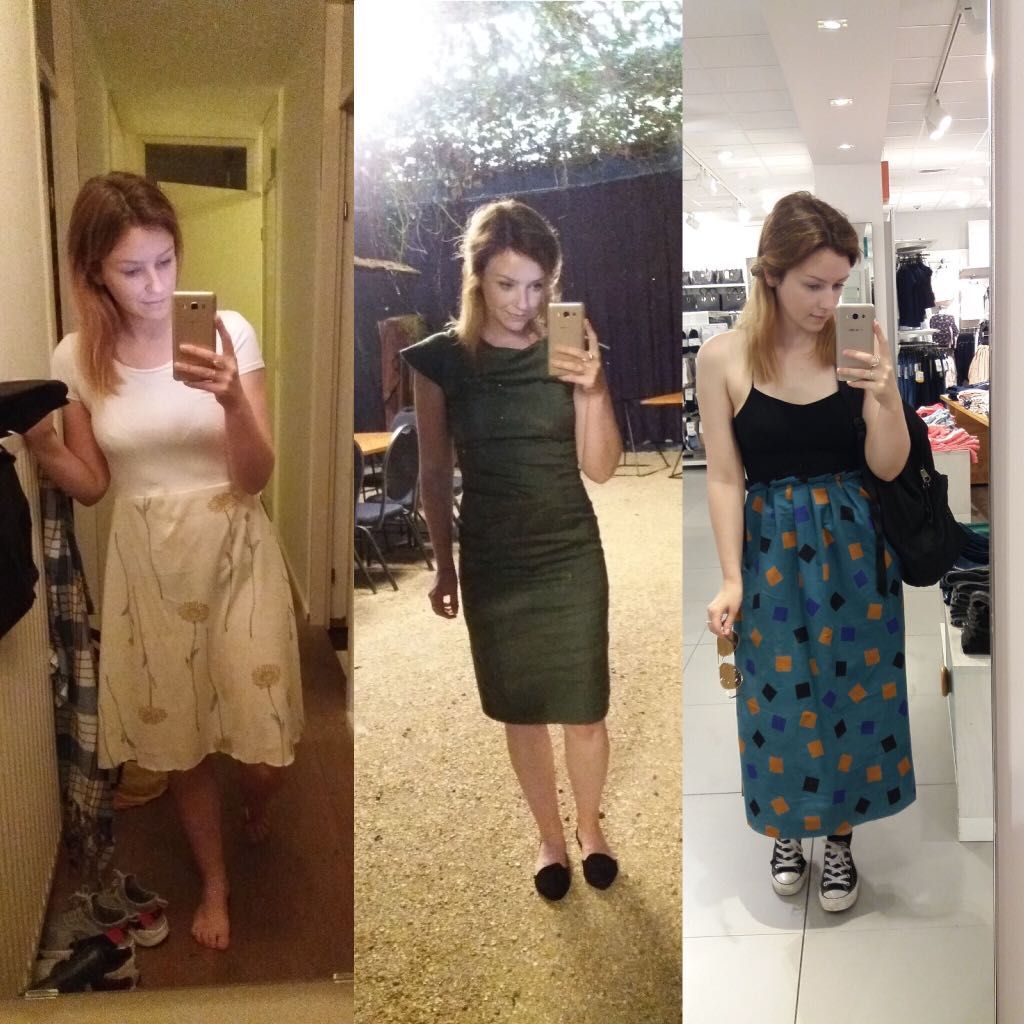 I thought I might share some of my cute dresses with you too! If you are heading over to Amsterdam for a while, then I totally recommend Seugha's class because you will have great company and learn to make awesome clothes! Need something new to go out? No problem, just make it! What an awesome skill. 
As work was making me feel down and stressed, I saw my class as a saviour. I admit I let my work affect me far too much, even to the point that I didn't want to go out, meet people or enjoy my time in Amsterdam! I am so glad I found my love for sewing and I'm even happier I let Bekah finally talk me into going for this job role she deemed 'perfect for me' and It all started with "I DO" 
Let's talk about that a bit more next time.